Tag:
NPS
Here's a new result that you can open in Explorer. It adds the locations of National Park Service air quality Web cams, and the popups open the cam images which are updated every 15 minutes. The NPS Web site describes the cams:
The National Park Service operates digital cameras at many parks to help educate the public on air quality issues. These cameras often show the effects of air pollution such as visibility impairment. Because these cameras are typically located near air quality monitoring sites, the camera web pages display other information along with the photo such as current levels of ozone, particulate matter, or sulfur dioxide air pollutants, visual range, and weather conditions.
Let's take a look at these results. First start Explorer if it's not already running, and click the link below to access the file from this post:
If you're prompted to save or open the file, choose to open the file. You'll see the results display immediately on your map. You can optionally save the file locally, and then browse to open it using File > Open > ArcGIS Explorer Files.
Open the result group, and have a look at the various cam locations.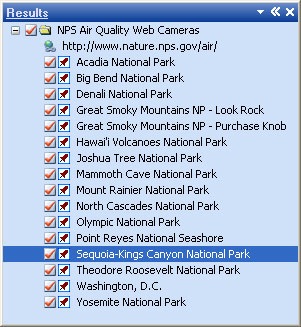 Here we've chosen to have a look at the Sequoia – Kings Canyon National Park cam. Double-click the result, and you'll automatically zoom to its location, then click the cam symbol to open its popup window.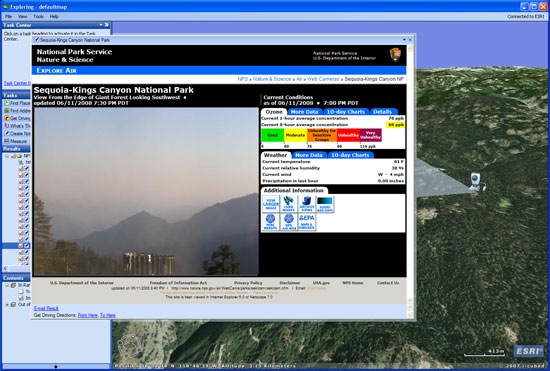 Links in the popup window open a new browser window. One of those links shows the view under ideal conditions, with landmarks labeled. You can see that when we checked this afternoon that it was not the best air quality day in the foothills surrounding the park. Compare the image below showing ideal conditions with the one shown in the popup window above.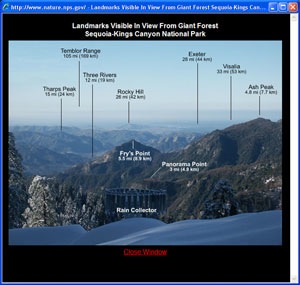 If you open the properties for one of the results you can see how the popup contents work. It's siimply a URL to the Web page that displays the Web cam image and other links.

We covered how you can add various types of content to result popup windows in a previous post. This result is one of the new ones we're including on the ArcGIS Explorer Resource Center for the 480 release, coming up soon!