Tag:
NOAA
NOAA's IncidentNews website provides information about oil and hazardous material spills where NOAA has been involved in the response. The website is maintained by NOAA's Emergency Response Division (ERD) and includes a GeoRSS feed that you can connect to using ArcGIS Explorer Desktop to map and learn more about recent events. Let's take a closer look at how to use the feed.
At the website you'll find a list of recent events; click an event to learn more about it. At the time we're writing this post the latest event is a disabled ship carrying 98,000 gallons of fuel oil, and 2,800 gallons of diesel fuel near the mouth of the Columbia River in Oregon. NOAA was contacted for a trajectory analysis for a potential release of oil later today.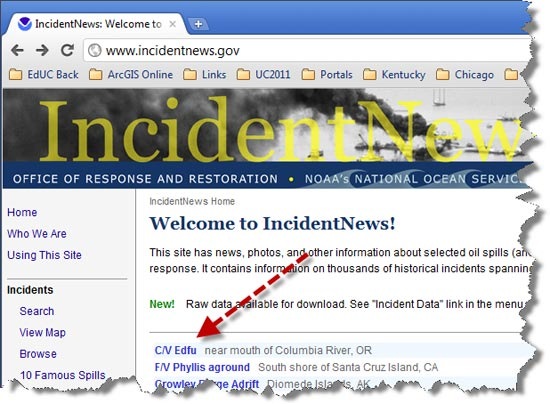 Wanting to map the incidents, we discovered the Newsfeed section with both Atom and RSS feeds.

To connect to the feed right-click to copy the link (either link will do), and in Explorer Desktop click Add Content, then GIS Services…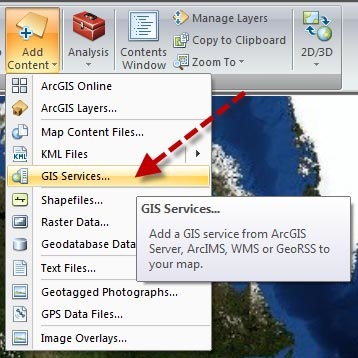 Click New Server Connection

Then choose GeoRSS from the drop-down list: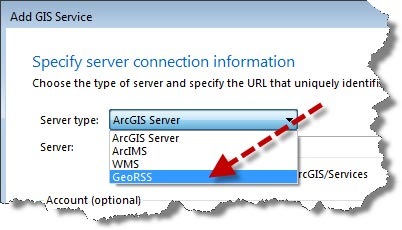 Paste the feed URL into the connection input box. Since the feed is dynamic, we decided to have it automatically refresh. Below we chose to trigger a refresh of the feed every 10 minutes: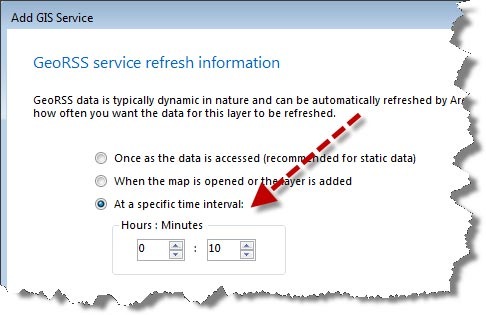 Once connected, you can edit the layer properties to change the name, symbol, and more. Here's our map showing the disabled ship off the Oregon coast with information about the incident from the feed displayed in the popup window.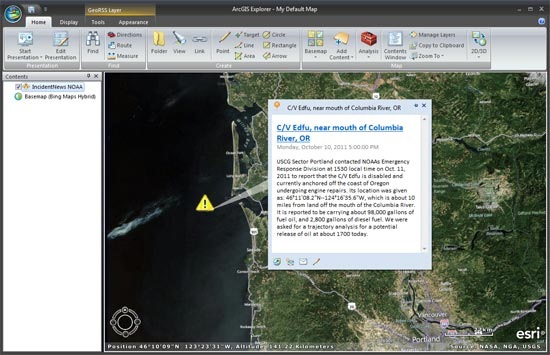 For more information see the Subscribe to GeoRSS feeds help topic.