Tag:
New Zealand
Since incorporating the Live Stream Gauge Map into the Community Maps program, a number of state and county governments have contributed their gauge networks to the map, and now, we've added the first set of international contributors. Real-time stream gauge … Continue reading →
Posted in

Analysis & Geoprocessing, ArcGIS Online, ArcMap, Community Maps, Hydro, Mapping, National Government, Open Data, Sciences, State Government, Water Utilities
Tagged

Australia, Bureau of Meteorology, community maps program, Mapping and Visualization, Minnesota, National Government, New Zealand, Spatial Analytics, State, Local, and Provincial Government, USGS, Utilities, Water
6 Comments
Esri World Elevation Layers  are enhanced with more detailed void-free 1 arc second (~ 30 meters) SRTM data for Asia and Australia. The Australian DEM (DEM-S), which is a cleaned and smoothed version of SRTM 1 arc sec, is courtesy … Continue reading →
Posted in

3D GIS, Analysis & Geoprocessing, App Developers, Apps, ArcGIS Online, ArcGIS Pro, Cartographic Design, Community Maps, Developer, Hydro, Imagery, Mapping, National Government, Open Data, Services, State Government, Web
Tagged

3D GIS, Africa, ArcGIS Content, aspect, Australia, bathymetry, Caribbean, DEM, Elevation, esri_earth, Europe, land, Mapping and Visualization, multi-directional hillshade, NAGI fusion method, NASA, National Government, New Zealand, Oceans and Maritime, Profile, Slope, South America, Spatial Analytics, SRTM, tinted hillshade, topography, Viewshed
6 Comments
ArcGIS Online was recently updated with the following new features and improvements to the ArcGIS.com map viewer and ArcGIS Explorer Online:
Support for Shapefiles
Features can be added to your map using shapefiles. The shapefile components (.shp, .dbf, .shx, .dbf) must be in a zip file (.zip) to be imported, and the number of features in the shapefile cannot exceed 1000. Once added you can style features and configure their pop-ups. For more details see Adding features from a file.
Visibility Range
The visibility range (maximum and minimum display scales) can be set for feature layers in your map. Display scales can be chosen from a pre-defined list, or by interactively zooming and setting the scale using the map. See Displaying features for more information.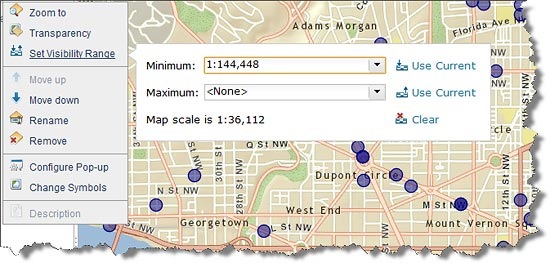 Use As Basemap
Add Layer from Web now includes a checkbox that lets you directly use the layer as a new basemap. This is supported for ArcGIS services and OGC (WMS) services.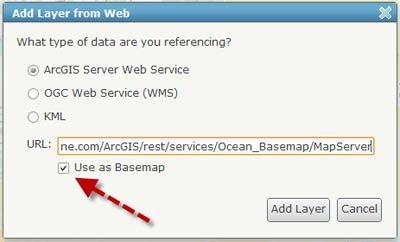 Basemap Transparency
The transparency of any basemap can now be set via its properties enabling you to "tone down" the basemap when desired. Look for the arrow that becomes visible when you hover over a basemap layer to set the transparency.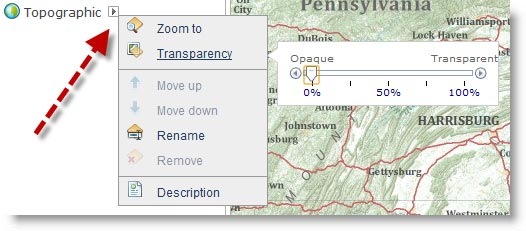 Add Layer From File Enhancements
Text or CSV files using semi-colons, pipes, or tabs as delimiters are now supported (in addition to commas).
Other Improvements
Support for OGC (WMS) services and KML have been improved.
Cross-Dateline Navigation
Explorer Online now wraps the map across the international dateline so you can pan continuously around the world.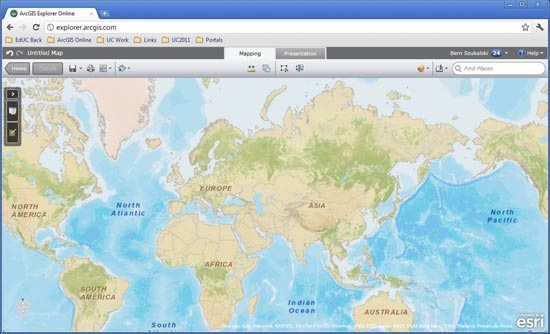 Support for WMS Services
You can now add WMS services directly to Explorer Online by specifying the URL in the Add Content dropdown. A WMS service no longer has to be an item in ArcGIS.com to add it to your map.
Support for adding data from GPX files
You can now import features from a GPS Exchange Format (.gpx) file into your map.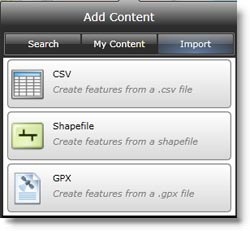 Support for Natural Breaks classification
When configuring a layer to draw based on classified attribute values, a new natural breaks classification option is available. Natural breaks classes are based on natural groupings inherent in the data. Class breaks are identified that best group similar values and that maximize the differences between classes. For details see Draw features classified by value.
Measure enhancements
When measuring a point you can now specify the format of the coordinate display. You can also copy measure values directly to the clipboard. Learn more about measure.
Find locations by coordinates
You can find locations on the map by specifying latitude and longitude coordinates in a variety of formats by typing them into the Find box. This capability was available in past versions of Explorer Online and is now back in this update.