Tag:
Navigation
Recently one of our team members visited a client who was complaining about lackluster performance. It turned out they were gauging performance by typing in an address, and letting Explorer navigate from the default global view to the address to display the local imagery. Then they would double-click another result, and let Explorer navigate to another location in a different part of the world.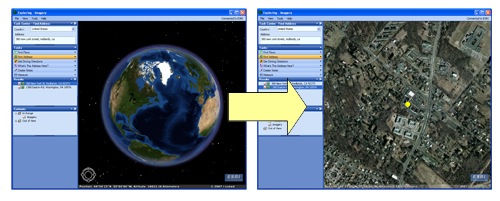 The "fix" to improve performance was actually so simple that it's often overlooked by many users. All that we did was adjust the Point-To-Point navigation speed, and demonstrate the Move Here capability. Here's more details.
When Explorer is installed there are certain user options that are set automatically. One of those is the Point-To-Point travel speed, which is set to 1.0 by default. Whenever you travel from one location to another, this setting is used to control the rate of travel to the new destination. The very first time you visit an area, image tiles are fetched from the server and cached locally for display. The next time you visit that location (provided you haven't cleared your cache) the imagery will be read directly from your local cache.
With the default setting of 1.0, the travel time from a global scale to a local scale will take a while, perhaps more than you'd like. One way to make travel faster is to choose Tools, then Options, and then select Flight Characteristics. You can bump up the Point-To-Point speed, and experiment with different settings to find one that you like. Try bumping it up to 10, and try your navigation again. You'll see a dramatic difference!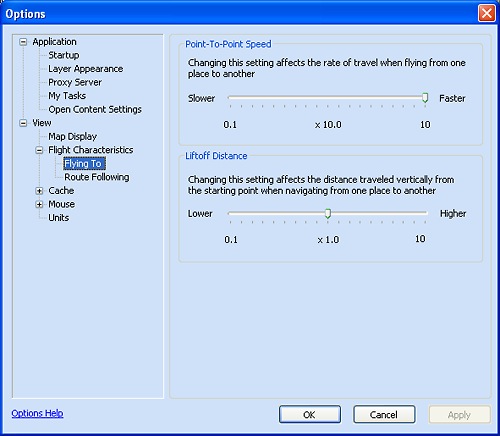 The Liftoff Distance is also used for traveling from one place to another, but in general we like to keep it set at the default.
The Point-To-Point speed setting is also used when double-clicking an existing result. Increasing the Point-To-Point speed will increase your performance here as well. But another, and even quicker, way to go from one result to another is to right-click the result and choose Move Here.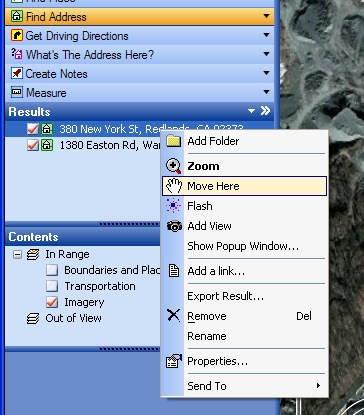 Using these settings and choices you'll notice much faster point-to-point navigation. And once you've visited a place, local cache is available making subsequent visits almost instantaneous. We'll be looking at tweaking these default options in a future release.