Tag:
NASA
Though only given 50-50 odds, NASA's Mars Phoenix Lander completed a successful touchdown just a short while ago, completing a remarkable 296-day, 422-million-mile journey. In celebration of the milestone, the first-ever landing near Mars' north pole, we decided to have a closer look at the red planet using ArcGIS Explorer.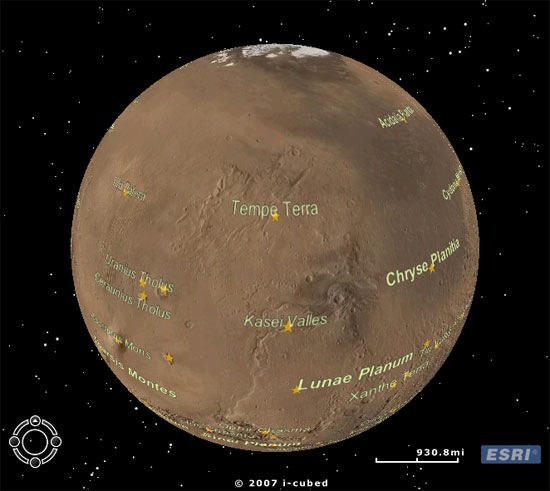 How'd we do this? We made use of some of the freely available content published on the Geography Network. Here's how.
First we started ArcGIS Explorer and clicked File > Open to show the Open Content dialog. We choose Servers, and then clicked the button at the top to choose ArcIMS (all services on the Geography Network are currently published via ArcIMS). We typed in the connection information shown here: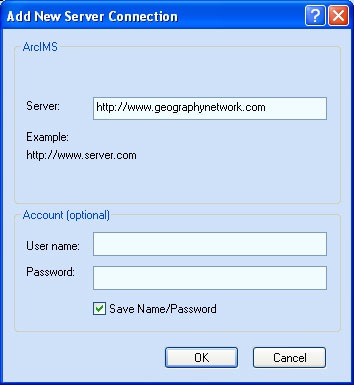 For Geography Network services we don't need a user name or password, so we just left those fields blank. Once you establish a connection to a server it will be saved in your list of connections, and you won't have to enter this information again. Once connected you'll see it open in the connection list.
Here we've scrolled down the list of available Geography Network services (there's a lot to choose from) until we reached NASA Mars, then double-clicked it.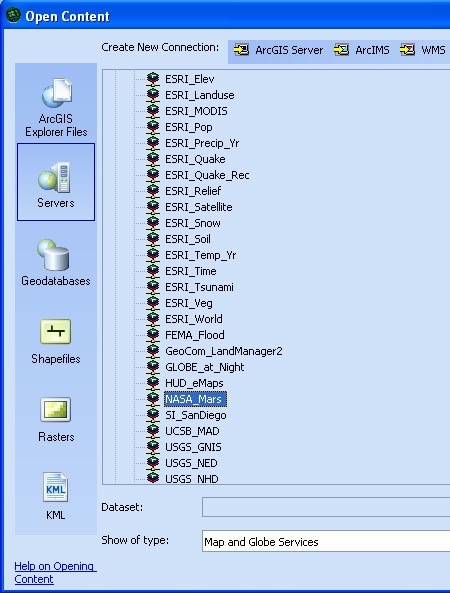 We also accepted the defaults for the dialogs that appeared after our selection, except for the IMS Layer visibility. ArcIMS services can contain many sublayers, and you can choose which ones you want to add. In this case we wanted to add the two sublayers in the Mars service as individual layers so we could control the label visibility independently of the Mars imagery. So we repeated this twice, once to add the Mars imagery, and a second time to add the place labels.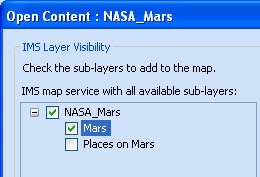 When we were finished, we had two new layers in our map that allowed us to create the mars scene at the top of this post.