Tag:
Locator
The new Geonames Tools toolbox is available for download from Arcgis.com.  The Geonames Tools toolbox is an Esri Defense toolbox for intelligence analysis. The zip file contains the tools and a template geodatabase with the schema needed to create a gazetteer style locator from National Geospatial-Intelligence Agency (NGA) UTF-8 encoded tab-delimited geonames text files.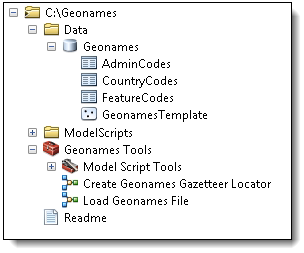 The package includes two tools, with supporting scripts, and instructions for using the tools to create your geonames gazetteer locator.  The first tool loads data from a UTF-8 encoded, tab-delimited geonames text files into a feature class, updating the Admin, Country, and Feature codes in the process.  The second tool creates a gazetteer style locator from the feature class.  This locator can be used on a local machine, or published via ArcGIS for Server for use by multiple clients.
This toolbox is designed to work with the files from NGA, available at:
http://earth-info.nga.mil/gns/html/namefiles.htm
Geoname files from other sources with different formats are not supported.