Tag:
law enforcement
We have geocoded a spreadsheet and styled an informative map that comes alive in the web environment. But why are we making web maps in the first place? Is it because we want to show off the latest capabilities of ArcGIS online? No! We are trying to solve a problem. The problem we had was: spatially enabling text-based information that is locked down in an organizations' spreadsheet, without access to specialized skills or software. We have successfully authored a map based on this spreadsheet, now we want to SHARE the map and unleash its potential with a variety of web mapping applications. Then we will allow our audience, the users of our maps, to utilize some interesting GIS
capabilities. How are we going to do this? There are several methods, depending on your needs:
Socializing your web map
Embed your web map
Create a presentation for your web map
Design your own stand-alone web mapping application
First, let's revisit our web map; notice this map can be opened in the ArcGIS Online Viewer or ArcGIS Explorer Online. Compare and contrast the functionality between the two (under the hood, ArcGIS Online is a JavaScript application and ArcGIS Explorer Online is built using Microsoft Silverlight, if you were wondering). First, make sure your map is public (or at least share it within an ArcGIS online Group using the Share button below).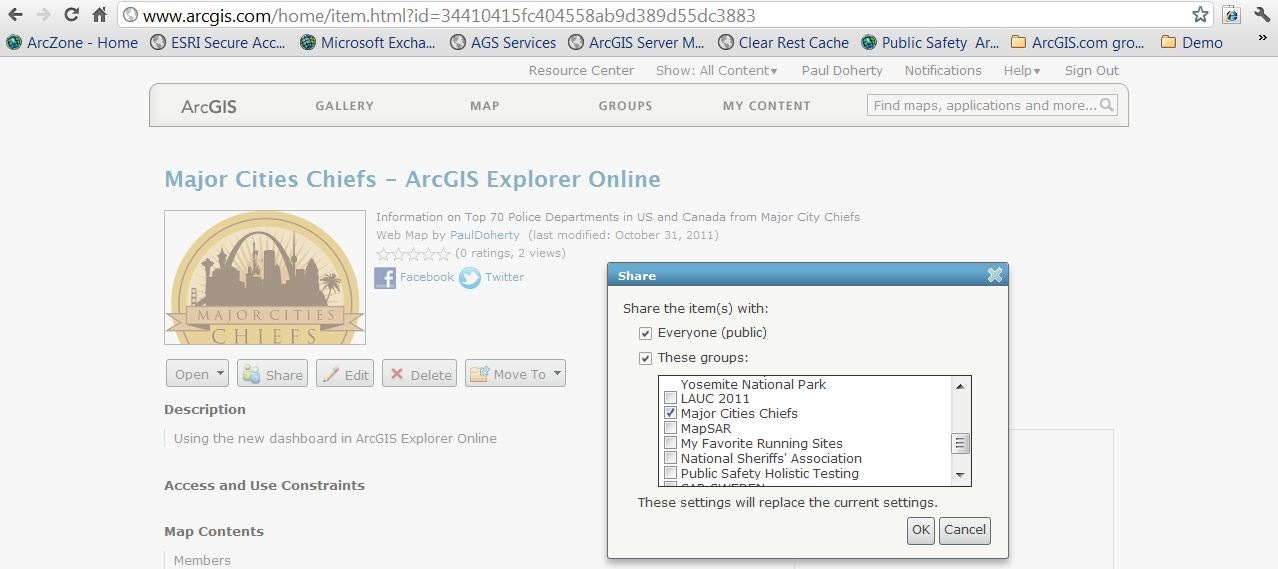 Socializing your web map
There are many ways to share your map with others. The simplest way is to share a URL such as http://bit.ly/sBau3H.  It's easy to "socialize" or promote your web map using the Facebook and Twitter buttons on the web map description page (seen in screenshot above) once the map has been made public. This can also be done from the map itself in the Web Map Viewer or ArcGIS Explorer Online by clicking on the respective buttons:
By sharing our map in this way, we allow others to view and collaborate on projects that provide additional context or meaning to our original web map. Once shared, another user could add a Map Service using the "Search for layers to add" functionality. Here (below) we used the keyword "demographics" to search for what layers are freely available using ArcGIS Online. We added the USA Tapestry Segmentation thematic map, which classifies U.S. neighborhoods into 65 segments based on their socioeconomic and demographic composition. This could be useful for describing how community-oriented policing fits into the community itself.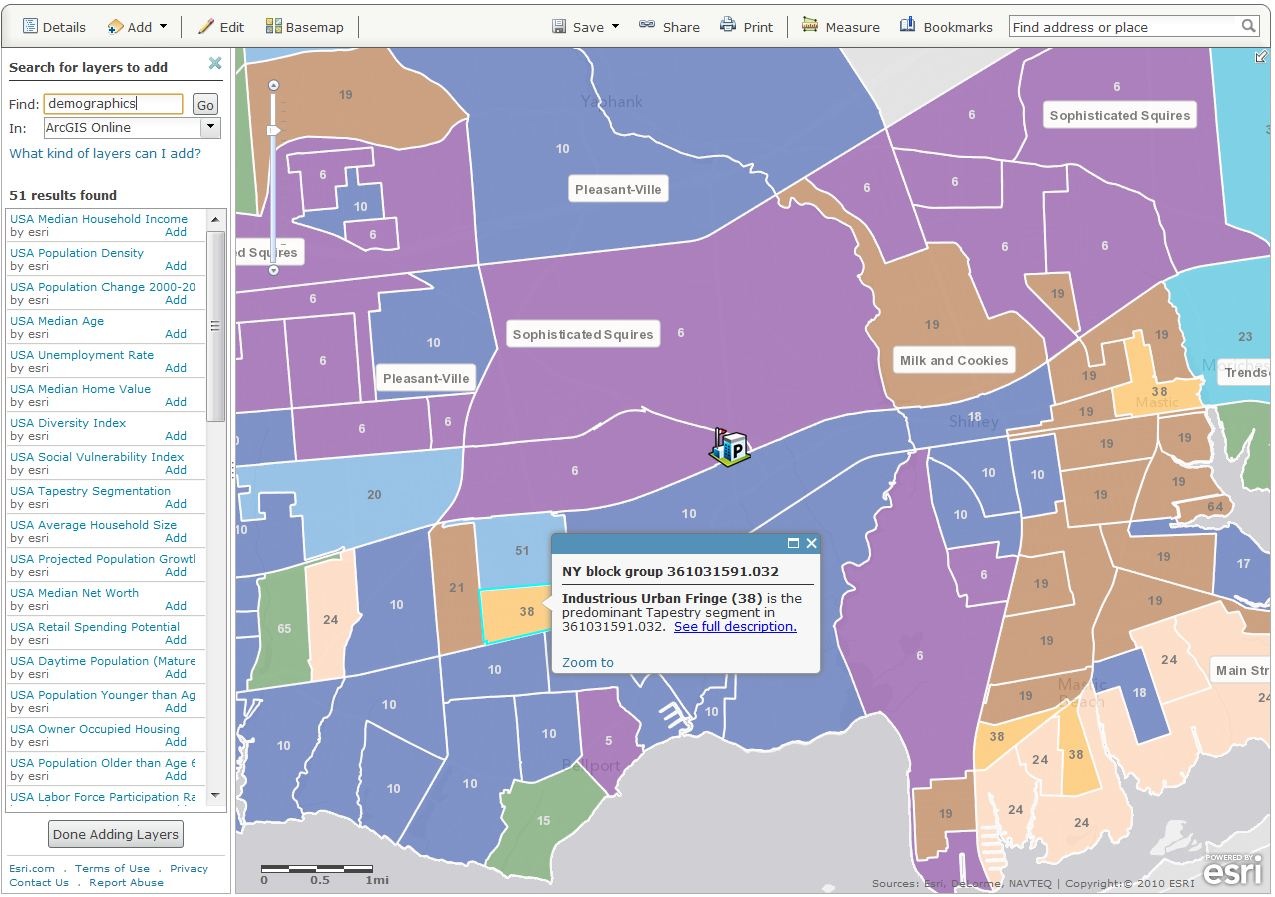 Embed your web map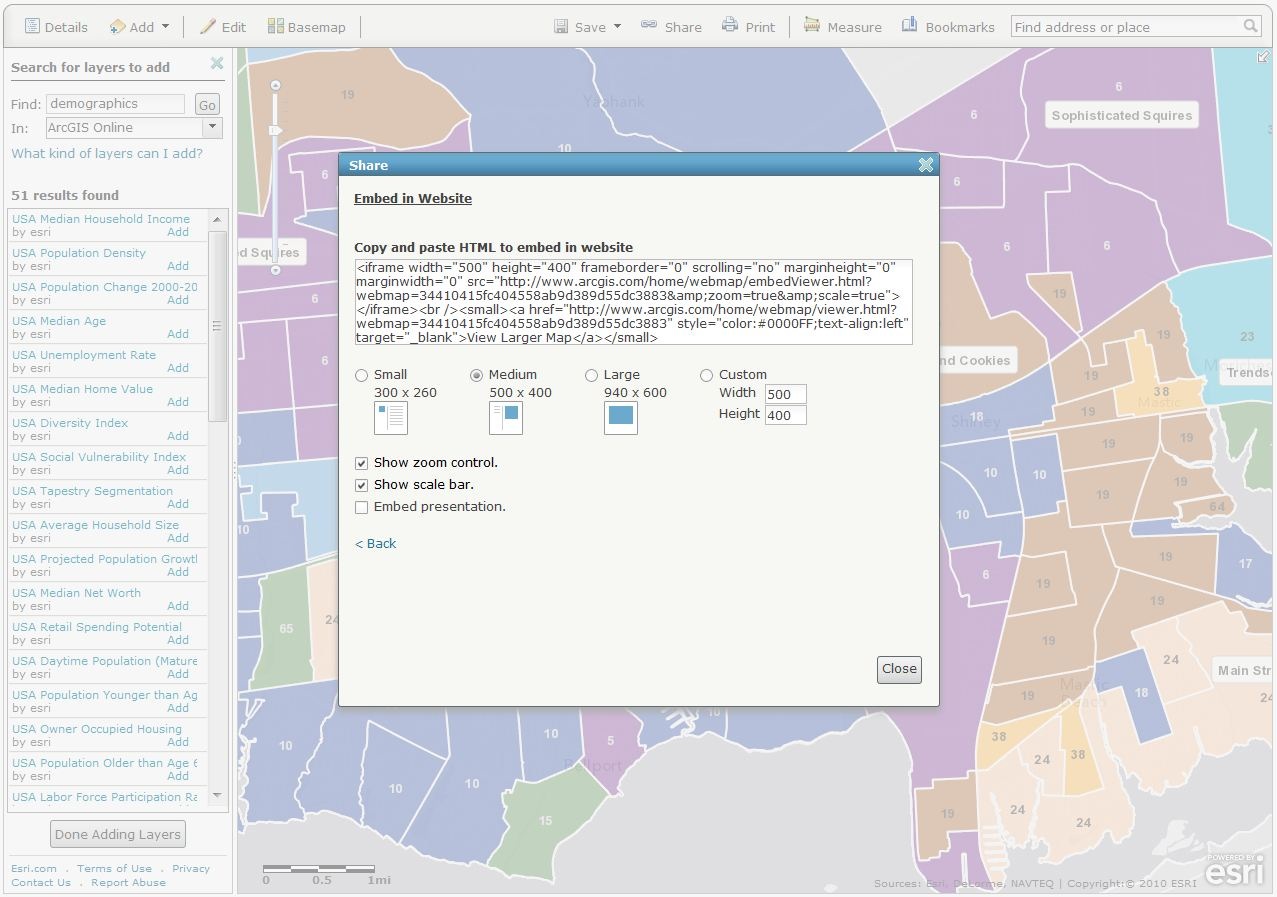 Another way that web maps can be useful is if we want to embed it into an existing website or blog; again we use the Share button and simply copy and paste the map's HTML code into the website. This may be a job for your agency's web master or administrator, but you can see what this might look like at the membership page for Major Cities Chiefs or embedded in the blog as we have done here.
Create a presentation for your web map
Sometimes, the best way to share spatial information is through a story. As the proverb goes—"Tell me a fact and I'll learn. Tell me a truth and I'll believe. But tell me a story and it will live in my heart forever."
With ArcGIS, you can use your web map to create and give a dynamic presentation that tells an interesting and informative story. This presentation capability is map-centric and has been deployed by Law Enforcement agencies for briefings, both informative and tactical in nature (CompStat, Community Briefings, etc.). This has been helpful for agencies in lieu or in conjunction with traditional presentation formats (like Microsoft PowerPoint). Here we will use ArcGIS Explorer Online in presentation mode to do just that—first, open your web map in ArcGIS Explorer Online. Once your map is open in ArcGIS Explorer Online, click the Presentation tab:
To tell your story, capture new slides, change title headings, switch out basemaps, and add other layers as you wish. When you present your story, you will have a presentation to deliver your message from any computer or even a mobile device. Of course, this presentation can be shared via this URL hyperlink.
Design your own stand-alone web mapping application
Web mapping applications allow you to bring your web map to life. The ArcGIS Explorer Online presentation is one form of an ArcGIS Web Mapping Application. Again, using the Share button (see below) in the ArcGIS Online Viewer, we can now create our own web application with customizable templates and ArcGIS Online as our web host.
We can preview our web map in each of these applications, download the source code (for web programmers), or publish the web application on ArcGIS Online. Now you can share your web mapping application and configure it as you see fit. Here we used the 'Chrome—Twitter' template to produce an application that can be useful for monitoring the Occupy Wall Street movement in our area. One way police agencies can leverage social media is to monitor large gatherings and prepare for emergencies ahead of time. Other web mapping application templates allow you to edit GIS data, visualize time enabled data, and view maps side-by-side. Keep an eye on the templates, since new ones are added regularly.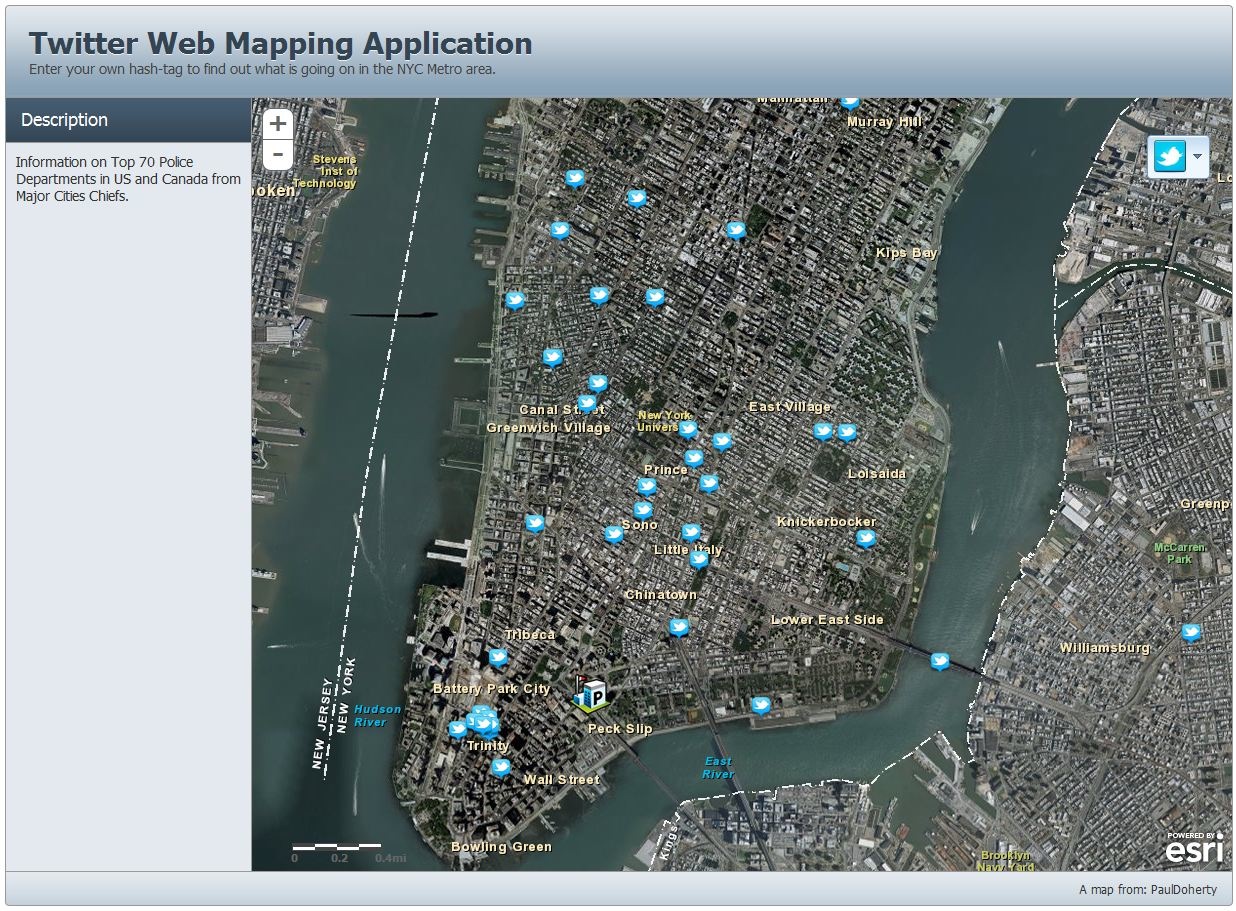 It all started with a spreadsheet and now, GIS is everywhere!
To summarize this blog series for Public Safety users, we have just performed and outlined the following steps to become a web-mapping pro:
1.    Sign in to ArcGIS.com
2.    Create a map
3.    Save it
4.    Make your map public
5.    Share it
The ArcGIS system is pervasive and you have just utilized a critical component. This approach is scalable and will work to solve problems at an individual level all the way up to integration with your Organization in the very near future! Happy sharing and please leave comments and questions for your authors.
Contributed by Rachel Weeden, Solution Engineer Manager, and Paul Doherty, Public Safety Technology Specialist