Tag:
ideas
Ideas submitted to the ArcGIS Ideas Space by the community impact new and existing functionality in ArcGIS Online. It's great to understand the workflows that our users would like to achieve with ArcGIS Online and suggestions to improve current experiences. … Continue reading →
A Water and Wastewater category has just been added to the
ArcGIS Ideas website. So the water,
wastewater and stormwater ArcGIS user community now has a formal place to
suggest products enhancements and enables the community to promote, rank
and comment on submitted idea.
What is the ArcGIS
Ideas Website?
The ArcGIS Ideas website is the place for ArcGIS users to
suggest product or industry specific enhancements to ArcGIS. When you post an Idea you can tag it with
descriptive terms and also choose up to 3 categories that your idea is relevant
to. The categories are both products and
industries. Water and Wastewater is now
available as an industry.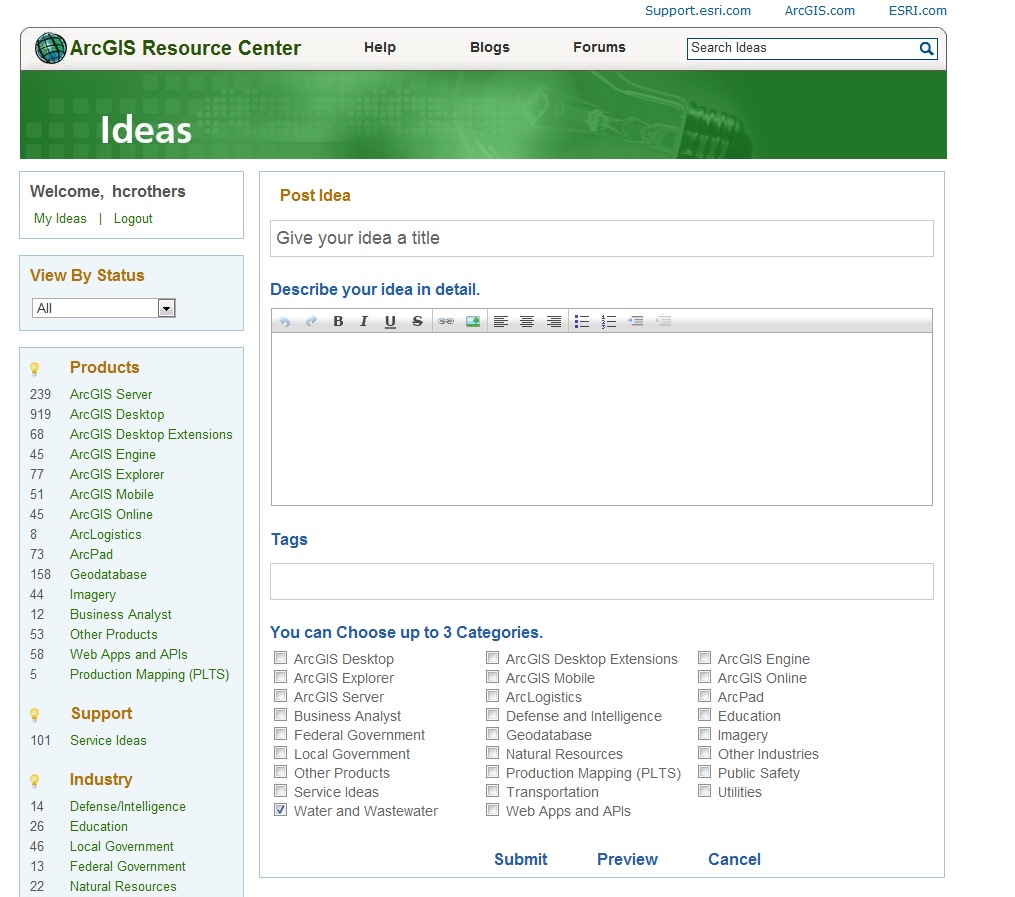 Tagging and categorizing your posted ideas are very
important because this allows other users to find your ideas, comment on them
and promote or demote them depending on whether they believe it's a good idea
or not. As posted ideas get promoted they gain more points.
Water and Wastewater
Ideas
In the past you've given us ideas and feedback on ArcGIS in
the water, wastewater and stormwater industries by telling us in person,
sending us emails, Twitter and posting on the discussion forums. Your feedback has driven the development of the Water Utility Templates as well as changes in ArcGIS. We're glad to continue to receive ideas in
any way, but we want to urge you to submit your ideas to the ArcGIS
Ideas website going forward. Posting to
the ArcGIS Ideas website will engage the rest of the user community in refining
your idea and helping to promote its importance to Esri's development and Water
Utility Resource Center teams.
So…. got an idea? Go
ahead and post it now: http://ideas.arcgis.com/
Posted in
Water Utilities
Tagged

ArcGIS Ideas, enhancement, Enhancements, Feedback, ideas, sewer, storm, stormwater, Templates, utility, wastewater, Water
Leave a comment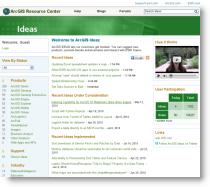 ArcGIS Ideas is a new portal from Esri, which allows its users to get involved in the improvement of our software functionalities. Through this portal, you can ask for enhancements, suggest new features/products and interact with various Esri teams.
The ArcGIS Ideas homepage has a list of recent ideas submitted by users as well as an introductory video about the website. Once you click an idea, it will show you the description of the idea, any user comments that have been submitted, and you can "vote" on the idea. There are three tabs at the top that parse all the ideas into these categories: Popular Ideas, Recent Ideas, and Top All-Time ideas. There is also a tab at the top to submit comments. Continue reading →