Tag:
hosted services
New capabilities in ArcGIS Online were highlighted during the opening plenary session at the recent Esri 2011 International User Conference. Here's Part II of a two-part recap of what was shown.
The ArcGIS Online plenary presentation can be viewed online. To view the ArcGIS Online Part II demonstration covered here you can fast forward by advancing to the 23:00 minute mark in the video:

ArcGIS Online at the UC Plenary – Part II
Part I of our two-part post covered how ArcGIS Online can be used by anyone, along with new capabilities like adding spreadsheets (CSV files), KML, OGC WMS services, shapefiles, and more. But while it can be used by anyone, it's also not just for individuals, but also for organizations.
Introduced during the plenary were some new capabilities (still in beta) available to organizations via a subscription. These include the ability for organizations to manage their user accounts, assign roles to individuals, create custom landing pages and galleries, and aleverage hosted services in the cloud for publishing maps, and more.
For organizations ArcGIS Online represents a complete, online geospatial platform that is configurable, secure, and gives organizations the capability to turn their data into web-accessible services. This enables any organization's geospatial information to become more pervasive, within organizations or to the general public.
A sample organizational site was configured for the City of Louisville, Kentucky. Organizational users can easily configure and manage their own site, replacing Esri's ArcGIS.com website. Shown below is the City of Louisville site with a unique own look and feel; users that are members of the organization will view this site after logging in. Note that the gallery ribbon is also specific to the organization.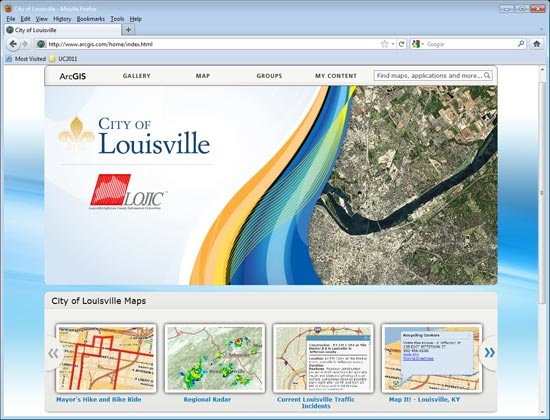 Shown below is the featured map gallery for the organization. Instead of maps selected by Esri from the GIS community at-large, the maps displayed here are chosen by the organization and help the users within the organization get their work done.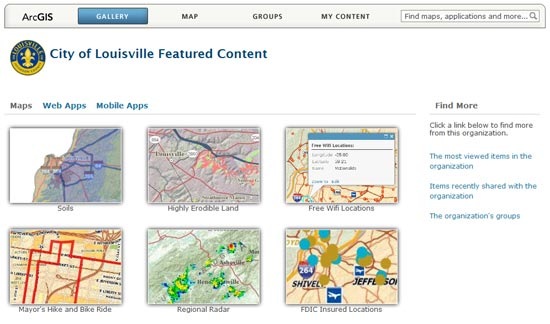 The gallery, default map, and basemaps used by an organization can be easily configured in the administrator's console, shown below. Access to content and sharing outside the organization can also be managed, so you can choose to make ArcGIS Online completely secure and private for your organization, or enable external access.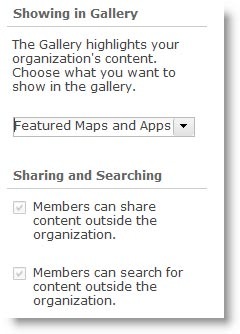 ArcGIS Online also supports all of the different users found within a typical organization, from GIS professionals to information workers, and from casual browsers of information, to managers and decision makers. All users can play a role in ArcGIS Online. Shown below are some of the administration tools that are used to govern the level of access and capabilities for various users in an organization: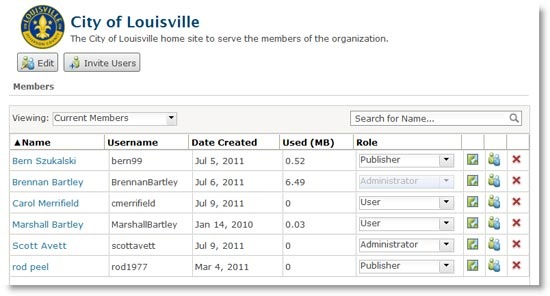 Some users may be "view only" users, while others may be granted access to publish data directly to the organization's hosted services. In addition, in the event of a position change or exit from the organization, all assets from one user can be transferred to others, so no content is lost.
Content is very important to an organization, and in Part I we saw the many different types of content that can be used, including spreadsheets, to make maps. However, when working with large amounts of data it is more efficient to publish the content as hosted services rather than just adding features to a map. Using hosted services available via organizational subscriptions, any data can be web-enabled for broader access and efficient publishing.
For example, in Part I we showed how a spreadsheet containing just under 1,000 features can be added directly to any map. But for larger numbers of features these are more efficiently published as hosted web services, which also enables them to be used in mashups.
The map below was made from a spreadsheet of 25,000 locations, and has been published as a feature service via the organization's hosted service capabilities, without the need for any desktop software: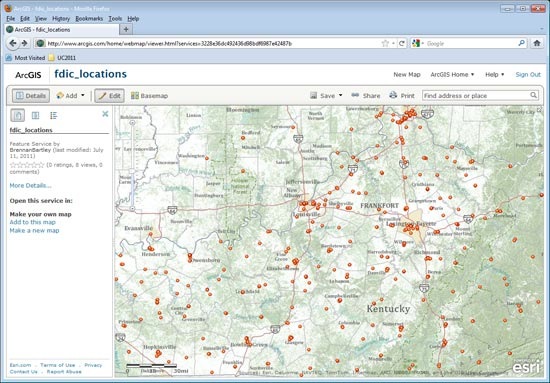 Most organizations already have ArcGIS, and use ArcMap as the way to create state-of-the-art maps. But once a map has been made there is often the challenge of making it more widely available. Organizations can leverage ArcGIS Online to publish services directly from ArcMap, making ArcGIS Desktop the dashboard for online publishing.
Shown in ArcMap below is recent flood data that the city would like published. In this case the user has been granted publishing rights via the organizational account. As soon as the user logs in the map can be published directly via hosted cloud services, eliminating the need to manage servers, hardware, and for direct IT department involvement.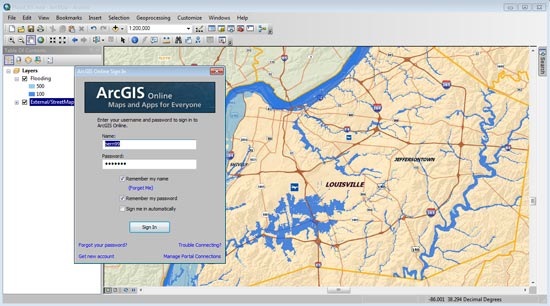 Choices can be made, if needed, about what kind of service is published (tiles or features), the projection and tiling scheme, and more. When publishing has completed, the user is notified and the web service is now ready to use.

Within an organizational account, the basemaps and the default basemap can be configured as desired. Shown below is the newly published flood data that has been mashed-up along with the city basemap and other services. Note the custom-configured basemap gallery: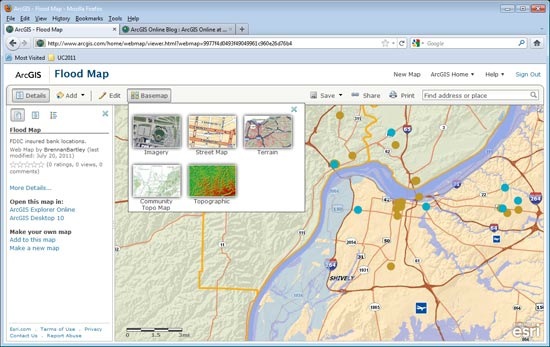 In Part I we discussed and highlighted several templates that could be chosen from the map viewer template gallery. An organization can also configure the list of available templates, as shown below, to include templates for internal or external use (with the organization's logo and branding) and also specialty templates.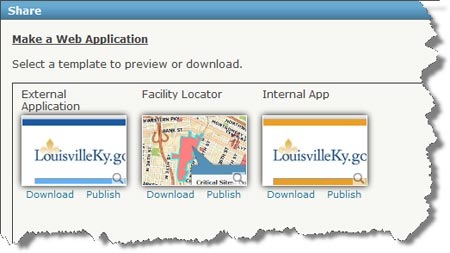 These templates can also be extended to include additional capabilities, and can also be hosted in the organization's cloud. The template used below performs a spatial analysis around critical parcels identified by the city, and delivers a report showing EPA regulated facilities nearby: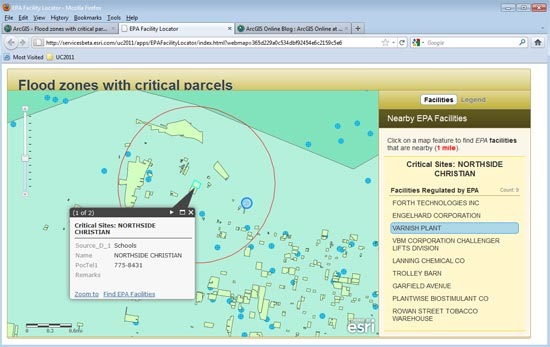 Groups can also be controlled and managed by the organization. Some groups may be for internal use only, others may make maps publicly available. The administrator can make decisions about how these are listed, and can review and control the content they contain.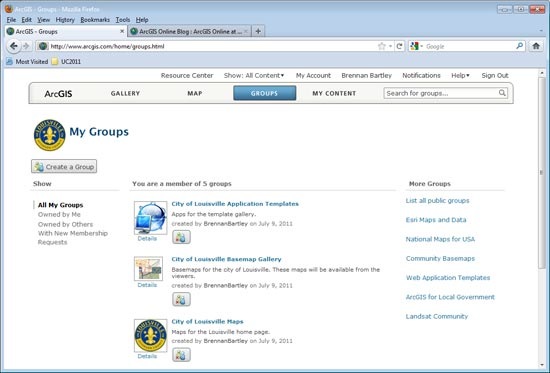 In summary, ArcGIS Online provides a flexible, secure, and customizable geospatial platform for any organization, using hosted services and centralized management infrastructure. The result is that ArcGIS Online enables an organization's geospatial assets to become more available where needed, and users more productive.