Tag:
Geology
(Submitted by: Nicole Richter, GIS Specialist, Uni CIPR)
Initiated in early 2009, this project aims to compile large quantities of outcrop data into a geodatabase called SAFARI (Sedimentary Architecture of Field Analogues for Reservoir Information). Used to enhance geologists' understanding of subsurface hydrocarbon reservoirs, the first quantitative data from geological outcrop analogues were collected for reservoir modeling purposes as long ago as the late 1980s. Since then significant amounts of data have been collected including geometric measurements (quantitative information on sandbody and shale baffle geometry), pictures, descriptions (e.g. stratigraphy), wells and cross sections. Most recently, spatial data from high resolution acquisition techniques, such as laser scanning (lidar) and photogrammetry, have joined the complement of available datasets, in the form of 3D virtual outcrop models.
The SAFARI geodatabase is combined with ArcGIS Server and ArcGIS Explorer to serve its main requirements: extensive data search and query capabilities, and data analysis and visualization of the 3D virtual outcrop models created from lidar data.
Since the beginning of the project, ArcGIS Explorer has been used extensively in meetings and conferences to show and demonstrate the datasets, and the software's capabilities for data visualization.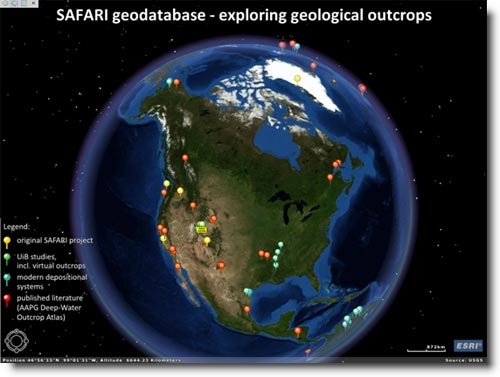 The 3D virtual outcrops are currently visualized as 3D pdf files in Adobe Reader, which also contains a degree of interactive functionality. At a later stage of the project, the 3D data may also be implemented in the ArcGIS multipatch files format.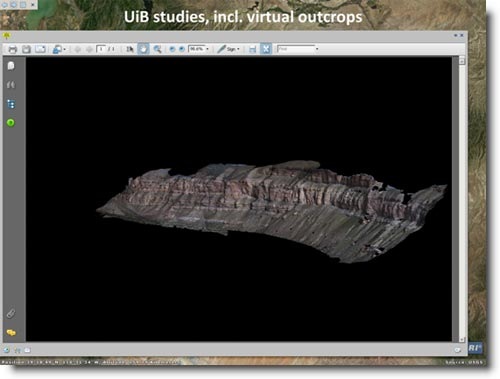 The data sheets for each outcrop location are shown using the popup window function. In order to directly open the file (e.g. a pdf or html file), their paths were stored in a specific attribute column in the feature layer. The popup window was then configured to display the content of this specific column.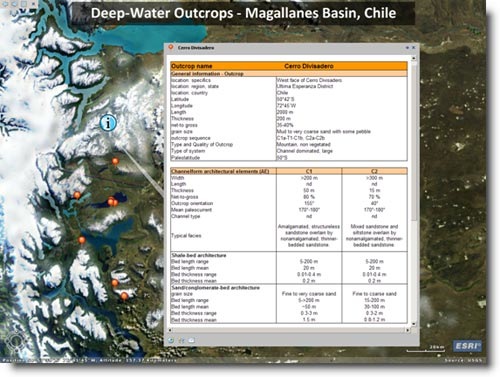 Future plans to develop the database include more work to tailor query functions to meet the needs of the users, increased integration of the virtual outcrop models, as well as the continued addition of available datasets. It is hoped that this work will provide the basis for a single integrated environment for studying reservoir analogues.
The ArcGIS Explorer presentation is available as a short movie, which can be viewed online.
For additional information and contacts: