Tag:
Gallery
The application template gallery offers an easy way for you to leverage your ArcGIS Online maps in a custom application of your own. A previous blog post provided an introduction to how they can be used.
If you'd like to learn more about how to leverage these samples to build your own custom applications, you can attend one of the live training seminars that will be offered tomorrow, January 27, 2011. The seminars are live, interactive, and free – with no registration required – and are streamed directly to your desktop. The seminar is offered three times throughout the day at 9:00 a.m., 11:00 a.m., and 3:00 p.m. Pacific time.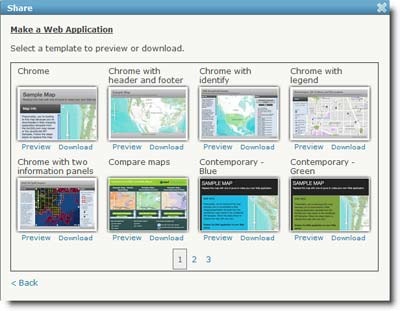 Seminar Overview
ArcGIS.com offers an online map viewer and application templates that can help you quickly create and share GIS-enabled Web maps. In this seminar, you will learn how to publish and share your GIS data with ArcGIS Server, use that data to make a map on ArcGIS.com, and then turn the map into an app using the ArcGIS.com templates. You'll also learn simple ways to customize the look and feel of the templates using style sheets and the ArcGIS API for JavaScript.
To learn more and add a training seminar to your calendar, visit the ArcGIS.com Templates Live Training Seminar page.