Tag:
Explorer Desktop
OK, so the title is a bit misleading, but we have been hearing from a few of you in regards to getting layer packages to display with 3D points in ArcGIS Explorer, and there is a way to do this using ArcMap. The quick answer is to use a Layer or Layer Package that already has the desired 3D layer properties. Simply, add a layer with 3D properties to ArcMap and reset the data source for the layer to your point feature data. While you cannot set 3D properties for a layer in ArcMap, if the layer already has 3D properties, ArcMap does not remove them.
For those of you that know how to reset the data source on a layer in ArcMap, you are set… you just need a point layer that already has 3D properties. I have made one that has the basic settings for 3D points that most people want and you can get it here. The 3D properties will work well for general visualization of points in 3D and 2D. A full explanation of the details follows below…
The issue: points from an ArcGIS Layer appear flat (draped) and are too big in ArcGIS Explorer 3D
For an example we will take a look at a default layer from ArcMap. In this case I have added point features representing cities in the United States (orange points). I also have a shaded relief basemap loaded in for reference.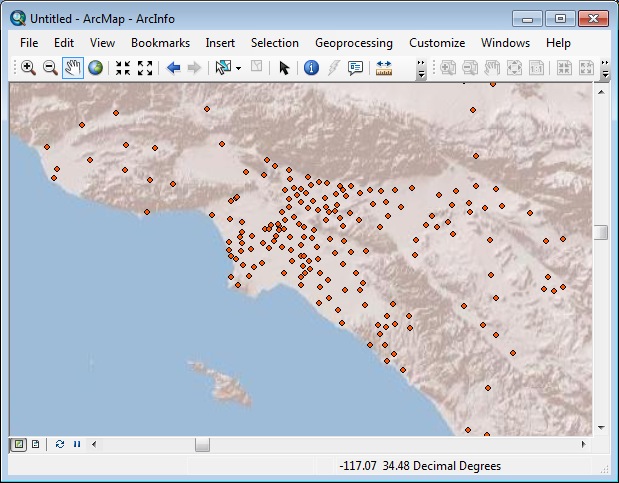 If we create a layer package (see help for creating packages) out of this layer and open it in ArcGIS Explorer we will see the following: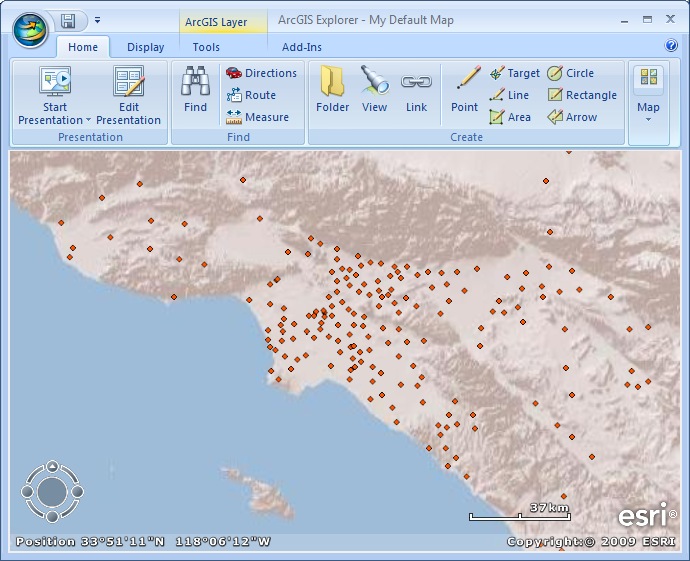 In ArcGIS Explorer 2D, it looks pretty good. The layer has 2D properties and ArcGIS Explorer displays it as it is seen in ArcMap. If we switch to 3D in ArcGIS Explorer we see that the points are displayed in a larger size.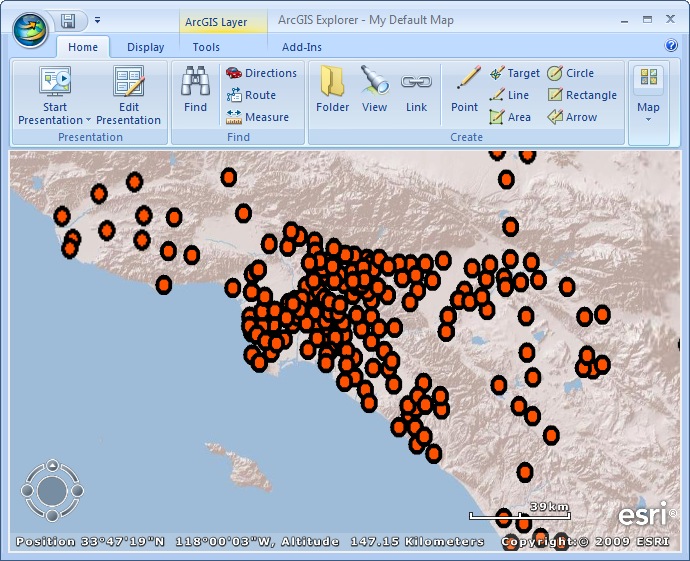 If we zoom in on the map we also see that the points are too big and they are draped on the surface.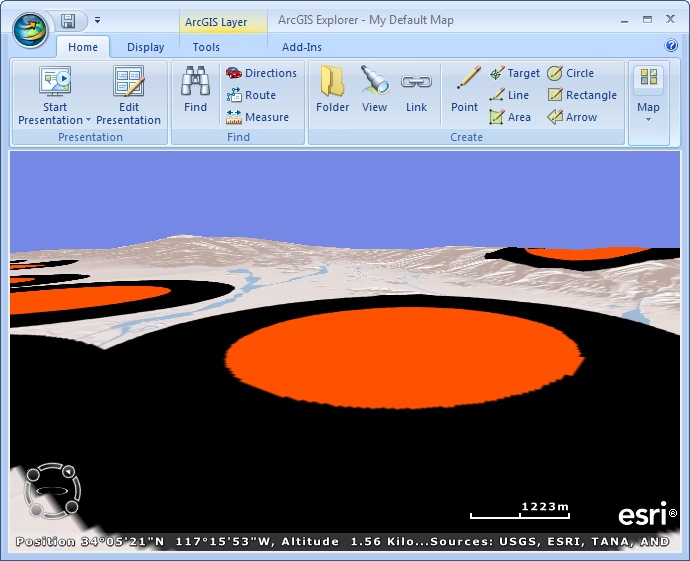 This occurs because the layer does not have good 3D properties for this ArcGIS Explorer use case. Using the layer package referenced above this can be corrected. Open this layer from ArcGIS.com in ArcMap.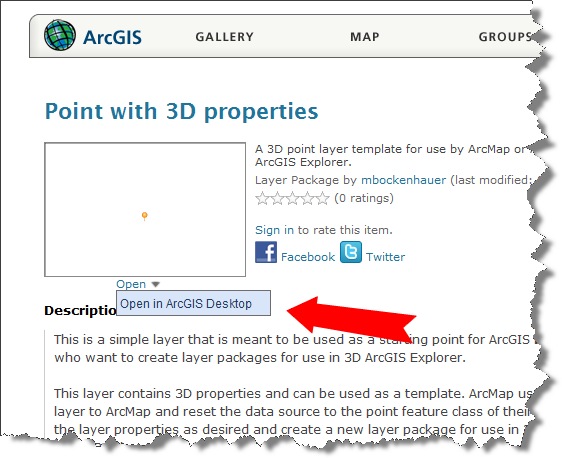 The layer package contains a single point, but that is not important – because we just want the 3D properties from the layer. You are using this layer as a template for your point data.
Right Click on the layer and open the layer's properties…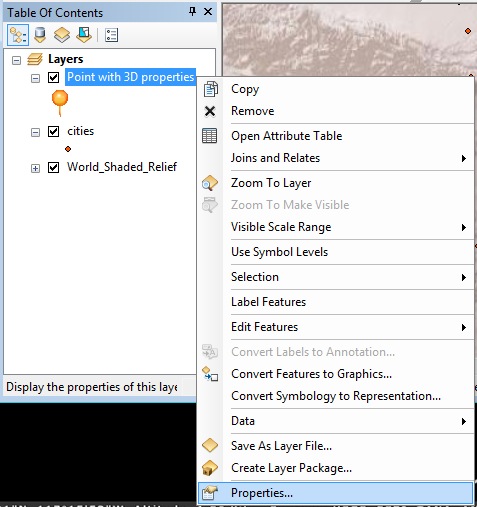 On the Source Tab click the 'Set data source' button and browse to your point data.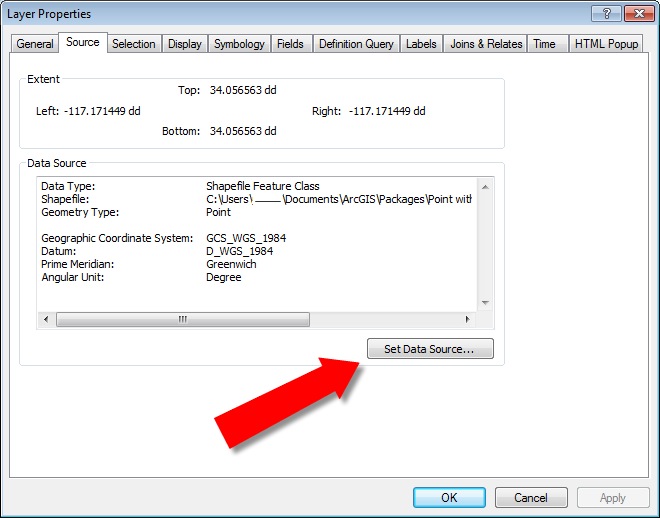 Click OK and see your data displayed with the template layers symbols. Pictured here is the same cities point data used above.

If we create a layer package from this layer and open it in ArcGIS Explorer 3D, it looks like this: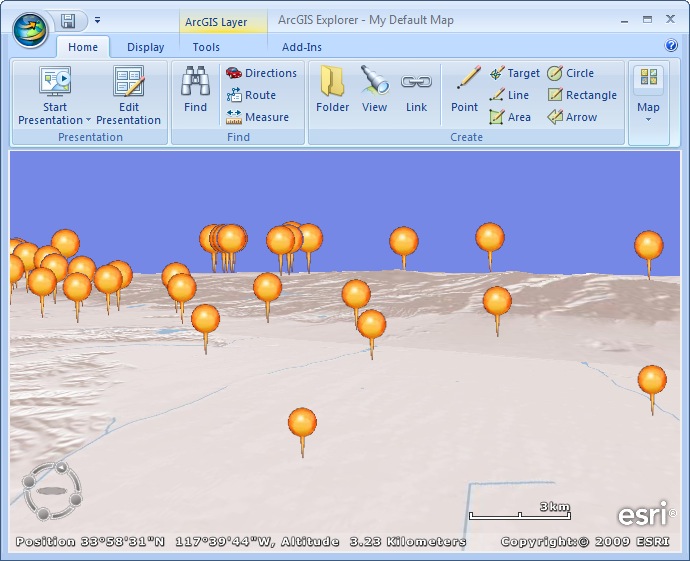 The symbols have better sizing for this use case and they display in 3D.
In ArcMap we can adjust the layer properties further, changing the layer name, symbol, symbol renderer, turn on labels, set HTML popup etc… While 3D marker symbols like those in the ArcGIS_Explorer style work well, you can also use ArcMap's character marker symbols . For example, I changed the layer name, chose the 'Hospital' symbol from the ESRI style and changed the size from 18 to 14.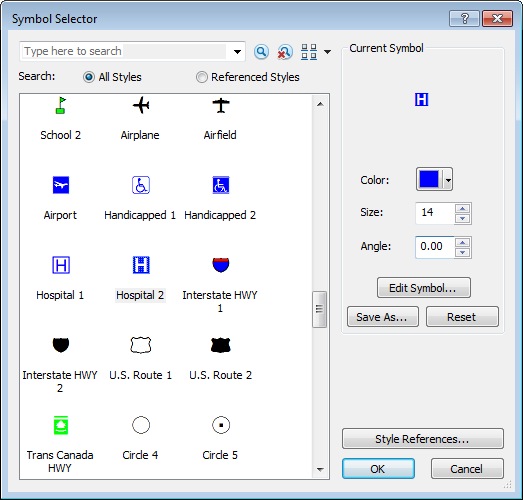 In ArcMap it looks like this: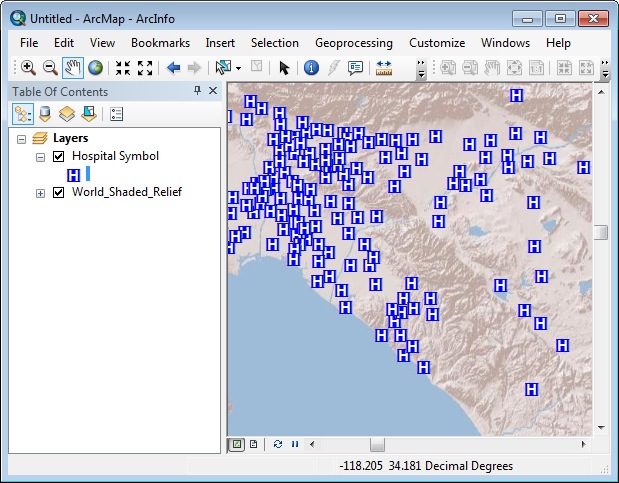 In ArcGIS Explorer 3D it looks like this: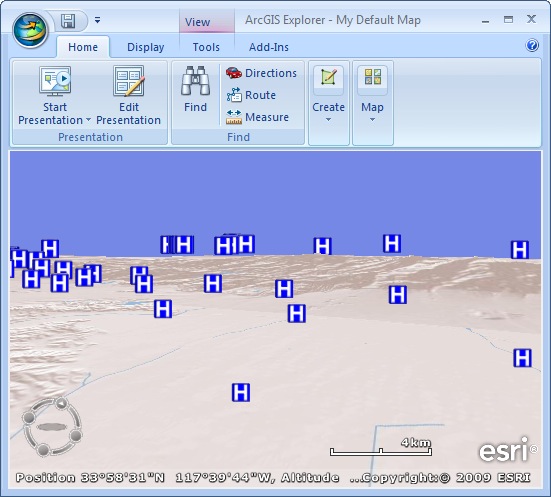 If you have a 3D Analyst license you can use the layer as template in ArcGlobe. Of course, you can also use ArcGlobe to adjust the layers 3D settings and do more advanced 3D display.
Content for this post provided by Mark B. (ArcGIS Explorer Team)
Posted in

3D GIS, Uncategorized
Tagged

3D Analyst, 3D GIS, ArcGIS 10, ArcGIS Desktop, ArcGIS.com, ArcMap, Best Practices, Display, Explorer Desktop, GUI, Layer, Package
Leave a comment