Tag:
Esri Data

by Catherine Spisszak
As we celebrate Earth Day, we should all make an effort to be environmentally conscious. Esri Data can provide a glimpse of where in the country people are making strides all year long to improve the environment and take care of our planet.
Using the Market Potential Data from ESRI, we can map the U.S. counties according to their likelihood to participate in a couple of different environmentally conscious activities.
Recycling Products

Falls Church city, Virginia and Pitkin County, Colorado rank highest in the likelihood to recycle products in the last 12 months, according to their Market Potential Index (MPI). You can see how much the rest of the country is recycling in the map below. Counties that are shaded green are indexing the highest, and therefore doing their part to care for the environment.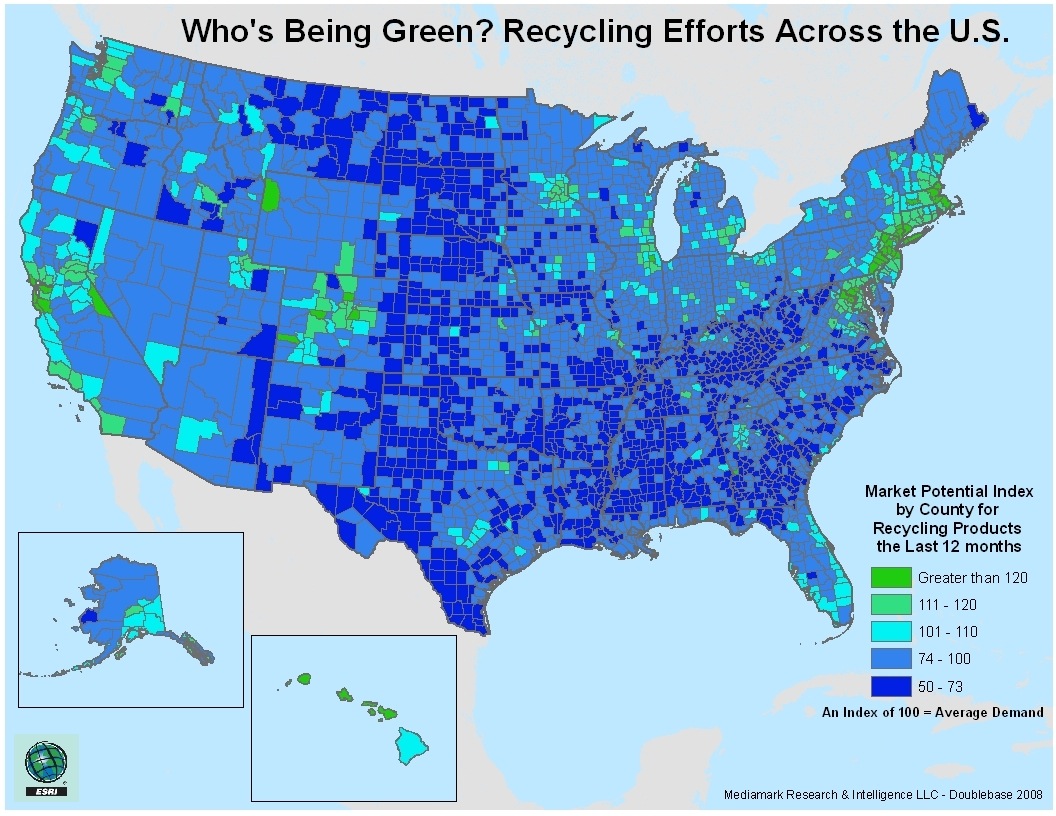 Buying a Tree
Counties that rank high in the demand for trees in the last 12 months are Rappahannock County, New York and Archuleta County, Colorado. The map below shows the Market Potential Indexes for purchasing a tree in the last 12 months across the country. Counties shaded in dark orange and brown show a demand for purchasing trees much higher than the national average.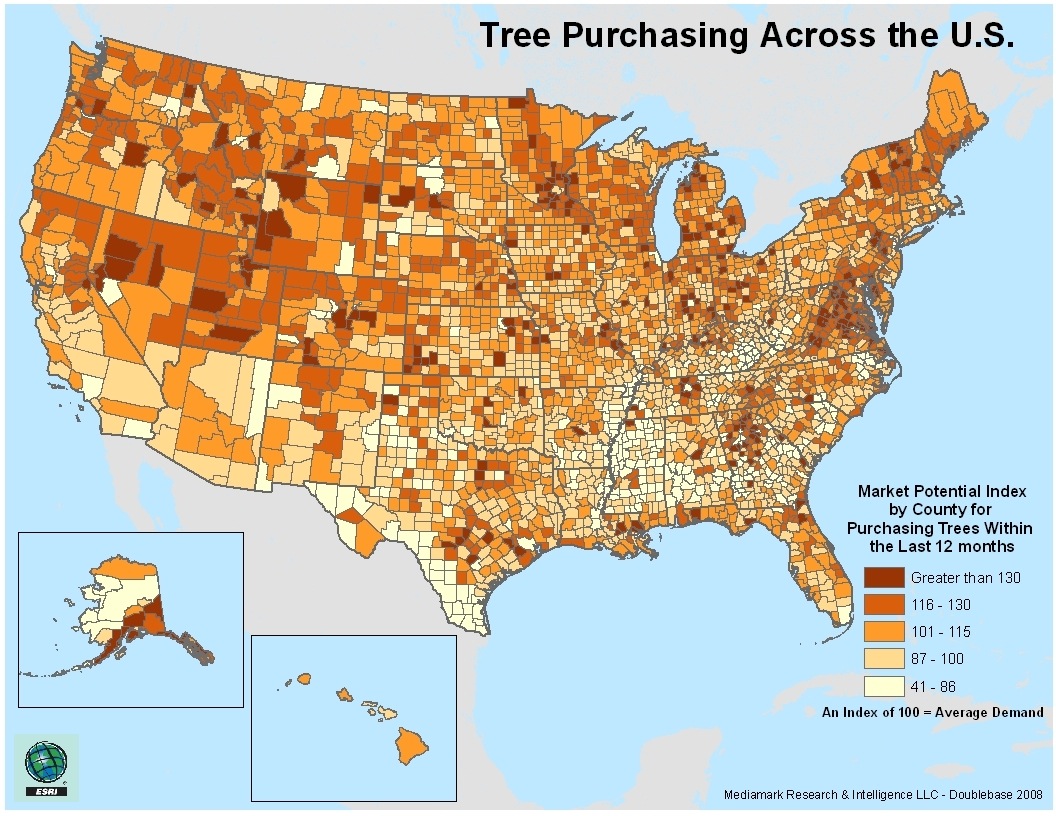 Purchasing Vegetable Seeds
Finally, it's hard to read the papers or watch the news right now and avoid hearing about the importance of eating fresh vegetables and planting your own garden – for both the planet and your waistline. So which counties are actually listening? Juniata County, Pennsylvania and Madison County, Virginia show very high demand for vegetable seeds in the last twelve months according to their Market Potential Index, both more than double the U.S. average. Any county shaded in green in the map below is showing a higher demand for vegetable seeds than the U.S. average…and with all the media focus, it seems like the demand will only grow in the future.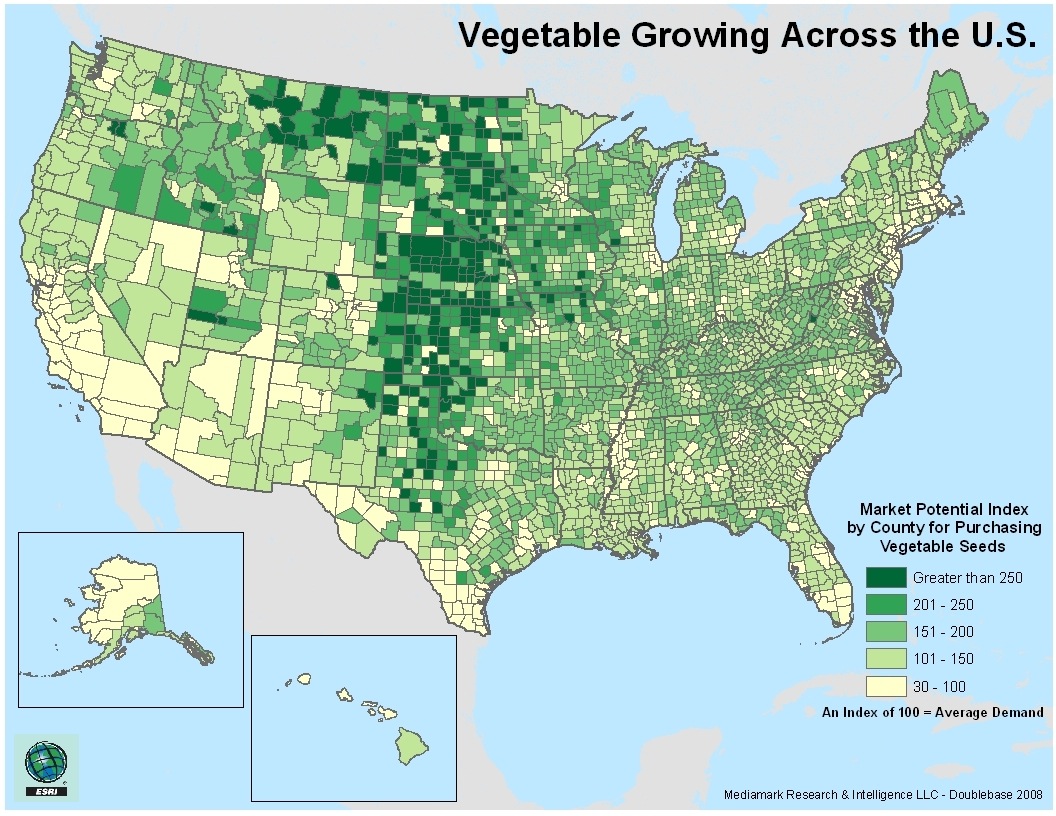 All of these maps were developed using ESRI Market Potential Data and the Business Analyst Desktop product. For more information about ESRI Data please visit http://www.esri.com/data/esri_data/index.html
Happy Earth Day!