Tag:
Esri Data
On the twelfth day of the holiday, Esri gives to you…a color-coded map of spending on cookies!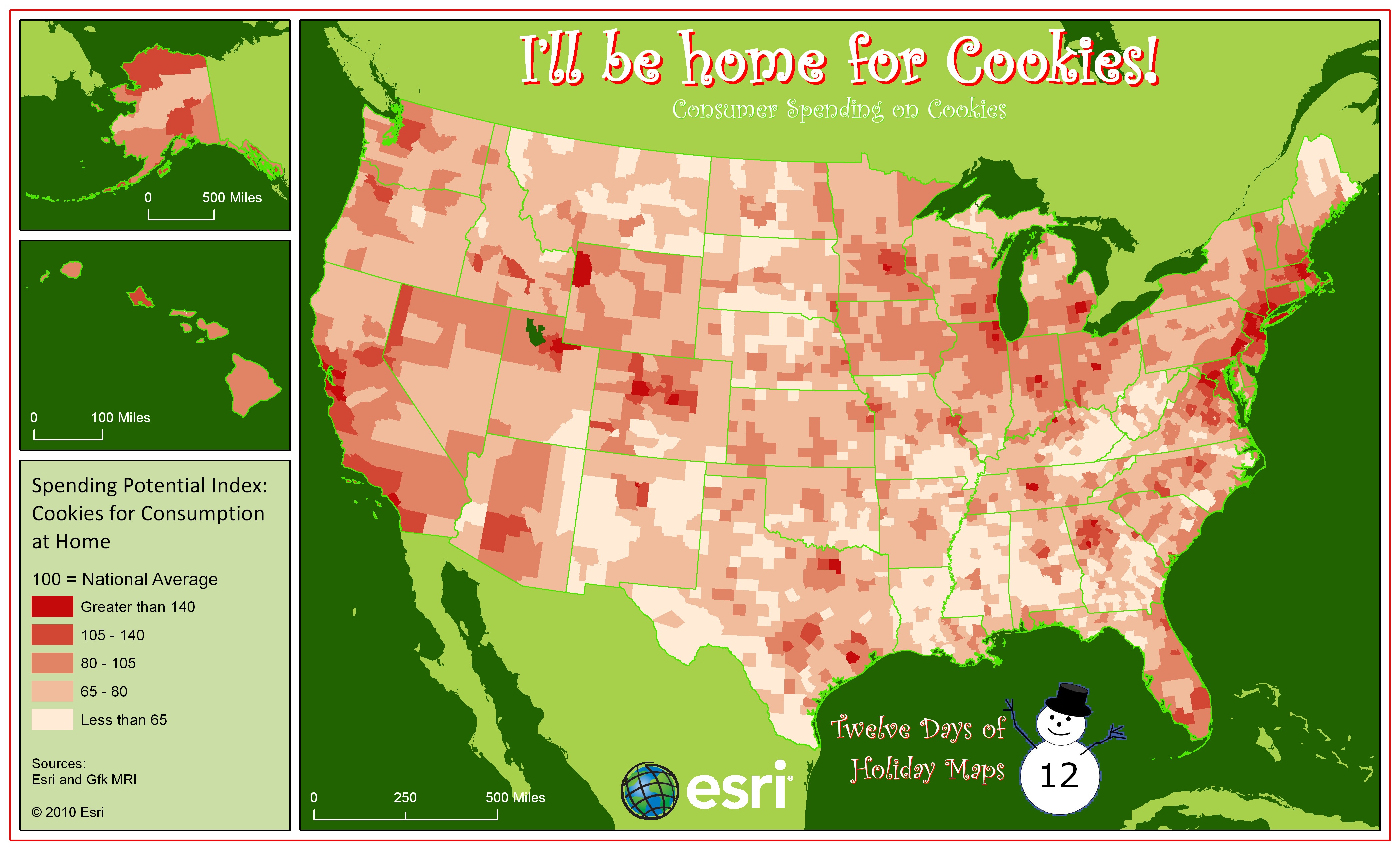 As we conclude our Twelve Days of Esri Holiday Maps series, we are ending on a sweet note with cookies. Enjoyed by everyone from family and friends to neighbors and Santa, cookies complete the holidays.
The map above shows the amount spent on cookies for consumption at home using Esri's Consumer Spending data by U.S. county. Counties shaded in red spend more money on cookies than those shaded in pink. Counties shaded in dark red spend at least 40% more on cookies than the national average.
Esri's Consumer Spending data estimates current spending patterns by combining the latest Consumer Expenditure Surveys (CEX) from the Bureau of Labor Statistics (BLS) with Esri Tapestry™ Segmentation and Esri's Updated Demographics. Data is reported for over 750 products and services and includes total expenditures, average amount spent per household, and a Spending Potential Index (SPI). The SPI compares the average expenditure for a product locally to the average amount spent nationally. An index of 100 is average. An SPI of 120 shows that average spending by local consumers is 20 percent above the national average. For more information on Esri's Consumer Spending Data, please visit http://www.esri.com/data/esri_data/consumer-spending.html.
We hope you enjoyed our Twelve Days of Esri Holiday maps.
From the Business Analyst team at Esri, we wish you a wonderful holiday and a Happy New Year. We'll see you in 2011!
By Catherine Spisszak and David Palomino