Tag:
Enterprise Geodatabase
With almost every new release of ArcGIS Desktop and ArcGIS for Server, there are changes that aim to improve software quality and performance; sometimes, these changes require you to update your workflows. The improvements and deprecations made for geocoding in ArcMap 10.5 and ArcGIS … Continue reading →
Posted in

Analysis & Geoprocessing, ArcGIS Enterprise, ArcGIS Pro, ArcMap
Tagged

address locator, Analysis & Geoprocessing, Announcement, ArcGIS 10.5, ArcGIS Desktop, ArcGIS Pro, ArcGIS Server, ArcMap, deprecated, Enterprise Geodatabase, File Geodatabase, Geocode, Geocoding, Geodatabase, Python, Spatial Analytics
Leave a comment
A few weeks ago, we posted that there is a new PDF that consolidates all the help topics on user-schema geodatabases in Oracle. In that post, it was mentioned that user-schema geodatabases were implemented so you could store multiple geodatabases in one Oracle instance.
Being able to store more than one geodatabase in a single Oracle instance is significant because in Oracle, the instance is basically the database. Prior to the advent of user-schema geodatabases at ArcGIS 9.2, if you wanted to set up a second geodatabase in Oracle, you had to install and setup another instance of Oracle and create your second geodatabase in that.
This is different from how other database management systems work. In IBM DB2, Informix IDS, Microsoft SQL Server, and PostgreSQL, you can have multiple databases per DBMS instance (or database cluster). You can create a geodatabase in each one of those databases, thereby having multiple, independent geodatabases on one DBMS instance. Continue reading →
Kentucky's geospatial data clearinghouse (KYGEONET) has posted an Explorer map that you can download and use. You'll see an ArcGIS Explorer screenshot on the main page, and a link to download the map.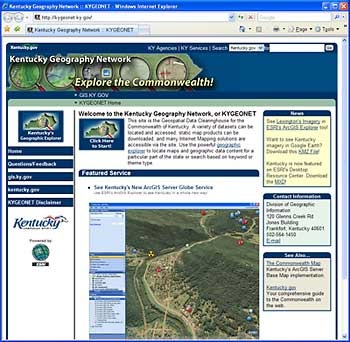 The map publishes 2-foot resolution imagery for the entire state, published as an ArcGIS Server globe service from an enterprise geodatabase (SDE). Here's the entire state's imagery: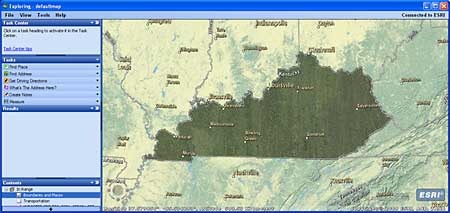 And here's a closer view of the service: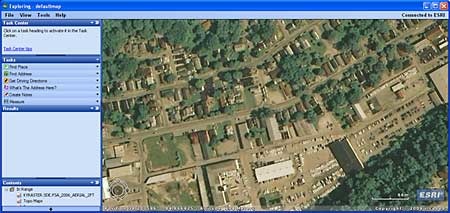 The Kentucky Geography Network also provides a very nice online catalog of additional resources, including online Web map services, downloadable data, and even historical maps.