Tag:
embed
Embedded maps and media are an inherent and essential part of any story map. But in certain cases you may want to embed more than just a map—you may want to embed another story map to help tell your story, … Continue reading →
Story Maps let you combine maps with text, images, and multimedia content, making it easy to leverage geography to tell your story. You can view lots of examples from Esri and the Story Maps user community at the Story Maps … Continue reading →
GIS offers much more than just the ability to put the proverbial "dot on a map." But sometimes, that's all you need or want to do. Here's a very simple way to accomplish just that, in a quick minute (far … Continue reading →
One of the ways you can share maps is to embed them in a web page, such as your organization's website. ArcGIS Online automatically generates the HTML you need, and also provides options for what to include in your embedded map. * … Continue reading →
Groups offer a convenient and easy way to organize items for access within your organization and publicly. They are also building blocks for your organization home, used to configure the featured content, gallery, basemaps, apps, and Open Data sites. Group content can … Continue reading →
The Story Map Journal is a very popular Story Map, letting you create a compelling map-based narrative presented as a set of journal entries. It's ideal for creating multimedia stories that combine text, maps, images, and video. And it's especially useful when … Continue reading →
One of the ways you can share a presentation is to add it to your website or blog. Using Share, ArcGIS Online provides the HTML you need and enables you to set options for the embedded presentation size and links … Continue reading →
(Contributed by Owen Evans, Esri solution engineer). Embedding maps on the web is a great way to bring your content to places it will benefit people the most such as blog posts, news articles, and press releases. Another place that web … Continue reading →
Arizona recently celebrated its Centennial with Governor Brewer's release of "The Arizona Experience," a website celebrating the 100th anniversary of Arizona statehood. Arizona is an early adopter of ArcGIS Online subscriptions, currently in beta.
The site features a combination of maps published utilizing hosted map services (via their beta organizational subscription) in concert with load-balanced ArcGIS services in the Amazon cloud. One of those maps uses a time slider to showcase Arizona's history, as shown below:
This particular map uses an iFrame to embed a time-enabled ArcGIS Online Web map published using a configured basic viewer template, and hosted via ArcGIS Online.
The website will be featuring different themes over the next year. This month the theme is "Land and Celebrations." Planned future themes include energy topics and recreation.
With the latest ArcGIS Online update you now have the ability to embed a presentation in a blog post or website. It's super easy to do, and here's how.
First, author your presentation using ArcGIS Explorer Online. While the presentation can now be opened and embedded using the ArcGIS.com map viewer, the authoring is done using Explorer Online.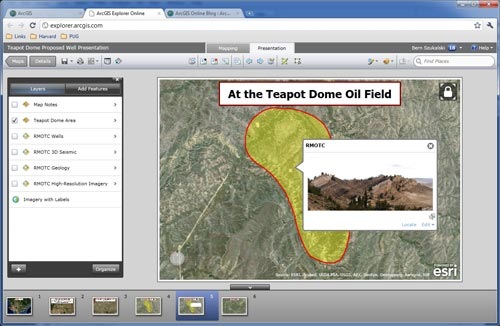 For more information on creating presentations using Explorer Online, view the About presentations help topic.
Now that you've saved your Explorer Online map with a presentation, open it using the ArcGIS.com map viewer. You can do this from the map details or search result thumbnail description. Just click the arrow next to "open" and choose to open the map using the ArcGIS.com map viewer (rather than the default Explorer Online):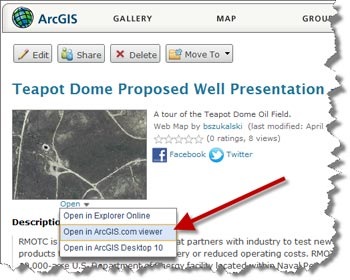 Click Share and you'll find new options to create a link directly to the presentation or to open the map. Click presentation: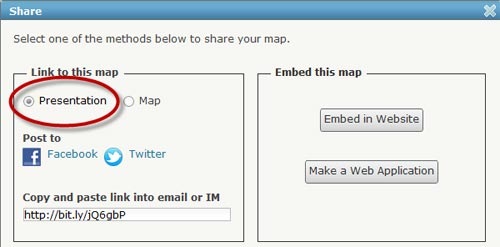 The link that is generated will now automatically open the map viewer in presentation mode, with all your slide titles, layers, basemaps, and pop-ups working just the same as you authored in Explorer Online: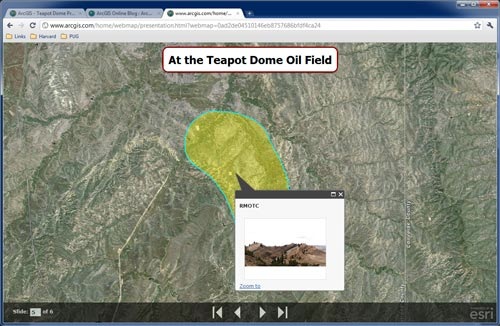 You'll find arrows for navigation

as well as a slide counter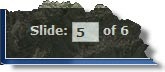 and you can also interact with the map to pan, zoom, and click features to display pop-ups, just like in Explorer Online.
With "presentation" toggled on, if you click Embed in Website the HTML that is generated will enable you to embed the presentation directly in your Web page or in a blog post like the one below: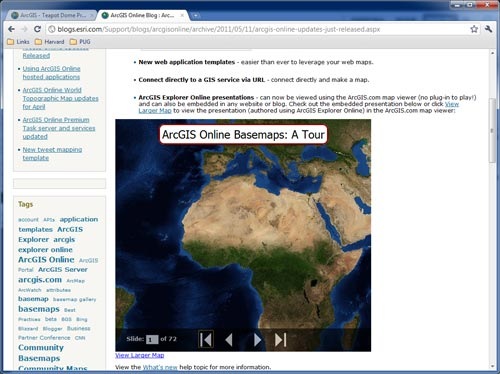 This makes telling stories with maps or sharing presentations about projects or activities easier than ever before. For more information see the Sharing maps help topic.