Tag:
earthquake
This morning we awoke to the local news and reports of a big quake near Tonga, and also a couple of other sizable quakes near Sacramento. So we thought this might be a good excuse to explore several ways you can look at earthquake information using ArcGIS Explorer.
First, we went to the USGS earthquake site where we found a variety of earthquake information available in a number of different formats. As we looked at things we noticed that (as usual) there's a lot of activity in Alaska and along the Kenai Peninsula. While we could have viewed things on the globe, we toggled ArcGIS Explorer to 2D mode then set our map projection to UTM Zone 6.
We first took a look at the KML found on the USGS site in Explorer.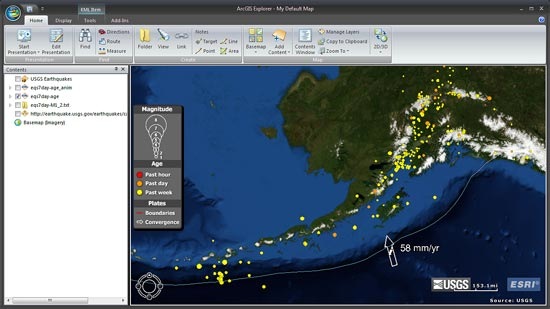 We found a link to a time series KML in the popup window of the above KML, and took a look at that. Here we've pulled out the Explorer time slider to show the entire date range from 2007 to current.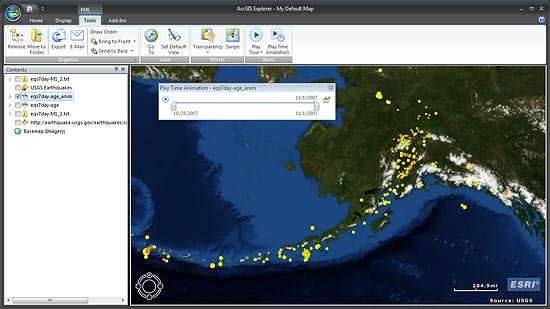 Next we downloaded the .csv file, and added it to ArcGIS Explorer using Add Content, then choosing text files. By adding from the .csv file we could choose from a variety of attributes to display in the popup window.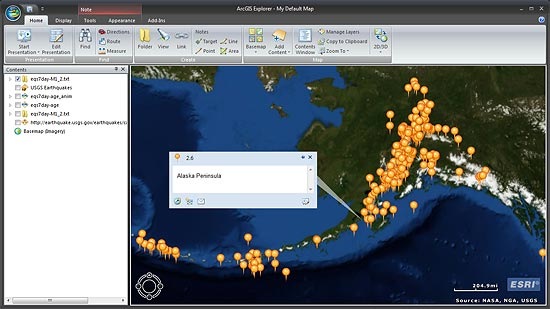 Using the same text file from above we opened it in ArcCatalog as a feature class, creating a shapefile, and set the projection to WGS84 (the same as the input lat/long coordinates).
In ArcMap we used graduated symbols to show the quake events in different sizes and colors. Using the layer properties we turned off some fields and created aliases for others, then toggled on the HTML popup property. And then we exported it as a layer package which we added to ArcGIS Explorer.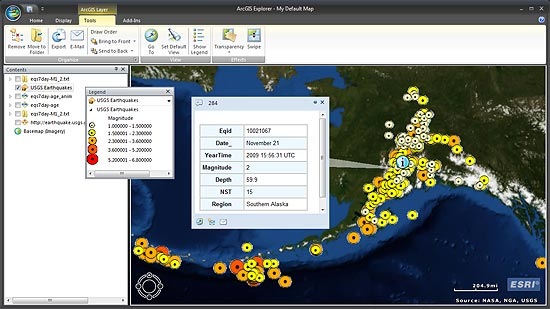 And finally we connected to the GeoRSS feed to view the dynamic live feed from the USGS.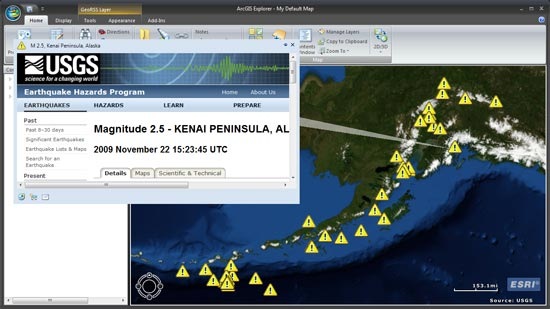 So that makes 5 ways that we used the data available from the USGS.