Tag:
EAM
No doubt, if you've seen Esri present on water, wastewater or stormwater utility GIS over the past year you've probably heard us talk about how GIS fits into the "business patterns" of a water utility. We've gotten tremendously positive feedback from the water utility community that this framework helps people understand how GIS supports their mission as a utility. We've also heard from GIS professionals that this is a very useful framework t to educate their colleagues about the current and potential future contributions of GIS at their utility.
We thought it would be helpful to take some time to review these patterns as we will continue to build upon these concepts in 2011 with the Water Utility Resource Center.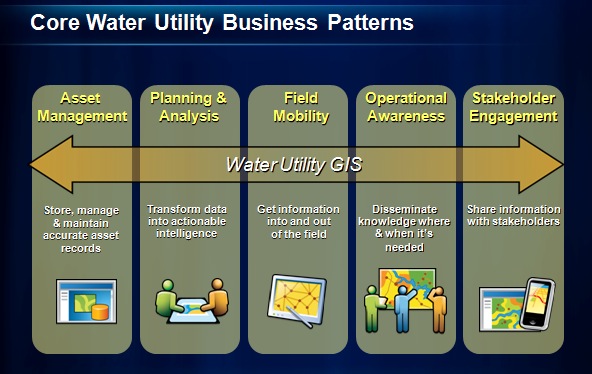 This graphic shows 5 common "business patterns" of a water utility – Asset Management, Planning and Analysis, Field Mobility, Operational Awareness and Stakeholder Engagement. Just about all of the activities of a water utility fall within one or cross multiple of these business patterns
Let's review these 5 common water utility business patterns and how GIS supports them.
The Asset Management Business Pattern
All utilities engage in some form of "asset management". Increasingly utilities are creating formalized "asset management programs". Even without a formal asset management program (and a program in this case doesn't imply a software program, it means an organizational initiative) many utilities have informal workflows and procedures that guide decision making around managing assets. So from a hunch about what assets need to be replaced or maintained to hard scientific evidence, utilities are constantly making decisions about their assets.
The cornerstone of effective asset management at utilities is good asset information. Whether a utility has a formal asset management program or an informal one, decisions require some level of information about assets – from knowledge in a worker's head to information in a computerized system.
GIS supports the Asset Management pattern of water utilities through being the authoritative system to store, manage and maintain accurate asset records that are able to be shared utility wide. Simply put, GIS manages asset information.
It's important to note that it's common at water utilities for the complete information about an asset to be stored in multiple systems. For example, GIS stores the location, connectivity to other assets and basic descriptive information (material, diameter, install date, operational status, etc) about an asset, a workorder management system (also called EAM or CMMS) may store extended information about the work history for an asset, a financial system may store depreciation and valuation information for assets, a customer information system may store complaints about the function of an asset, etc. Optimally there is integration among all of the systems that store information about an asset and the ability for utility staff to access data stored across multiple systems enabling a comprehensive view of the location, connectivity, status, history and description of an asset.
Going Beyond Managing Asset Information with GIS
In the early years of water utility GIS, the bulk of GIS activity for water utilities was focused on creating and maintaining GIS data about assets and that data was used to make maps. GIS was usually the domain of a few folks in the utility that were tasked with continually updating data to support the creation of paper maps for the field and the office.
Over the years, many utilities have evolved their GIS to much more than just a siloed system to manage asset data to make maps. Around the industry utilities realized that their GIS contained a treasure trove of information that could be shared across the entire organization and used to support many of the information needs of the utility. No doubt, utilities can significantly increase their return on investment in GIS by sharing it around the entire utility and using it to support multiple business patterns.
Planning and Analysis
Historically, when a utility had asset data in GIS, it was a natural evolution to begin using that data to support the planning needs of the utility through spatial analysis.
Water utilities plan for the future and use some form of data analysis to do this. There are normally 2 very distinct types of planning water utilities do – short term planning and long term planning. Short term planning at a water utility is typically focused on creating and optimizing reactive and proactive work orders. Long term water utility planning typically focuses on capital improvement planning and future utility network expansion projects.
GIS supports water utility planning and analysis by transforming asset and operational data into actionable information. So far we've focused on asset data; operational data for water utilities is customer complaints, service requests, historic work order locations, etc. Crossing the Asset Management business pattern we described above and the Planning and Analysis pattern encompasses what many in water utility industry consider define as a utility asset management program.
For short term planning, GIS is typically used to support creating and optimizing work orders. Answering questions such as what is the best route to accomplish my daily work tasks and where can I do some proactive work in close proximity to assets that need reactive work. GIS is also used to understand what assets you should do proactive work on and when you should do it. An example is answering questions about which sewer pipes take flow from restaurants that are frequent grease trap violators resulting in the need for pipes to be cleaned more often to prevent fat, oil and grease build up from causing a blockage and overflow.
For long term planning, asset data, performance data and GIS analysis is used to help utilities understand how their utility networks are performing. Then to identify the best replacement and rehabilitation projects to undertake and to estimate project costs to support project evaluation and budgeting. For example, water utilities use repeatable geoprocessing models that take into account many weighted factors to rate their assets on condition, reliability, criticality, performance, etc. This information is then used to help guide where to best spend capital dollars to maximize the value of investments in a utility's assets. For main extensions; land records, demographic projections and proposed development plans are often used to help guide long term system expansion plans.
Field Mobility
Water, wastewater and stormwater utilities have mobile workers that are out in the field for the majority of their work days. In small utilities mobile workers may have many responsibilities such as meter reading, customer service, installs, maintenance, repair work, CCTV, hydrant flushing, valve exercising, etc and in large utilities mobile workers may be specialized.
Mobile field workers at water utilities need information that is current, optimized for their needs to help them carry out their work and delivered in an easy to use format. Mobile field workers also generate much information that needs to be passed back into the office and managed in enterprise business systems.
The field mobility business patterns includes both work the field crews are performing as well as the processes used in the office to support and manage field crews. There is recognition across the industry that field work is a large part of water utility operating budget and for many utilities there is not enough field crew labor available to meet the needs of the utility. Water utilities are always looking for ways to decrease the time it takes to share information bi-directionally with the field and increase the reliability and accuracy of data coming back from the field. The mobile nature of field crews, the many tasks a field crew may carry out during a given day and the limited exposure by some field personnel to technology present a challenge to utilities that need to reduce field operations costs and increase efficiency.
Water utility field staff are among the most map centric people you will encounter. They think of their work world in terms of map book sheets. So for GIS, the Field Mobility business pattern is about providing water utility field crews with maps and map centric applications that can be rapidly updated and are easy to use. GIS also supports the Field Mobility business pattern by enabling field crews to capture GIS data in the field and efficiently pass it back into the office.
Some utilities choose to create paper or electronic field maps books out of their GIS. Other utilities are deploying mobile GIS applications for field crews that act as an interactive version of the traditional utility map book and also provide decision support and data capture tools. Whether delivering paper maps or interactive mapping applications to the field, GIS is supporting the needs of utility field workers as well as those in the office that need to share information with the field.
Operational Awareness
Talk to a manager or executive director at a utility about their information needs and most often they will say something along the lines of "I need to know what is happing around the entire utility at any given time". They need to be operationally aware.
The Operational Awareness business pattern is about having an understanding of the current state of operations at a water utility, so this is a real time or near real time understanding of how assets, utility networks and personnel are performing and how they are affecting each other. Being operationally aware empowers water utility managers to confidently make decisions based on accurate and up to date information.
GIS supports utility operational awareness by enabling utilities to have a web map based view into the current state of operations. We've heard over and over from water utility managers that a map based view into their organization is the easiest way for them to understand at a glance what is currently happening at their utility. An interactive map is also an easy way for utilities to take information from multiple business systems and present it through a common application.
What do water utility managers want on their interactive maps? Most want their utility networks overlaid with locations of recent callers, new service requests, open workorders, out of service customers, crew locations, limited SCADA information, recent sewer over flows, planned capital projects, etc. They would also like to be presented with KPIs and metrics derived spatially, utilize heat maps to spot trends, be able to see historic operational data on demand and be able to zoom far enough in to see all of their utility assets in detail as necessary.
Thinking about data that utility managers need to be operationally aware brings about an important point. Much of that data comes from other enterprise business systems used at utilities and can be spatially enabled by a GIS so it is placed on the map.
Stakeholder Engagement
Water utilities have many external stakeholders such as customers, elected officials, regulatory agencies, other utilities in their service area, etc. The Stakeholder Engagement business pattern encapsulates how utilities interact with external entities that are affected by the utility.
Across the industry, the trend is for water utilities to more proactively engage with stakeholders through public outreach programs, providing more transparency while delivering information in a way that minimizes the possibility of misinterpretation. Modern water utilities recognize they need to utilize the internet and social media to communicate with their stakeholders. Presenting up to date information via interactive maps is a powerful medium to communicate with the technology savvy stakeholder.
Utilities use GIS to support Stakeholder Engagement by creating and delivering static and interactive maps. For years GIS has been used by utilities to make maps that were submitted either electronically or as a hardcopy for regulatory agencies. Utilities have also used GIS to make static maps available as an image file or PDFs on their websites. Now utilities are creating public facing web mapping applications for their stakeholders to support things like customer self service, capital project coordination, service interruption incident management and transparency into utility performance.
We hope that you've found this exploration of how a pattern based framework for how GIS supports the needs of water utility useful. As always, if you have any comments on this blog please share them.
?
?
Posted in
Water Utilities
Tagged

asset management, Best Practices, capital projects, CIS, CMMS, EAM, enterprise asset management, Enterprise GIS, field crews, Map, Mobile GIS, paper maps, route optimization, self service, service request, sewer, small utility, stormwater, utility, wastewater, Water, work order
Leave a comment