Tag:
Dojo
Version 2.2 of the ArcGIS API for JavaScript was released in early March. . . .right around the time that Microsoft announced that Internet Explorer 9.0 was final and Dojo announced that version 1.6 was available. Version 2.2 does not support either of these, but version 2.3, planned for early May, will support them. We've put together an early version of 2.3 to demonstrate how the IE9 enhancements lead to a better mapping experience.
Internet Explorer 9
Internet Explorer 9.0 provides many new features including improved support for CSS3 and HTML5 and dramatic improvements in graphics performance. In earlier versions of Internet Explorer, drawing 1000+ graphics performed poorly compared to browsers like Firefox and Chrome. At IE9, graphics drawing performance is much improved over earlier versions of IE and is comparable to other browsers.
We created a simple test case that draws 1000 graphics on the map to test the performance improvements in Internet Explorer. This table shows our test results, in milliseconds. You can run the test on your machine using the code here. Note that your results may vary depending on the specs of the test machine.

Internet Explorer 9 now supports CSS3 behaviors like rounded corners, media queries, transforms and more. The image below shows a sample application in Internet Explorer 8. The css for this application specifies that the corners should be rounded and the header should have a box-shadow applied. However, IE 8 does not support the border-radius or box-shadow properties and they are ignored.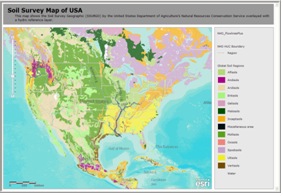 Here's the same sample running in IE9, note that the rounded corners and box shadow are now applied.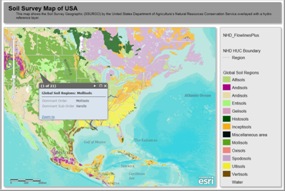 HTML5 support was also enhanced, so now you can take advantage of capabilities like the Canvas Element and Geolocation in IE 9.
The HTML5 Canvas Element is a space on the page you can use to render images on the fly. Click here to view a sample that demonstrates using the Canvas Element to draw a raster image.
The Geolocation API which can be used to find the user's current location is now supported across all major browsers. You can test this using the Geolocation sample.
For more details about CSS3 and HTML5 support in IE9 visit caniuse.com.
Dojo 1.6
Enhancements to Dojo 1.6 include Dojox.Mobile enhancements and a growing set of tutorials on various aspects of working with Dojo and Dojox.Mobile. Version 2.3 of the ArcGIS API for JavaScript will use Dojo 1.6.1 which is due out any day now and is scheduled to include several bug fixes for IE9.
Contributed by Kelly Hutchins of the ArcGIS API for JavaScript development team