Tag:
Dev Meet Up
On our way to Charlotte, after waving at some highway patrolmen, Jim Barry ( @JimBarry) and I (@AmyNiessen), arrived at the hotel, and it was definitely a warm welcome. Charlotte was very much a downtown that I would imagine. On the road, the crosswalks were painted in checkers as a cute way of announcing the NASCAR Hall of Fame nearby. Being that we were only there one day, we had to get right down to business. We needed to prep for the meet up in the evening and wanted to get to the venue, Black Finn (@BlackFinnCLT), beforehand to set up.
When we arrived, we were introduced to the coordinator, Courtney Maddox, who was very kind in helping us get set up for the night's event. She immediately offered us the entire upstairs bar, as opposed to the tiny room that we used the last time we visited. On top of that, we were getting a microphone. Hooray for microphones (don't get me started…)! As people started to come in, I started to get a little hungry. I was able to sneak in a few bites of the gourmet food Black Finn had in store for us for the evening. Lucky me! As people checked in, I started to see some familiar faces from our Charlotte office, such as Garima Vyas and David Crosby. We also recognized another friend (although he was disguised in plaid), Glenn Goodrich (@ruprictGeek), who was all set perform the keynote speech.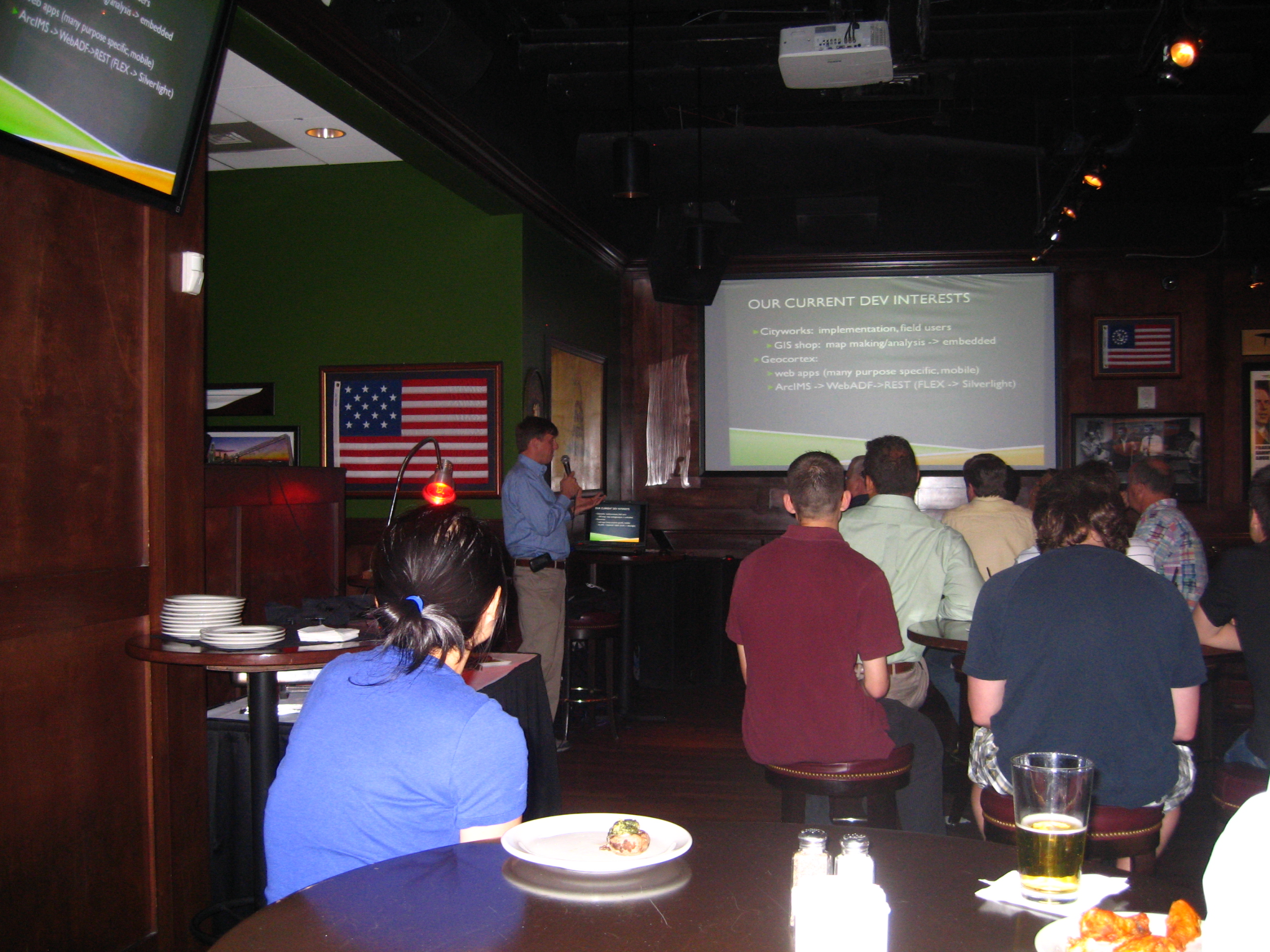 Jim introduced the EDN Team and the Meetup.com sites that we have for all of our Dev Meet Up events. The Meetup.com site provides a way for users to network and plan for upcoming Dev Meet ups. The EDN Team can stay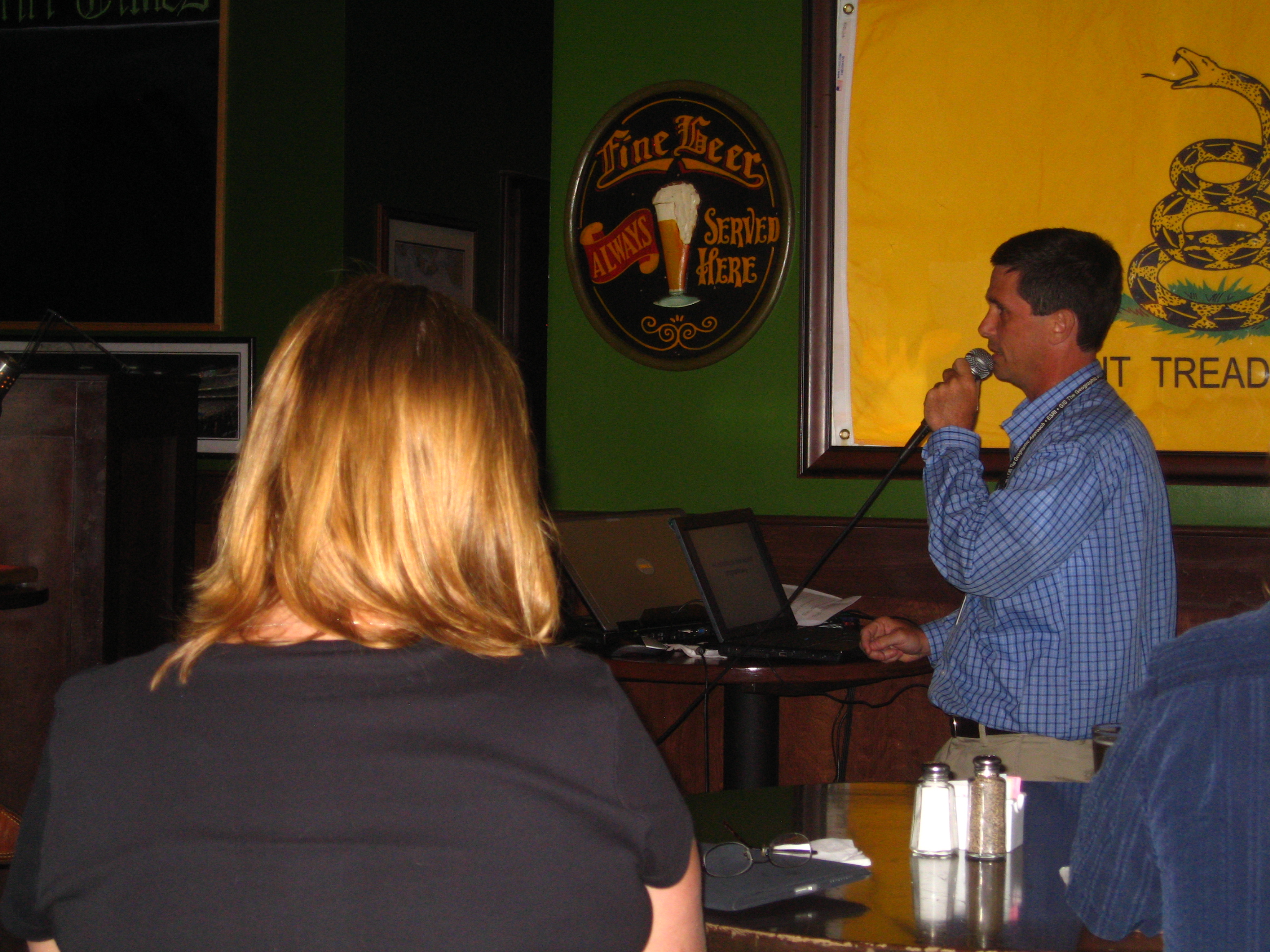 in touch with users this way and really cater the event toward what the users want. As soon as Jim turned the stage over to Glenn, he kicked off the evening by displaying Backbone.js. He was kind enough to share a little bit of code with everyone. Thanks, Glenn!
Now onto our lightning talks. Bryan Townsend from York County, SC presented "Customize by Configuration". He presented features from the Geocortex Viewer for Silverlight. Interestingly enough, random sound bytes would interject with rock 'n roll tunes into Bryan's presentation. They came at good times, though and it seemed as though he planned it that way.
The final lightning talk presentation we had was from Shawn Carson of Rock Hill. Shawn showed off the website he built for the City using the ArcGIS API for JavaScript. At the same time, he used the City's website to show all of us how easy it was to just pick it up and get building, even for someone like him who was really new to coding in JavaScript. The first release of his website contained about 90% copy-pasted code from the ArcGIS API for JavaScript Resource Center. There you'll find well over a hundred sets of runnable JavaScript code that exercise pretty much all of the most common mapping and GIS functions.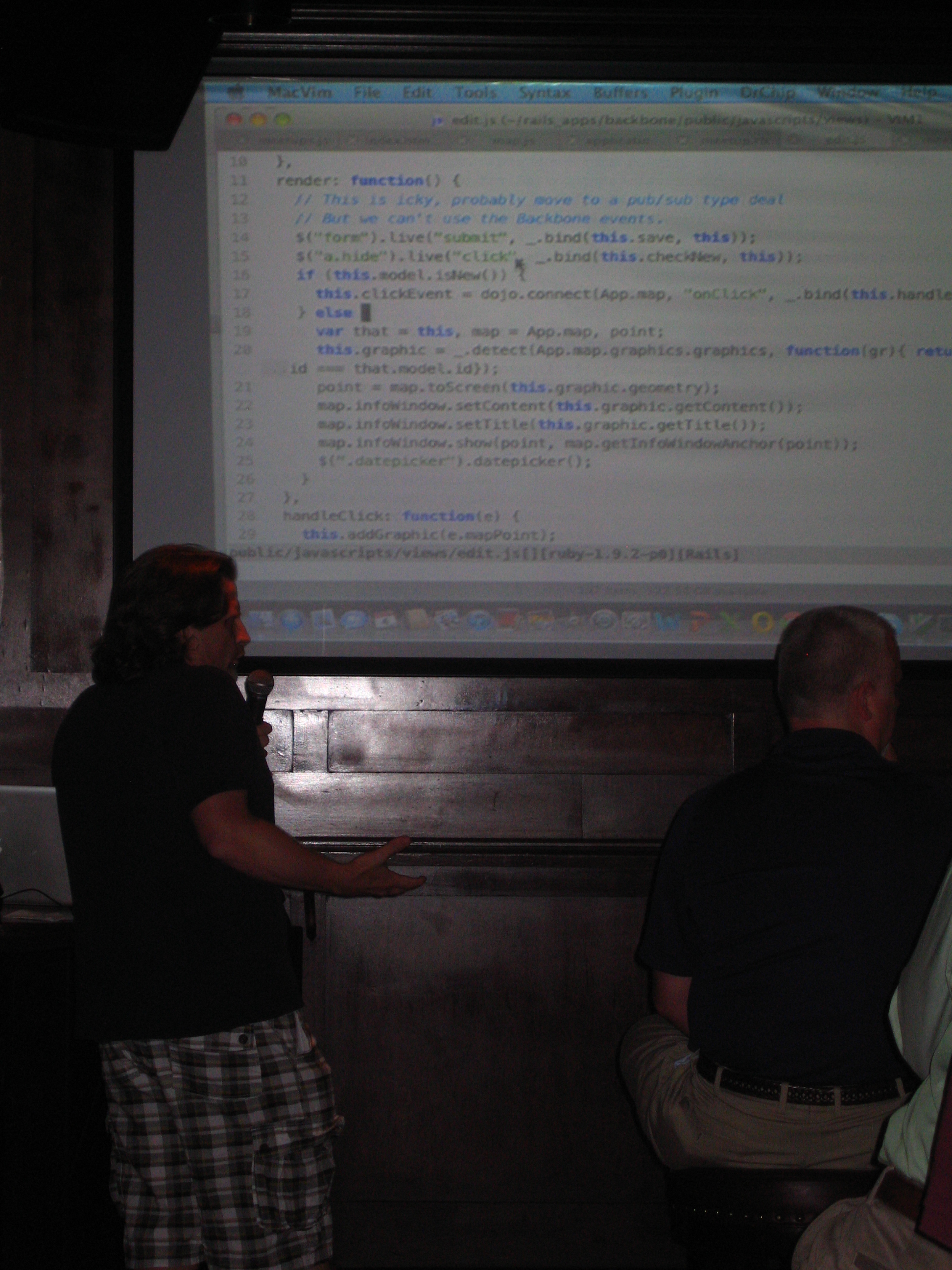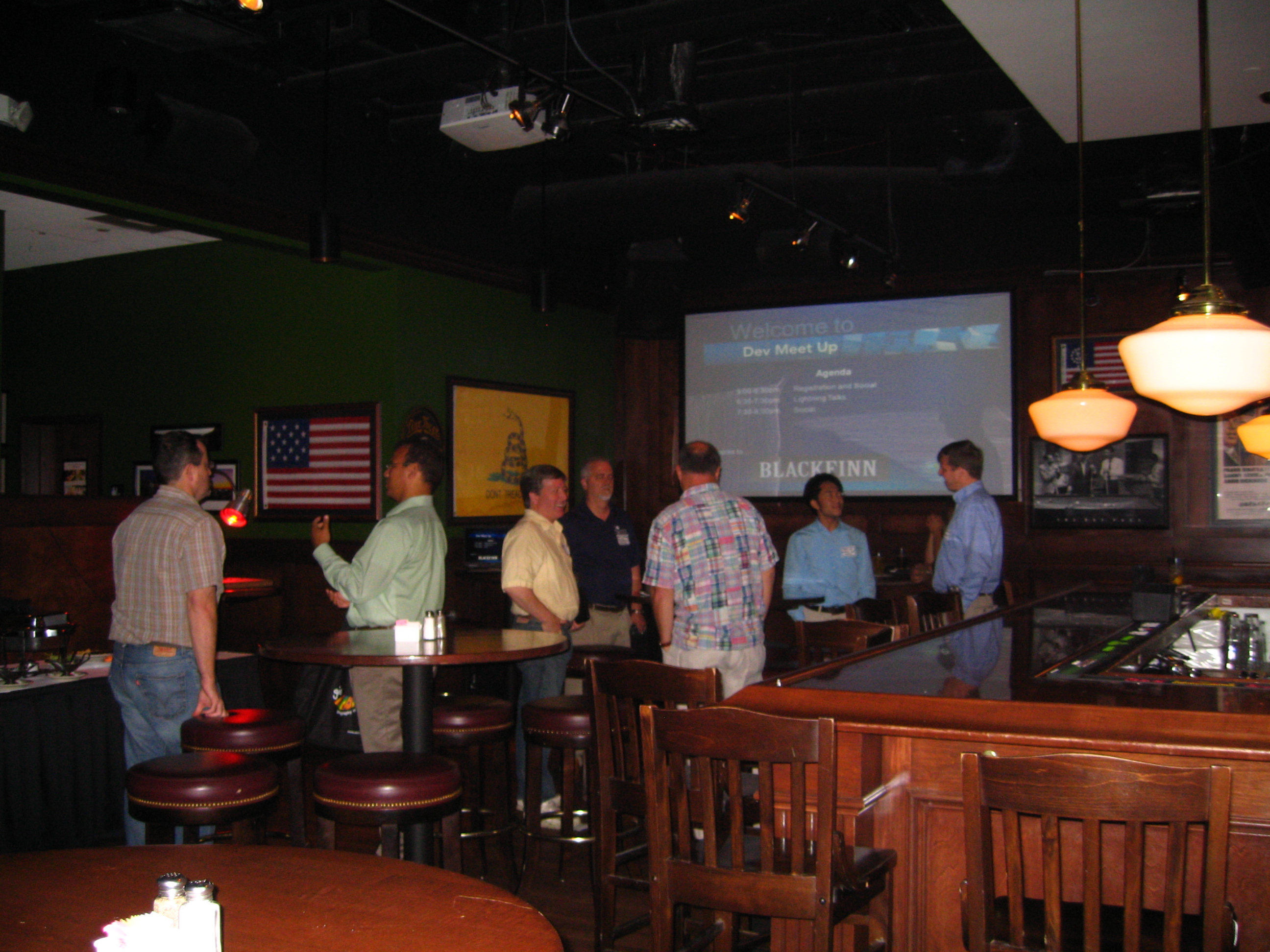 Finally, we had a few trivia questions that needed to be answered in exchange for our Esri tote bag and some other very cool items. Some renamed the Esri tote bag as the official shopping bag of Colorado.
We want to thank everyone for coming out. To stay involved, please visit our Carolinas Meetup.com page where you can meet other developers in this area, find out more about our events, and be notified of our next visit. Ciao for now!