Tag:
D.C.
Less than a week after the Philadelphia meet up, we were back on the East Coast in Washington, D.C. For some reason the venue thought the meet up was the next day but thanks to Charmel from the D.C. office, they rallied round and started setting up for us.
Just as well – we had a large crowd of hungry and thirsty geonerds turn up for a superb set of speakers.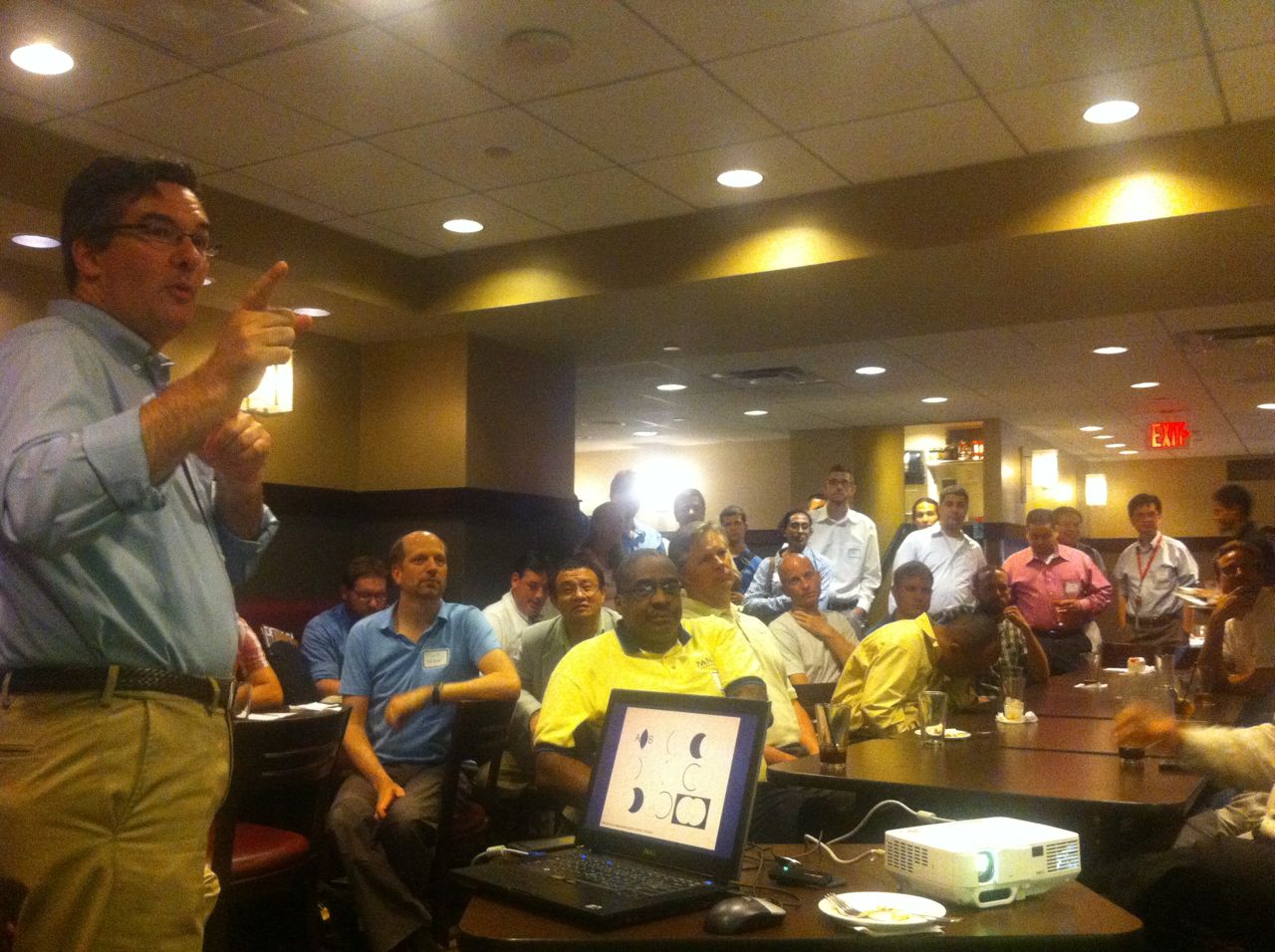 None other than Bill Dollins opened with his GIS take on the Washington Post's "5 Myths" series. He kept the audience in rapt attention from start to finish as he talked about the place of Desktop, Maps, and The Web in GIS today. There's a lot of discussion in the GIS community about NoGIS, moving to the web, etc., but Bill managed to provide a very grounded set of arguments for and against. He re-iterated a theme I've heard with increasing frequency, which is that GIS is much more than just maps. His slides are available here, and are well worth taking a look at.
After that, we dived straight into the lightning talks. Andrew Hargreaves talked about a pretty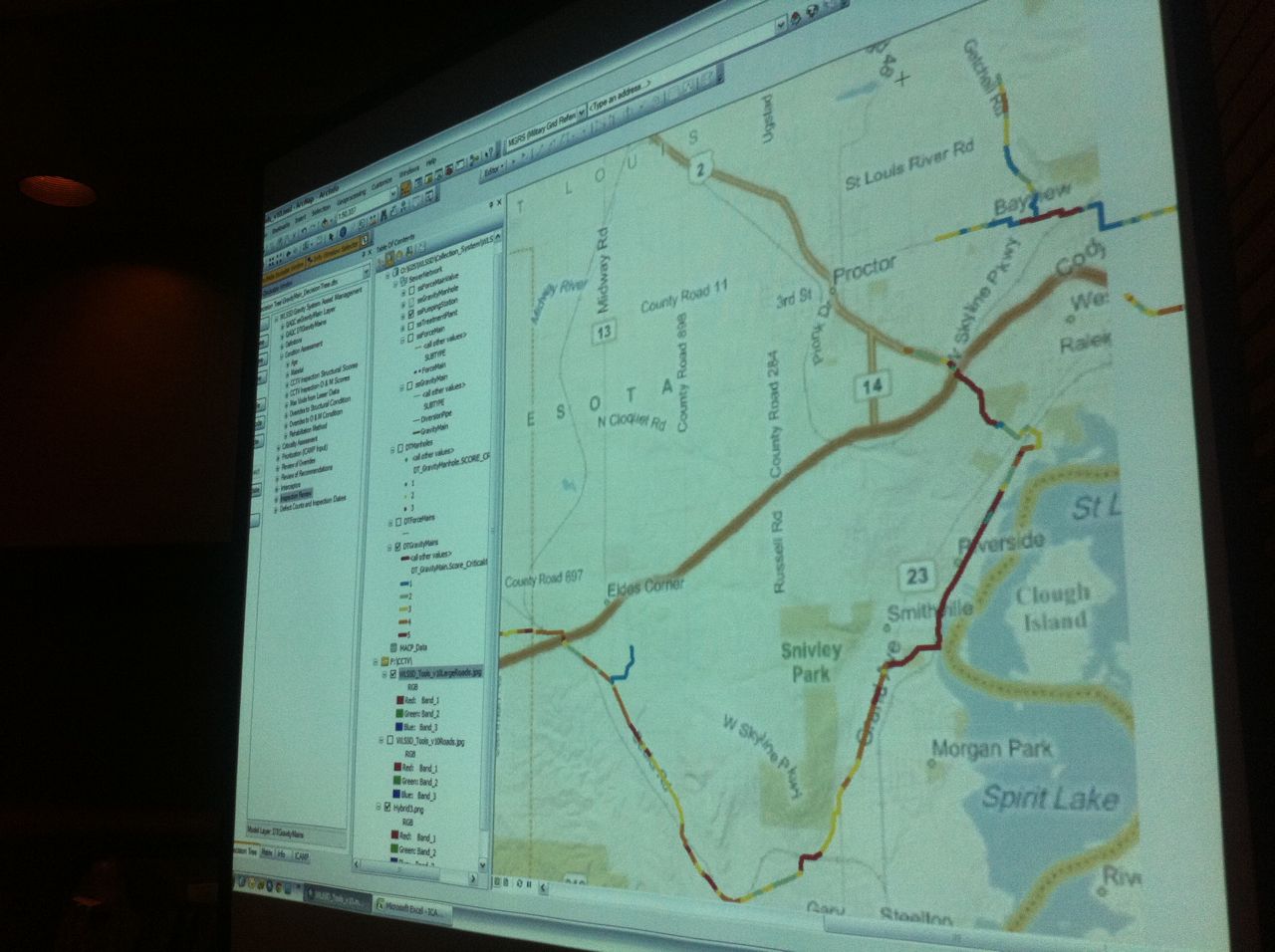 cool desktop-based sewer maintenance system. That's right: I said "sewer" and "cool" in the same sentence. Remote controlled robots make their way through D.C.'s sewer system taking video as they go. The robot's relative position to where it entered the sewer system is tracked and tied to a position in the recorded video, so as faults are spotted along the sewer, they can be geolocated on the map immediately. Then, anyone can jump to the relevant position in the video just by inspecting the fault record or by clicking on the map. Really very cool and very seamless. He showed how an exported attribute only report of sewer faults (which is how engineers typically use the data) could integrate with the video in exactly the same way.
Mark Wimer talked about searching for GIS data (slides here). As a bit of en experiment, we had intended that Mark's talk be quite interactive, but in the end he had so much great material in discussing a couple of recent data-hunts he'd embarked on that we didn't have time (after all, that's why we stick around for the social afterwards, isn't it?). For geodata searches, he demonstrated the importance of having a date, source, thumbnail, and description at your
fingertips.
Dave Smith then told us about how the EPA handles data quality and integrity across all its data sources using their Facility Registry System. This aggregator allows all data sources to be included in a single place, not just for query, but also quality control and integrity. In particular, a single geocoding and addressing system can be applied to all facilities, and data gets a steward with appropriate knowledge to do the QA. In addition, the system keeps track of an indicator of the accuracy of the location data – all very neat and incredibly valuable. You can find his slides here.
People's glasses were emptying (mine in particular), so I called a five-minute break for top-ups and handed out some t-shirts to a few lucky trivia winners. Then we turned our attention back to the screen for Chris McClain's talk on GIS Development, past, present, and future (slides), during which he took us back through the history of our industry and conjectured on where we were all going. He touched on a number of topical issues, including the role of the developer and the cloud in the future of GIS, how location and place will work out their differences, and overall complemented Bill's opener very nicely.
Christopher Fricke closed the lightning talks out with a great run through of how ArcPy has made his job easier by automating a bunch of installation and data processing tasks (slides). He can make use of really robust Python libraries and reuse desktop code in maintaining server systems, freeing up his time for the things he really likes, like not being stuck indoors.
A common theme throughout all the talks and presentations was that the speakers had fun presenting and kept the crowd thoroughly amused. Many of the speakers did a great service to the Meet Ups by emphasizing the importance of the community getting involved, and I think the next time we return to D.C. we'll
have an even larger crowd.
Many thanks to all who attended, especially the speakers, and congratulations to our prize-winners Sara Emani who won an EDN Subscription, and Jay Boyd who we'll hopefully see enjoying his pass to the Dev Summit next March.