Tag:
customer information system
In late March I was at AWWA's combined Customer Service & Information Management & Technology (CS/IMTech) Conference in Portland, Oregon. Since this is a combined water utility technology conference and a customer service conference I had some very interesting discussions with customer service professionals about technology. We had a good number of customer service folks stopping by the ESRI booth either because they saw the value of sharing information with their customers via web based mapping or because their utilities had invested in an enterprise GIS (often begun to support asset management) and they recognized customer service could easily leverage this investment for additional benefit. We also had some people stop into our booth that had seen or heard about our Customer Interaction Template – http://waterutilitiestemplates.esri.com/customerinteraction/ (a big thanks to Lisa Ragain for spreading the word about using the template for boil water notifications to the customer service community).
This dovetails with the trend we've been seeing of increasing interest in GIS from customer service and public outreach staff at water, sewer and stormwater utilities. I wanted to focus this blog on some thoughts on using interactive browser based maps for public communication and outreach.
Challenges for public communication and outreach
We've heard from utility customer service and public outreach professionals that some of the challenges they face in communicating with stakeholders (ratepayers, the public, environmental groups, local media, and other government entities) are effective communication, authoritative communication and rapid communication. A browser based interactive map is a great tool for utility customer service and public outreach staff to overcome these challenges.
Here is a great example from Twitter that illustrates why customers benefit from an interactive browser based map. This is a series of tweets during a recent boil water alert in a major city. Incidentally, if you want some great insight into how your technology savvy utility customers think, search twitter for main breaks or boil water alerts, it's a very enlightening exercise.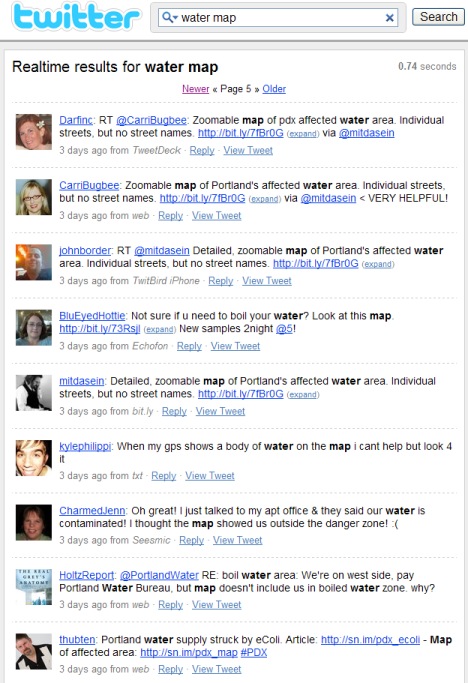 Effective Communication with Customers
Effective communication hinges on being able to easily convey information to your customers and have them understand it and draw the proper conclusion. When communication happens around a safety issue (boil water alerts for example) this heightens the need to provide clear & concise information so that it enables customers to act properly and also to manage their fears.
A large reason why maps are so much a part of our lives is because they are an easy way for human beings to convey and understand information (that's a fundamental premise of the "The Geographic Approach"). Also we are in an age where society at large has gotten comfortable with visualizing spatial information in an interactive map in a web browser. So it should come as no surprise that utilities can use maps to better communication information with the public and the public understands this medium of communication.
For many utilities sharing map based information with the public on their external webpage is nothing new. But historically this was done with static maps (meaning that they were a PDF or an image file like a .jpg). Good examples are utility service area maps or maps of future capital projects, often times done as part of a report or study and then re-used as content for a utility website. Because these maps are static you can't explore them (zoom in or out, see street labels, determine your location relative to the data on the map, etc). As interactive web based maps are increasingly part of our daily lives no doubt some utility customers are unsatisfied and unimpressed with static map content on utility websites.
With a GIS you can create your own browser based web maps. These can be interactive and dynamic – customers can zoom, pan, look up by address, etc. so they can freely explore the data you are sharing with them via the map. Since the utility is deploying the web based map, you can create the map (choose the data you are sharing and the cartography) to convey the information the way you want. You can also take advantage of scale dependencies for layers and dynamic labeling. So no more complaints about not being able to zoom a map in to determine your location relative to the information on the map or and no more issues with street labels.
If a utility is already deploying browser based GIS maps for internal use, then they have some of the data, knowledge and IT infrastructure in place to use the same GIS technology to provide browser based maps to the public. Of course you need to take into account IT and data security and shouldn't share any information with the public that could make your water or sewer systems vulnerable.
Authoritative Communication
One of the tenants of the internet and specifically social media is that it gives anyone who wants to share information a platform to communicate. This includes water utility stakeholders. Sometimes stakeholders are creating and sharing information on the internet about a utility that the utility also maintains for its own internal use. So stakeholders are creating information for their use (often to support a point of view) that a utility already has and does not share. In this scenario the utility is the authoritative source of data and the data the stakeholders are creating and sharing may not be correct or up-to-date.
These two links are examples of stakeholders using maps to share information about a utility (in this case identifying where main breaks have occurred) – LA Main Breaks Map from the Los Angeles Times & LA Main Breaks Map from Southern California Public Radio. No doubt the utility is the most accurate source of information on main breaks in their service area, but in this example stakeholders have created their own versions of this information and are sharing it on a map.
The internet also allows well-meaning stakeholders to step in and fill what they perceive is an information void. Here is good example of using a map to do this – Are you affected by the boil water advisory? Use this map to find out
Please keep in mind that neither of these examples are a criticism of a utility or the entities that have put this information onto the internet. It's just meant to illustrate the point that information about utilities is being created and shared on the internet by stakeholders, often times in the form of interactive maps. Also by no means do I want to suggest that volunteered geographic information isn't valuable for utilities. But information that a utility is the only true authoritative source of should be shared by the utility, not managed by the stakeholders or the public.
So how can browser based GIS maps help overcome the challenge of authoritative communication? Quite simply the utility can publish interactive browser based maps through their GIS, becoming the only credible source of this data and eliminating the need or temptation for stakeholders to create and share data that may not be correct. A utility could make their published interactive map accessible only through the utility's webpage and can include their logo to let stakeholders know the information is directly from the utility. A utility can also include some form of metadata (information about the data on the map) and a disclaimer on the map to let the public know the appropriateness of use.
Timely Communication
Increasingly customers of all businesses (including utilities) expect information on the internet to be up-to-date. This is especially true in an emergency situation.
A utility emergency usually has multiple pieces of information that have a location. These locations may be an exact point – a water main break, maybe a series of points – customers experiencing basement backups, or could be a polygon – a boil water area. The same concept holds true for planned utility operations that affect customers such as hydrant flushing or valve exercising activities that might disrupt traffic or make their water cloudy for a short time.
So even though these emergency situations are defined by locations (and may change rapidly) some utilities might only use textual descriptions to convey location information to stakeholders. For example you may see at the top of a utility's web page "Boil Water Alert in Southwest Area of Service Area" with some streets given to bound the boil water area. We've heard from some utilities that the way the implemented their external web page leaves them with the ability to rapidly change only certain text items on their landing page. Unfortunately it's hard for many people to translate a textual description into a mental map, especially during an emergency.
Utilities may also give a link to a static map of the affected are in a PDF or image file (odds are that static map was produced with GIS). While commendable that a utility is using a map to convey this information, a static map can frustrate stakeholders as well, because (like the Twitter example at the top of the blog) they don't get enough information from the map.
A browser based GIS map can also help overcoming this challenge (and can also help you comply with increasingly stringent emergency notification laws). A utility can simply publish an interactive map with the layers of data that describe the event on a simple base map. That is exactly what the Boil Water Event Viewer in the Customer Interaction Template is intended to show you how to do. Once the map has been published you can put the URL for the dynamic GIS map onto your webpage. So if you only have the ability to rapidly change text in your utility's webpage, than you can just the URL with your textual description of an emergency event. As the event unfolds and you need to change the map, you can just edit the data layers that you published on the map and the map is automatically updated. When the event is over, just remove the URL and take down the map service. With ArcGIS you can quickly publish these web maps and update the data you are displaying. Because the interactive map is published by the utility you are the authoritative source of map based information during the emergency.
No doubt you're starting to hear a lot about ArcGIS in the Amazon Cloud at the ArcGIS 10 release. This type of public notification scenario is a perfect use case for an elastic GIS publication environment that is stored in the cloud and won't impact your internal GIS publication environment behind your firewall.
Have any thoughts on this? Please share them.