Tag:
custom apps
ArcGIS Online maps can be used in a variety of different ways, in ready-to-use viewers like the ArcGIS.com Viewer and ArcGIS Explorer Online, in ArcMap or ArcGIS Explorer Desktop, or in variety of custom ways. In previous posts we've covered how you can embed ArcGIS Online maps in Web sites, use them in custom JavaScript applications, and in templates that have been built-in to the ArcGIS.com viewer sharing options.
Here's a another way of leveraging ArcGIS Online content – using ArcGIS Mapping for SharePoint.
ArcGIS Mapping for SharePoint uses the SharePoint framework to offer interactive, configurable mapping components that can provide a map view of your organization's data, including any ArcGIS Online map. While there are several main components included with ArcGIS Mapping for SharePoint, we'll take a quick look at the ArcGIS Map Web Part.
We'll start with the ArcGIS.com viewer and author a map that we want to use in SharePoint. The map shown below uses the World Topographic basemap and adds Washington D.C. parcels, zoning, and historic areas and locations from shared content discovered and added from ArcGIS Online.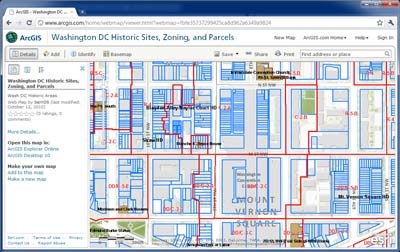 Below is the ArcGIS SharePoint Web map part, with the world imagery basemap. Note that you can choose from any of the ArcGIS Online basemaps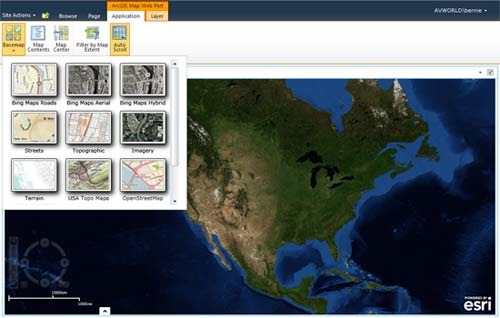 The part has many components that you're already familiar with, like the basemap gallery (shown below), contents, and more. Many of those look like their ArcGIS Explorer Online counterparts, since both are based on a shared Silverlight platform and components.
To open our Washington D.C. map in SharePoint, we opened the Map Center which allows us search for publicly shared ArcGIS Online maps and layers.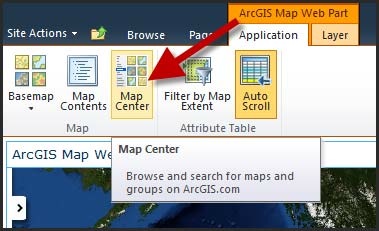 You can also sign in to your ArcGIS Online account to find maps that are not shared publicly, but are private to your account or shared only in groups that you are a member of.

Below we've chosen My Maps to find and open our recently saved Washington D.C. map. Note that the user experience here is very similar to that of ArcGIS Explorer Online.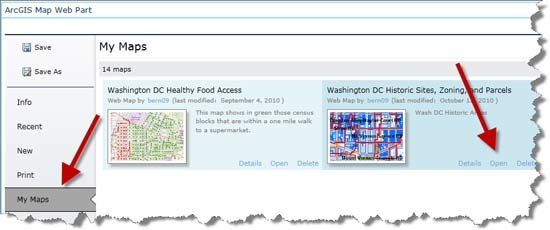 If you'd rather use SharePoint with a specific map, without needing to browse for the one you want, you can set the Web map part to open any map automatically by editing the Web part, and then following the same steps above.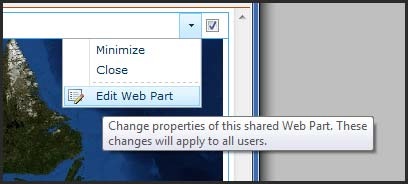 Here's our Washington D.C. map in SharePoint – yet another great way to leverage ArcGIS Online into your enterprise workflows and assets.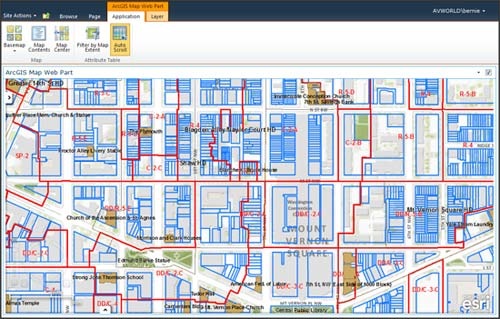 For more information and samples visit the ArcGIS Mapping for SharePoint resource center.