Tag:
Content Sharing
If you haven't had the opportunity to explore the recently launched ArcGIS.com I wanted to bring to your attention some of the benefits it has to offer to water, wastewater and stormwater utilities. I also wanted to urge those of you have either public facing web or mobile applications or have published services to register them with ArcGIS.com.
Building the Online Community for Water Utility GIS
We are frequently asked by water utilities how they can engage with ESRI and the broader water utility GIS community. These discussions often include how to begin sharing or better share GIS information (interchange, consume or publish) with other entities using GIS within a utility's service area such as local government, state government, other utilities, environmental groups, etc.
ESRI has always had a strong water/wastewater GIS community that has in person meetings and collaborates on things like best practice and datamodels. For years we've had discussion forums on our website where you can share thoughts and ask questions to the user community (If you haven't been to the forums lately take a look, we recently upgraded the forum functionality).
Last year we launched the Water Utility Resource Center which is focused on formally sharing best practices within the community.
Now we've launched ArcGIS.com, which enables water utilities to better share information with organizations in your service areas, utility stakeholders and with the broader GIS community.
Here are a few ways that water utilities can benefit from ArcGIS.com
Finding Content
You can search for web content such as map services, web GIS applications, mobile GIS applications and user groups as well as data that has been uploaded and shared by individual users.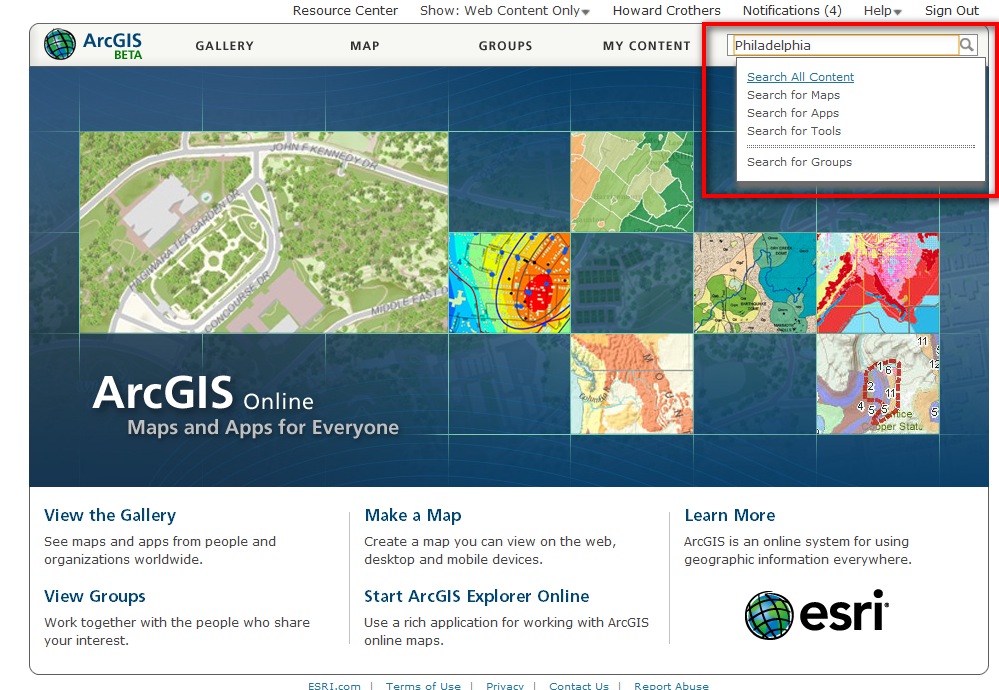 For example, if your utility serves the Philadelphia area you can use Philadelphia as a key word to search for Web Content. Doing so returns a list of application and maps that other users have registered with ArcGIS.com. The 2nd entry in this list is a detailed basemap service of the City of Philadelphia that you could use as a basemap in ArcGIS Desktop or a web mapping application published from ArcGIS Server.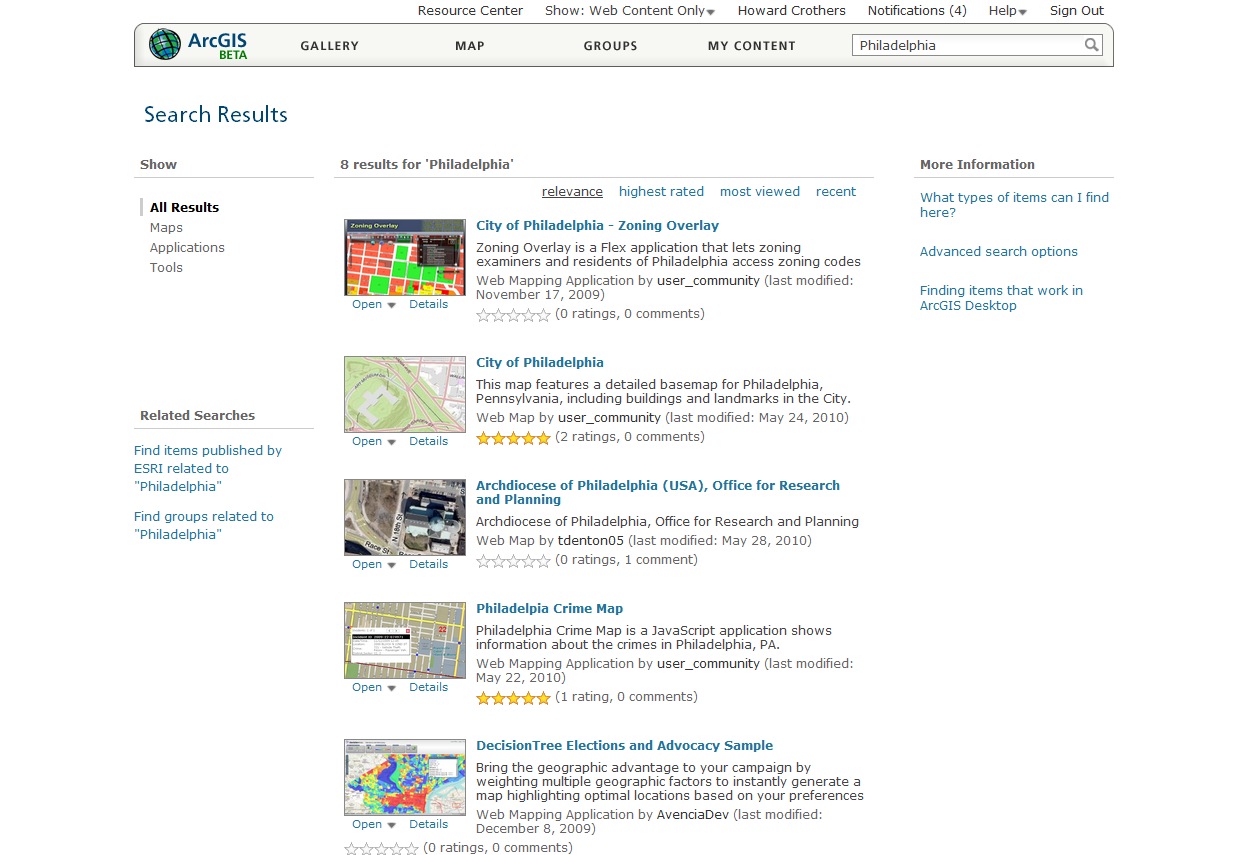 Making a Map
You can make maps with ArcGIS.com using either content you've published or content you've found. For example here I'm adding an internally published web mapping service of water and sewer workorders published with a basemap on ArcGIS.com.

And now I have web application that's ready to use with my workorder locations on top of the ArcGIS.com basemap.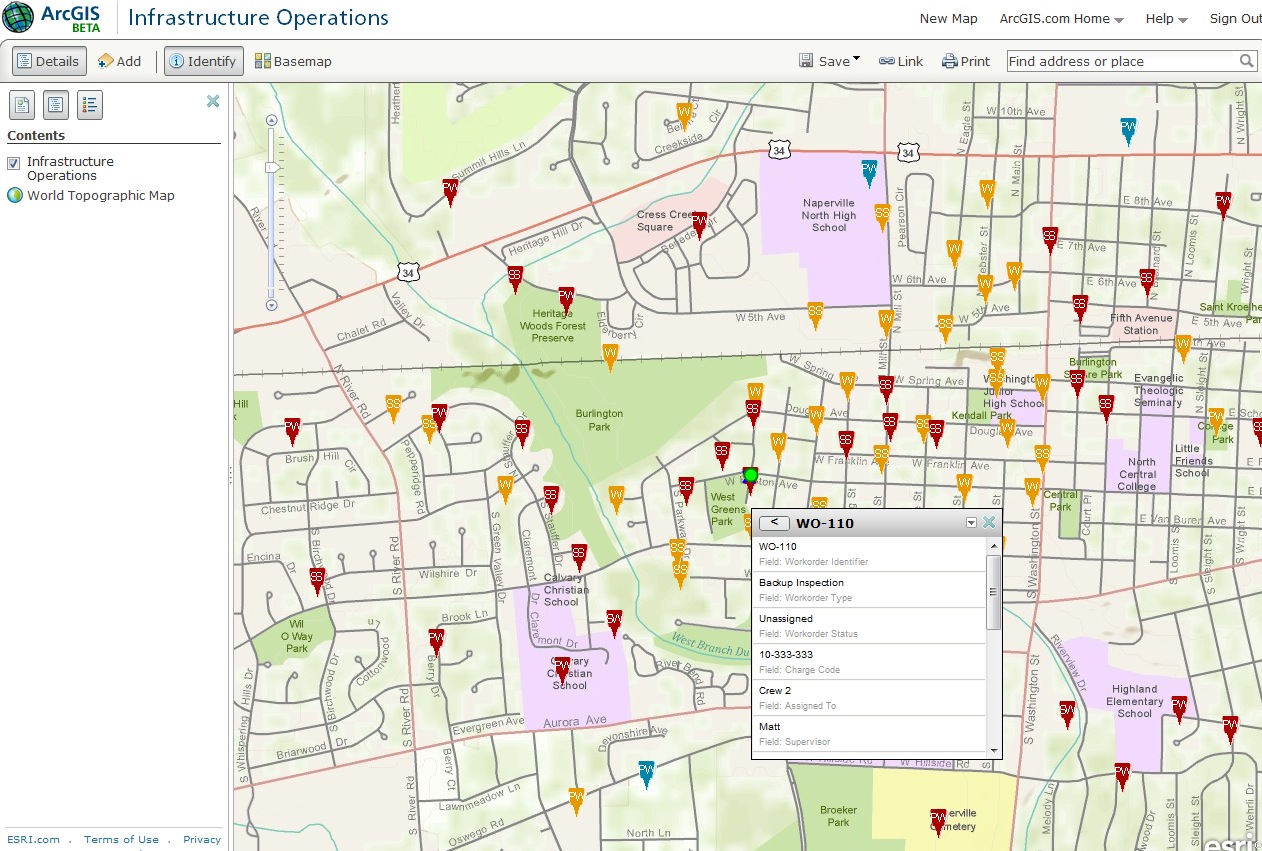 Sharing Content
ArcGIS.com enables water utilities to share GIS content and applications. For example I can share files such as layer packages or map documents, web mapping services, web mapping applications and ArcGIS Mobile Applications.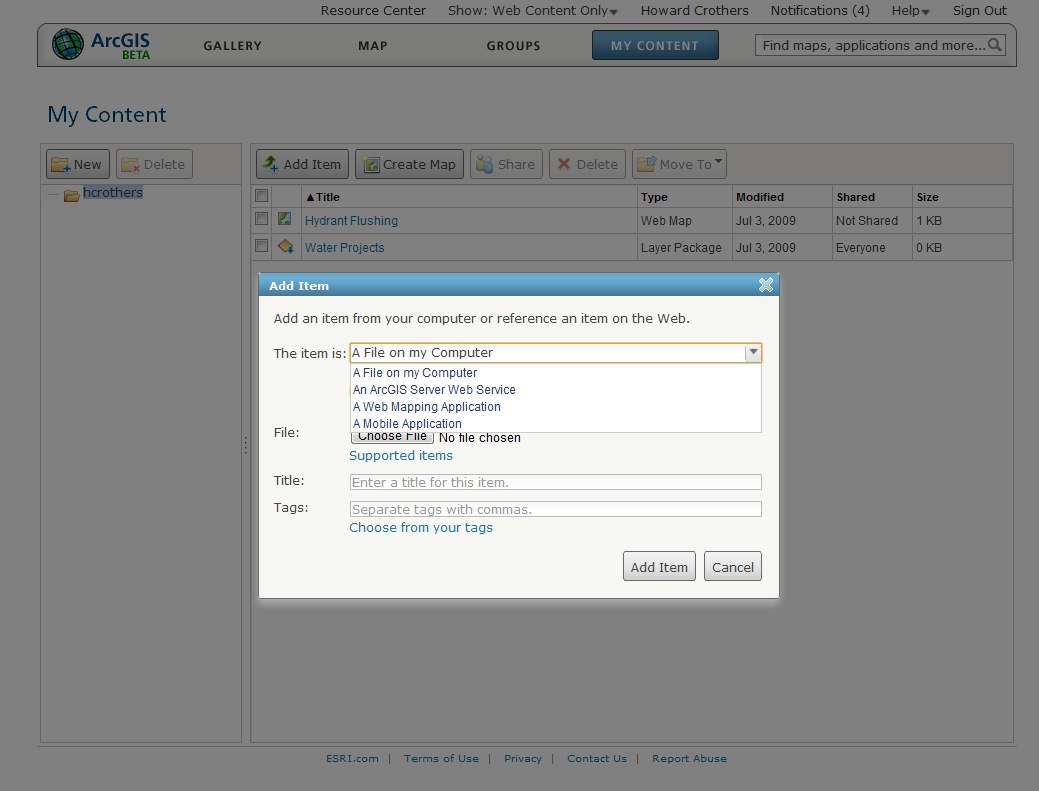 Files can be shared with the public or with groups. A group is an effective way of sharing your content with limited numbers of people that you control. For example you could set up a group to share a layer file of proposed capital projects with the GIS managers at other utilities and local government in your service area.
Web mapping services you add to ArcGIS.com can be discovered and used by other organizations to create web mapping mash ups or used in ArcGIS Desktop. So if you've published a map service of your capital projects than other organizations in your service area can mash up that service in their web applications.
You can add web mapping and mobile GIS applications, making them easily discoverable for those who would benefit from using the applications, such as when you want to gather volunteered geographic information from the general public. Adding your applications to ArcGIS.com showcases the good work you are doing to the broader water utility community and can helps make GIS more visible at your utility.
Help Build the Community
Since ArcGIS.com is truly a tool for the water utility user community we'd like to ask those of you who have content that can be shared to spend a few minutes (that's all it takes) sharing it on ArcGIS.com so we can all collectively benefit.