Tag:
Business Analyst
Some great news to share with ArcGIS Desktop users… we've just released a new Add-In for ArcGIS Desktop called the ESRI Business Analyst Online Reports Add-In. This add-in gives you access to high quality data from ESRI's Updated Demographic and Business Data products right inside ArcGIS Desktop. GIS professionals in public and private sectors can use this data to assist with decisions such as evaluating areas for community needs, planning for future growth, targeting potential sites for expansion or consolidation, etc…
The Business Analyst Online Reports Add-In connects ArcGIS Desktop to reports and data from Business Analyst Online, a web application hosted by ESRI. Using any polygon layer in your ArcMap table of contents, you can select one (or more) of the 35 reports available, choose a report format (PDF or XLS), and within a few seconds, get a presentation quality report that summarizes the demographics for the area. You can even choose to append the data back to the attributes of the map layer so that you can use it in ArcMap.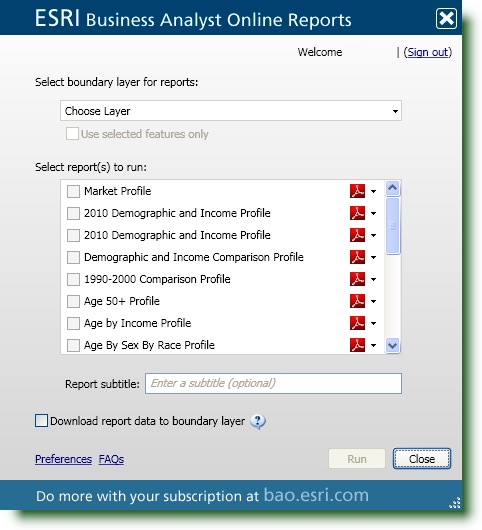 Getting started is simple…
Activate your free 7 day trial
In addition, you also have access to the Business Analyst Online web application allowing you to search for businesses, thematically map areas, create trade areas, compare sites, create customized reports, and more.
The Business Analyst Online Reports Add-In is a free download from the Resource Center. A 7-day trial of basic reports is available to all users and annual subscriptions can be purchased online.
The Business Analyst Online Add-In is available for ArcGIS Desktop 9.3.1 and ArcGIS Desktop 10 now.
Content provided by Lucy Guerra