Tag:
Business Analyst Desktop

by Jeff Hincy
With clients starting to receive their shipments of Esri Business Analyst with 2009 data I wanted to share some tips on how to transition any old MXDs built on previous versions of Business Analyst. Some users like to save a lot of different MXDs, as another way to organize their work or other good reasons.
Each year our team makes strides to improve the performance and usability of Business Analyst. Based on critical customer feedback and some changes made by the data providers, we completely overhauled the default Business Analyst MXD to provide an enhanced cartographic look and feel of our maps. While we were at it, we thought we would increase performance as well.
So, if you're someone with a few (or a few dozen) 'old' MXDs lying around which could benefit from some fresh cartography and faster performance, read on. Note: a less-bloggy version of this is posted as a Knowledge Base article on our Support Site.
All you will need to do is remove the group layer associated with older versions of Business Analyst and add in the new group layer we have posted on our support site. I will detail the steps below.
If you have installed the new version of Business Analyst, the first thing you will notice when launching an older MXD is that many of the underlying basemap layers have red exclamation points ! next to them.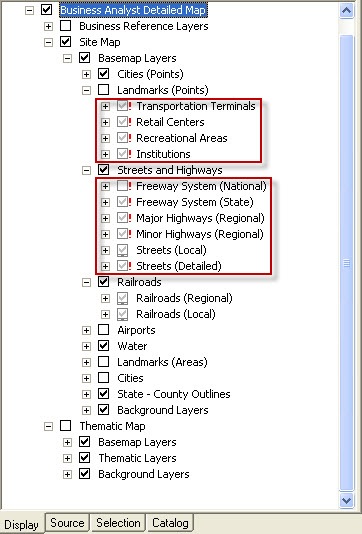 These red exclamation points indicate that the file locations where these layers were stored in previous versions on Business Analyst have been either removed or moved as part of our efforts to update and upgrade the MXD. Although it is possible to repair some of these data sources it is much quicker to simply remove the older Business Analyst group layer and replace it with our new one.
Here are the steps to update your map documents.
Make backups: Back up your MXDs before modifying them. Save any custom labeling or symbology associated with Business Analyst data layers to apply them to the new group layer if needed.
Step 1: Open up an 'old' MXD.
Step 2: Right mouse click on the appropriate Business Analyst group layer (typically either the Business Analyst Detailed Map or the Business Analyst Map group layer) and select Remove
Step 3: Download our updated 2009 Business Analyst group layer from our support site and save the group layer to the file directory recommended in the article.
Step 4: Go to File-Add Data or click the Add Data icon to navigate to the new group layer you just downloaded and add it to the map and you are done.
The updated map document will look something like this (excluding your specific layer files).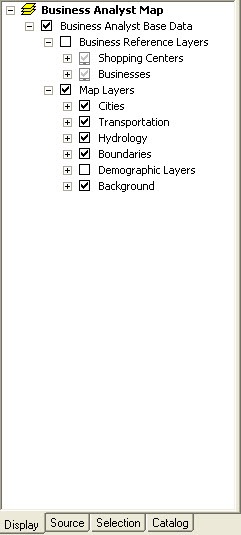 Note: We recommend that you do not mix data vintages (ie. 2008 and 2009) in your Business Analyst MXD as this may affect the tools dependant on these data layers.
Hopefully these tips will make transitioning older map documents much simpler.
-Jeff