Tag:
Business Analyst Desktop
by David Palomino
The following is a brief introduction to cartographic concepts, many of which you may be familiar with. The purpose of this first article in a series on cartography is to bring these concepts to the forefront for those who have a very limited exposure to GIS and cartographic methods.
One of the main roles I play at ESRI is that I am the guy who gets to update, design, and optimize the Business Analyst MXD each year. Not only does this add value to the BA Products, but it's really fun to do. Because I don't want to keep all of the fun to myself, I am setting out to write a short series on Cartographic Design and Optimization Methods, and to show how this adds to the overall quality of our Business Analyst Products. The first entry in this series covers a brief introduction to Cartography.
Cartography is Art
Cartography is an art. This is apparent, as there are many colors or shades, hues, and line thicknesses just as there are these elements in many paintings. As is the case with art, cartography also has psychological and social aspects to it. Depending on your level of involvement and experience with GIS, interactive cartography is also exploratory. You may be asking: How is cartography "social"? What is meant by "exploratory" cartography? Let's dive in and take a look.
Psychological
We view colors, shades, and hues not just to identify colors and shades, but to see meaning and interpret our world. For example, if you're viewing a lake from the air, you may notice that some parts of it are light-blue, while other sections are dark-blue. You would perceive that the lighter areas are relatively shallow while the darker waters are deep.
Figure 1 illustrates this point. Most people will view the circle on the right as "popping out", the left circle as somewhat neutral, and the black circle as a "hole" in the backdrop. Also, it's common to perceive the red circle as slightly bigger (if the object is closer, it must be bigger too), when, in fact, all of the circles are the same size.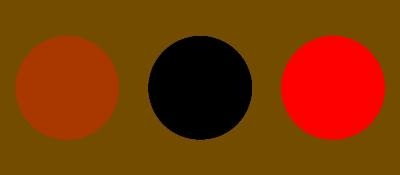 Figure 1
Our brains also interpret certain colors to represent natural features. For example, blue lines or blue polygons are easily interpreted as bodies of water; whereas a gray line may be interpreted as a road.
Social
There are social constructs to cartography as well with the use of color. A Red-Yellow-Green color scheme often is used to depict high density, such as Population Density, with red being the high density spot. Because red is considered a warm or "hot" color, we use the term "hot spot" or "heat maps" to communicate locations for optimal sites to put new stores, locations of endangered species sightings, or areas of low and high crimes rates. However, when it came to monetary type demographic data, such as Median Household Income, Median Home Value, etc. the Red-Yellow-Green color scheme would not do. Since the color of money in the United States is green, I changed the color scheme to White-Green, with the darker green areas being the most affluent.
Figure 2 shows the Median Household Income for the Long Beach/Palos Verdes area of California, with some parts of Long Beach being very poor while Palos Verdes and the beach communities of southern Santa Monica Bay being affluent.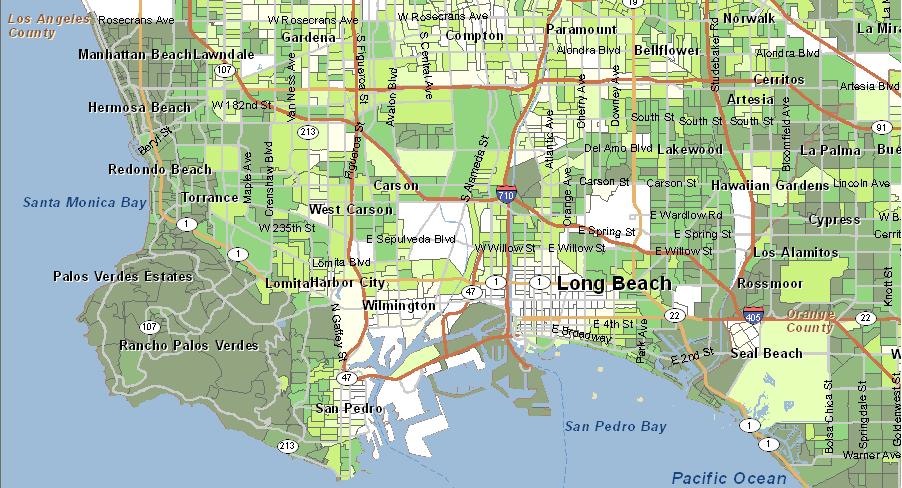 Figure 2
Exploratory
With GIS, cartography is getting ever increasingly exploratory. In years past, static maps were read like books – all of the information was there in front of you to see. The beauty of GIS is that information is "there" in front of you, while simultaneously there is potentially an endless amount of information that can be mined, discovered, manipulated, and used. Thus, the exploratory nature of GIS renders maps as portals of information, rather than static "what you see is what you get" maps. With our Business Analyst products, you can discover relationships between Educational Attainment and Median Household Income levels and how this affects Consumer Spending patterns. You can use historical data to run trend analyses, as well as run predictive analyses with "what if" scenarios (e.g. "What if we closed Store A and opened a store at another site?"). Indeed, the amount of information and discovery at your fingertips (all information that helps you to make better business decisions) is enormous!
Next
Please stay tuned for the next in this series as we look at cartographic optimization methods that were implemented for Business Analyst 9.3.1 and why 9.3.1's performance was several times faster than 9.2. Thanks.
David