Tag:
Business Analyst Desktop
by David Palomino
This article is the second in a series "Cartographic Design and Optimization Methods for Business Analyst". Click HERE to read the first article.
The Mission
It was a cozy winter evening in 2008. Mellow conversations in French, German, Spanish, and Italian could be heard in the background, and the chalet fireplace matched the warmth I was already feeling – that content feeling you get after two full weeks of skiing your heart out in the French Alps – when a mysterious "stranger" approached with an audio message from the top. The message was simple and direct: "You're mission, should you choose to accept it, is to make the Business Analyst MXD look better and perform faster." Okay, so perhaps it wasn't that dramatic and maybe I fudged the details of this otherwise true story a little. Nevertheless, this was an exciting and challenging endeavor set before me, and I accepted with alacrity.
BA 9.2. and 9.3
The Business Analyst Desktop product for 9.2 and 9.3 were very good. But the product needed a face-lift so to speak and needed to get in shape. Some of the cartographic designs were out of date, and draw speeds were at times pretty slow.
Mission "Business Analyst 9.3.1" (Code name BA931)
Hence, the new assignment. Upon diving into this endeavor, I was quickly introduced to Cartographers Tim Daley and Corey Lamar in Redlands, and these two were a great resource and helped with cartographic design ideas and suggestions. (Anyone with a cartographic background reading this knows that projects are rarely if ever a one-person thing.) Soon, the design was looking good, but what to do about the draw speed? Corey and Tim suggested simplifying queries for labeling (more on that shortly) among other things. To drill down more, I needed to test and diagnose refresh draw-speeds, find out where the problem layers were, and analyze this for multiple scales and datasets. In addition, this needed to be done comparing 9.3 with the emerging 9.3.1 product. How to do this? Well, there is the old "stopwatch" method, where you sit at a computer and record each draw time. But this is cumbersome and time-consuming, and is not the level of quantitative analysis we needed.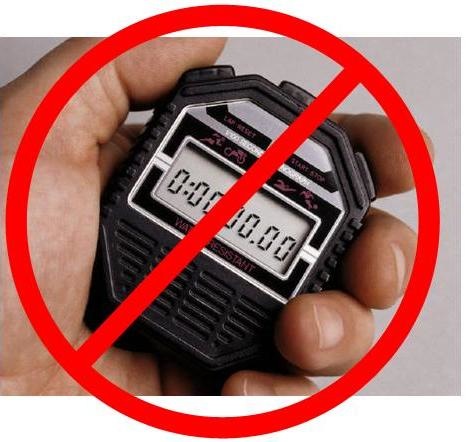 Fortunately, a tool that addresses exactly this was already created! Andrew Sakowicz from the Enterprise Implementation Services Team created the "MXDPerfStat" tool. (This is an ArcScript tool which can be downloaded for free HERE.)
One of the really cool things about this tool is that you can identify specific problems with layers and labeling, and at which scales these problems occur. It even gives general recommendations for editing layers and labels for better results.


Figure 1: Example of a problem layer, along with general editing recommendations.
Initial edits were made, but there were still problems. One issue was simple labeling of features were not feasible because of the way certain datasets were built.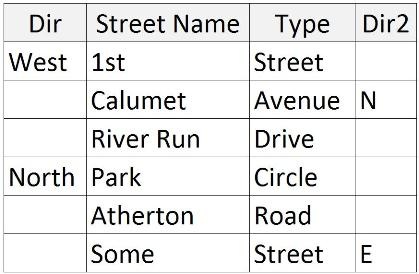 Figure 2: Example of street dataset. All components of the street names are in separate fields. Bad!
For example, in order to properly label streets (e.g. "West 1st Street" as opposed to just "1st"), complex queries were required because several parts of the street names were in different fields. With this scenario, the label query would have to read à [Dir]&" "&[Street Name]&" "&[Type]&" "&[Dir2]. As you can imagine, labeling hundreds of thousands of streets this way for each refresh bogged down processing and slowed the redraw speed considerably. Either that, or you would be stuck with incomplete street names, as was the case in Business Analyst 9.2 and 9.3.
Therefore, these fields had to be combined into one field. The easiest way to do this was to convert the existing dataset, which was in SDC format, into a File Geodatabase (FGDB). (This conversion not only aided in consolidating the pertinent fields, but converting to FGDB also decreased the size of the datasets themselves.)


Figure 3: Combining all the street name components into one field. Good!
In addition, street layers shouldn't be labeled all at once, but must be scale dependent by type of street. For example, interstates can be drawn at most scales, but alleys and small roads (which are more numerous) should only be drawn at larger (zoomed in) scales. An example of a query that targets larger streets might look like this à "FCC" LIKE 'B1%' OR "FCC" LIKE 'B2%'. Ugh, more complex queries!!! Therefore, layers like streets were simplified down to their parts by "street type" for easier scale-dependent display. Also, the 9.2 and 9.3 versions were labeling non-streets (alleys, driveways, etc.) further slowing speed. Combining the component name fields and excluding the non-street names from the street name field during the FGDB conversion noticeably sped up the refresh draw times.
Finally, the Table of Contents folder structure was simplified for better organization and intuitive ease of use.
RESULTS
These are just a few of the optimization methods that were employed for the 9.3.1 product release, but the basic results were faster draw-times, a better look, and a more organized folder structure.
The Speed – Quantitative Results
The results of the draw-time speeds showed an overall 77% increase in draw speed!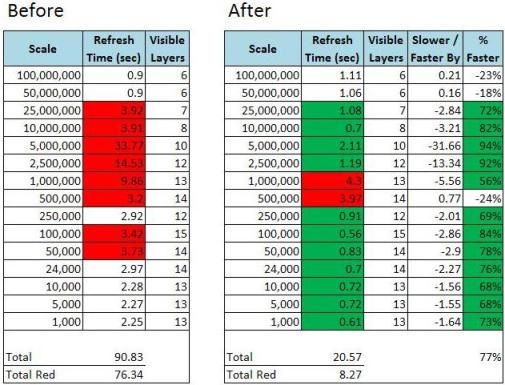 The Look – Qualitative Results
Business Analyst 9.3.1 was created with a more modern design and cartographically better look. Here are a few "Before and After" screenshots. (For a more complete slideshow of before and after shots, please click HERE.)

Overall, Including the Table of Contents Design: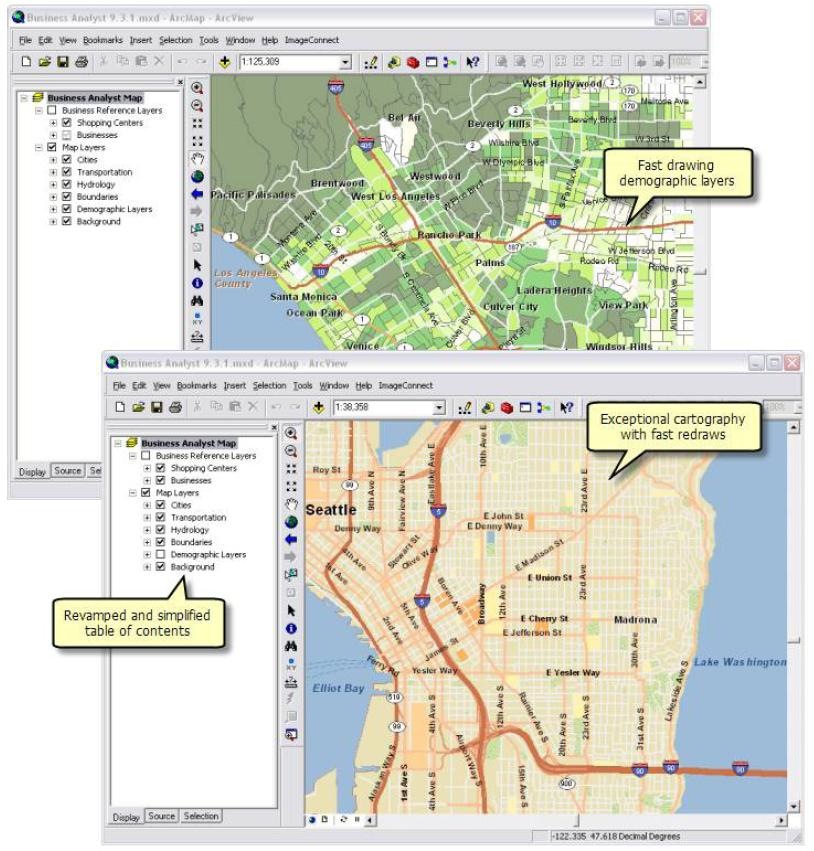 The mission for 9.3.1. is accomplished. These edits and changes had the input from almost everyone on the Business Analyst team, and we are working ever more on the future Business Analyst Products to make them even faster, easier, and better looking than before. However, we rely not only on the input from within ESRI, but we rely especially on input from users like you. We look forward to hearing from you and serving you to make our products easier, faster, and better. We really appreciate you and your input.
Next
Please stay tuned for the next in this series "Cartographic Design and Optimization Methods for Business Analyst" as we look into map projections, how they work, and how best to work with them.