Tag:
Business Analyst Desktop
by David Palomino
The UpdateMXDs tool updates Business Analyst 9.3 and 9.3.1 MXDs to Business Analyst 10 (it replaces the background layers). When updating a Business Analyst 9.3 or 9.3.1 map document (MXD), it is recommended that you enable Automatically update map projection on the Misc tab of the Business Analyst Preferences dialog box. (For more in-depth information, read this article.)
There are three ways to update your MXD from 9.3.1 to 10: from ArcCatalog, ArcMap, and ArcMap through the Catalog window.

From ArcCatalog
1. Start ArcCatalog.
2. Add the UpdateMXDs toolbox (UpdateMXDs.tbx).
3. Right-click ArcToolbox and choose Add Toolbox.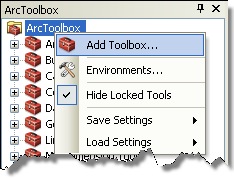 4. Navigate to C:Program FilesArcGISDesktop10.0Business AnalystDatasetsUpdateMXDsUpdateMXDs.tbx and add the toolbox.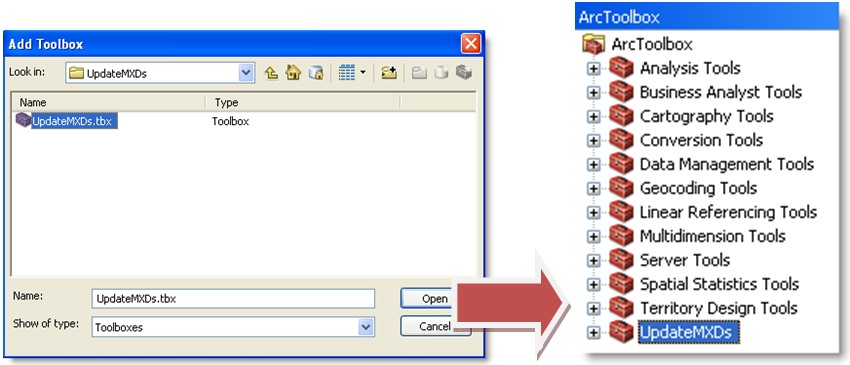 5. Open the tool and navigate to the folder that contains your 9.3.1 saved MXD(s).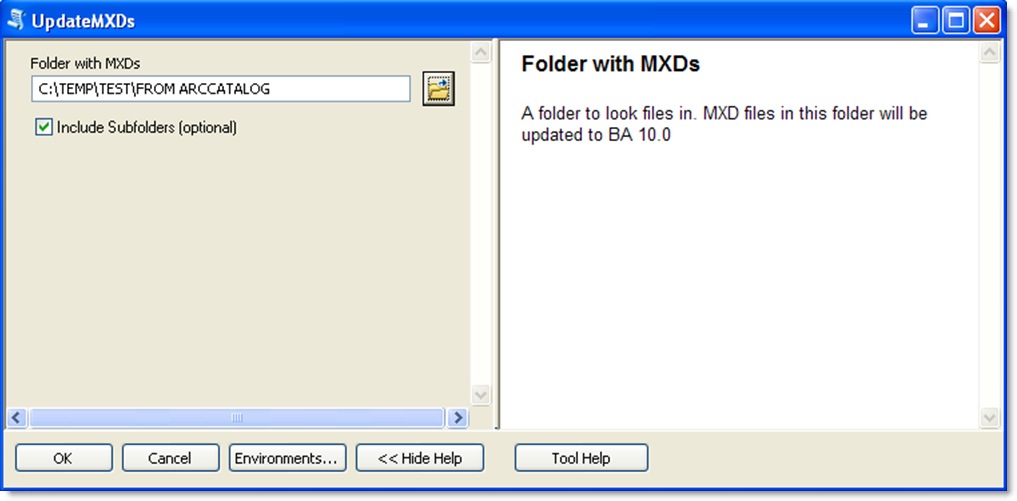 6. Click OK.
When you navigate to where your MXD(s) are located, you'll notice that there is a backup MXD for each.

7. Open the nonbackup MXD.
Due to Business Analyst 9.3.1 being run on geographic projection (projection on the fly) and 10 being run on Web Mercator, your zoom level will look different.
Note: Business Analyst 10 is in Web Mercator and is thus in line with industry standards as well as being consistent with ArcGIS Online map services. You can now more easily load cached background map services and layers seamlessly.
8. Start ArcMap and set the projection to Automatically update map projection.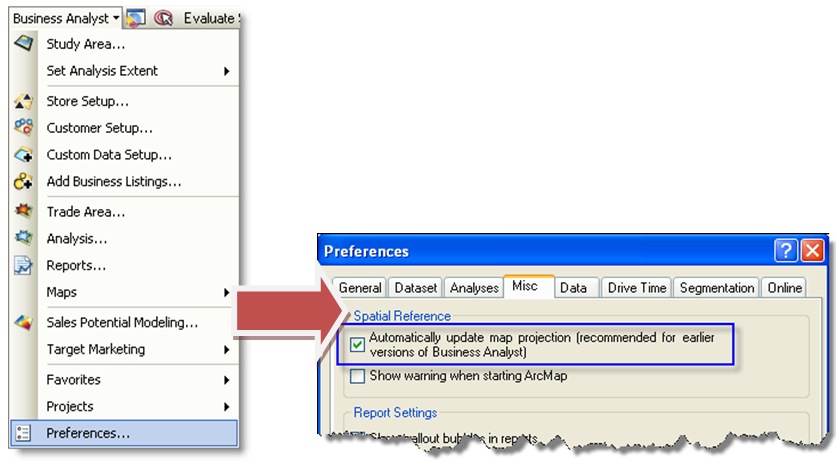 9. You may still need to zoom in or out of your given geographic area. In this case, the map was zoomed in to the drive Ttme trade area.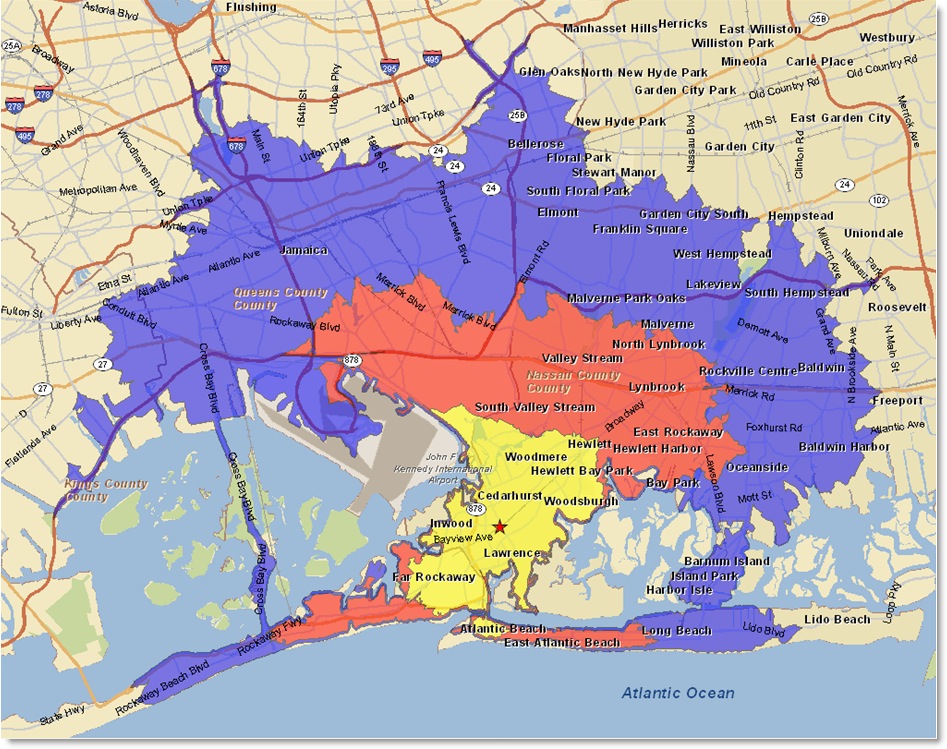 From ArcMap
1. Start ArcMap and set the projection to Automatically update map projection.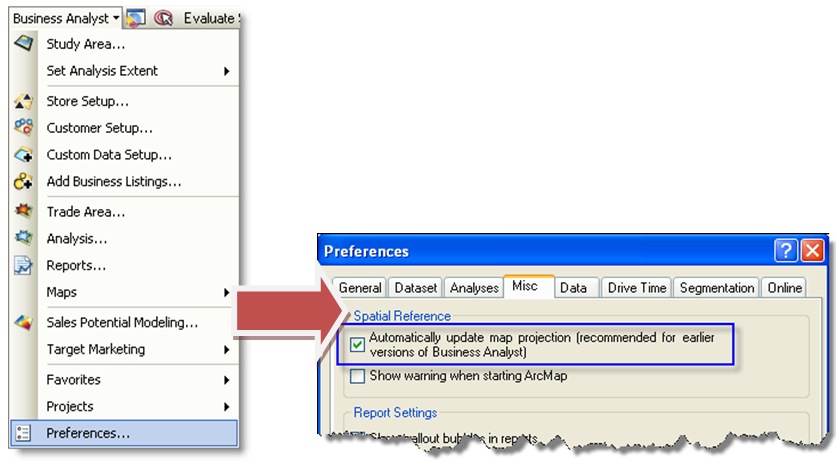 2. Open the UpdateMXDs tool dialog box and navigate to the folder that contains your MXD(s).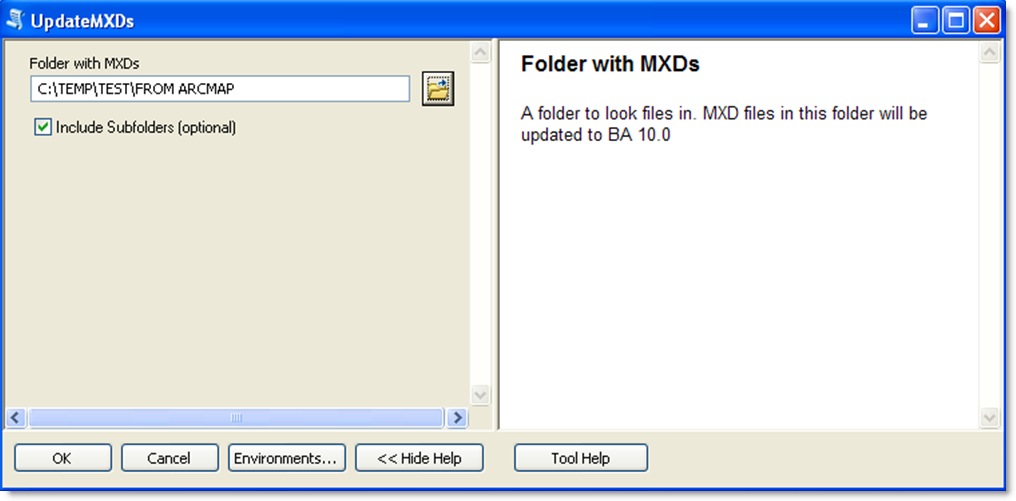 3. From ArcMap, navigate to your MXD and open it. Just as in the example in From ArcCatalog, you may need to zoom in or out to see your original extent.
From ArcMap through the Catalog Window
A third way of doing this is by simply accessing the Catalog window through ArcMap and following the steps outlined in the From ArcCatalog section above.