Tag:
Business Analyst Desktop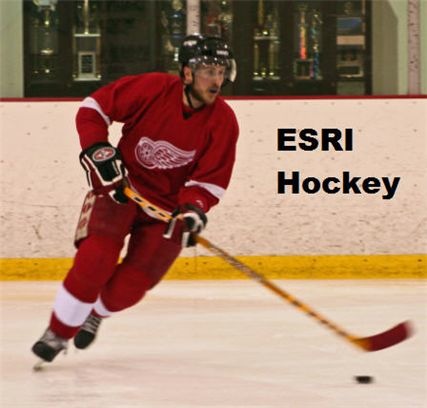 by Kyle Watson
Have you used the Color-Coded Maps toolbar in Business Analyst 10? I encourage you to do so, it works great for data exploration and demos. We've borrowed from the similar functionality found in Business Analyst Online. It's a slick, easy-to-use tool that allows you to visualize data on-the-fly*.
*When I say "on the fly" think about a map you've been working on for hours, trying to get it just right for a client presentation. You are messing with the legend, you pick a green color scheme, you tweak the transparencies, data ranges, you show Median Household Income for San Diego ZIP codes – it's perfect. The client says, "Nice map, now let's see Miami by Block Group with Average Household Income and make it red, I don't care much for greens." Uuuuh, see you in an hour.

So we've optimized the standard ArcGIS mapping capabilities for just this. You can map the Esri Demographic data bundled with Business Analyst or use your own data. Color-Coded Maps is smart enough to automatically change its map level based on your zoom scale.

Once you pick the layer to be mapped, you can select any attribute contained in its table. We provided search functionality to find your variables quickly, even the recently used ones…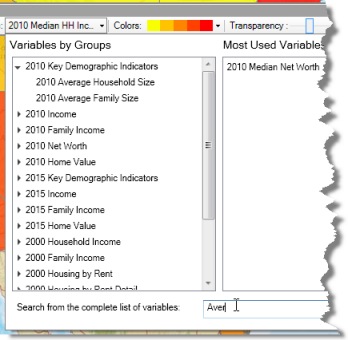 Want to alter the color scheme? Just use the pick list, no need for getting buried in layer properties…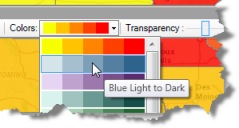 And then we provide all sorts of useful options up front. For example, you can instantly display a count variable as a percent or as an index. You can change the classification method and even lock your ranges so they stay constant as you pan (very helpful when you want to see how the Boston market compares to the Seattle market using the exact same data ranges).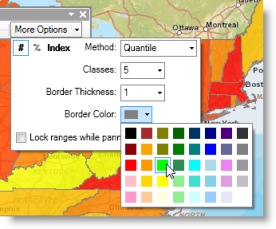 Here's 2015 Average Home Value by Block Group, the layer is added to the table of contents and will dynamically update as you pan through the map…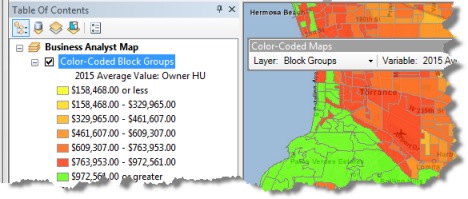 So try it out and happy mapping. Add the toolbar via the ArcGIS Customize menu or from the Business Analyst Window.
Kyle