Tag:
basemaps
At the Gov 2.0 Summit last week we demonstrated how ArcGIS Online basemaps are being leveraged in the new Data.gov GEO Viewer. We've had a few questions about the Viewer, so here's how to find and use it, along with a few details about how it works. Esri's Marten Hogeweg also covered the GEO Viewer in a post on his blog.
Data.gov, according to Wikipedia, is a U.S. government website launched in late May 2009 by the Federal Chief Information Officer (CIO) of the United States. The site states the purpose of Data.gov is to increase public access to high value, machine readable datasets generated by the Executive Branch of the Federal Government.
The Data.gov GEO Viewer is a fairly recent addition, and is detailed in What's New at the site. What's interesting about the GEO Viewer is that it leverages ArcGIS Online basemaps (of which the world topographic basemap is composed chiefly of government-provided data from federal, state, and local government organizations) and it access the data on-the-fly from it's URL source as catalogued at Data.gov. The GEO Viewer supports ArcGIS services, WMS, GeoRSS feeds, KML/Z files, as well as shapefiles.
You'll find more information about the app at the GEO Viewer information page where you'll also find some example data sets you can view. Click one of the preview links to use the GEO Viewer - we've chosen the EPA Region 1 regulated facilities in the following example:

The data will be retrieved, and you'll have an opportunity to select colors to view the facilities: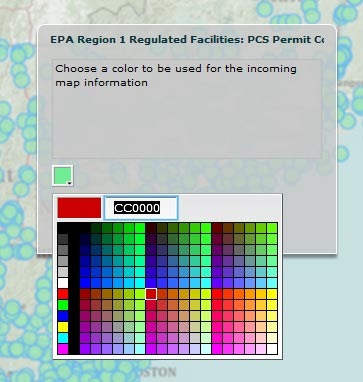 The GEO Viewer lets you choose from the ArcGIS Online World Topographic, World Imagery, or World Streets basemaps, with the default the topographic basemap.

We've zoomed in to an area in downtown Boston, and you can see the detailed content that's been recently contributed by the City of Boston via the community maps program. This provides detailed context for the locations of the facilities, which can be clicked to retrieve additional information.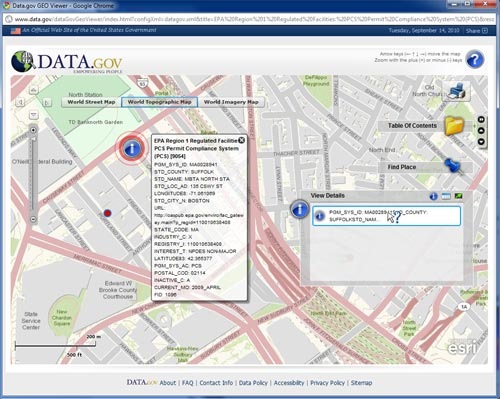 Going back to the main Data.gov site we've entered the seach keyword "copper"

Finding a match for world copper smelters and following the link to its data summary page, you'll find preview buttons which will open the data in the GEO Viewer.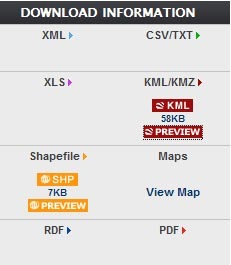 And here's the world copper smelter data viewed overlain on the world topographic basemap.