Tag:
ArcGIS Portal
At last week's Esri Federal User Conference (FedUC) plenary we introduced and previewed some up and coming, but not yet released, products and capabilities for ArcGIS Online. Here's on overview of ArcGIS Portal, a new product announced at the conference and part of the road ahead for ArcGIS Online.
What is the ArcGIS Portal? Simply put it's the framework that Esri uses to create our public GIS portal – ArcGIS Online. Using ArcGIS Portal you can bring ArcGIS Online capabilities completely behind your firewall in a secure, self-contained facility. Or implement your own in-house version of ArcGIS Online that features your maps, apps, and tools and provides ways for users within your organization to share resources and form groups and communities, all within your organization's walls.
Your portal can be used in combination with Esri's public ArcGIS Online, or can be used in isolation. And, when coupled with the ArcGIS Data Appliance, also includes a selection of the same basemaps and other layers offered via Esri's public ArcGIS Online.
The prototype shown at the conference was running completely self-contatained, on an isolated hardware environment, and included the ArcGIS Data Appliance and locally hosted versions of the ArcGIS.com map viewer and ArcGIS Explorer Online. Here's the setup on the stage (photo by Eric Laycock, Esri):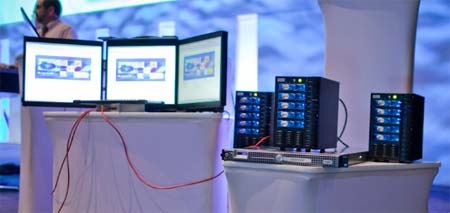 Shown below is the sample startup web page for the on-premises portal that was shown. It's similar to ArcGIS.com, but has unique branding (the "My Agency" placeholder) and unique links on the page.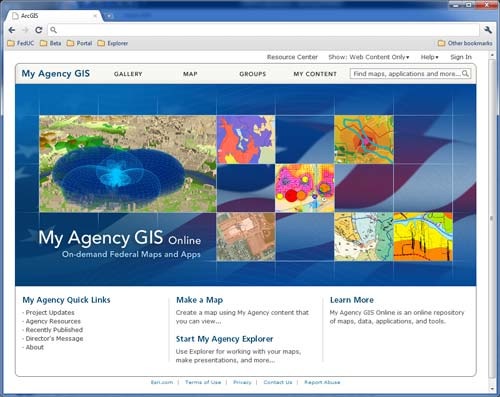 The gallery has also been modified to show featured maps and apps from an organization. These placeholders represent what an organization might want to highlight.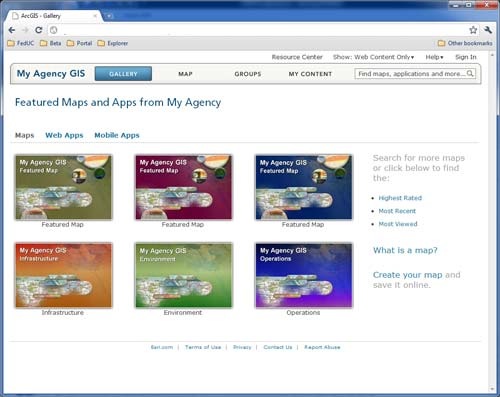 Groups can also be created to suit an organization's needs, and can help department staff find essential resources quickly.
And finally, the map viewer can be configured to open an organization's chosen basemap (insted of the default World Topo basemap you open when using Esri's public ArcGIS Online). In the prototype shown during the FedUC we used an imagery basemap zoomed to an area of our choosing, but it could be any basemap chosen by the organization.
Here's Jack Dangermond's slide summarizing the ArcGIS Portal: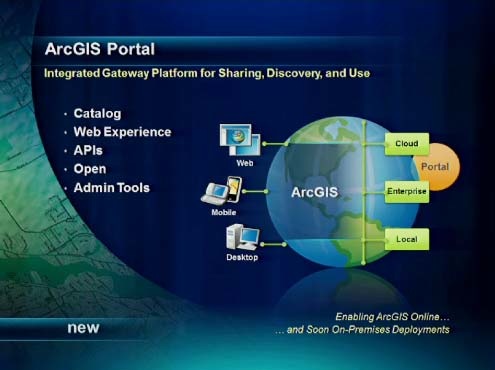 We'll be providing more details about the ArcGIS Portal as the product evolves. You can view the video of the ArcGIS Portal demonstration by viewing the timelines published in our previous post on the FedUC.