Tag:
ArcGIS Online
ArcMap allows you to view cached map services at any scale and projection. When you zoom in to a cached map service, ArcMap generally fetches the tile from the next largest scale, then resamples it to fit the view. This works great for layers like satellite imagery and continuous surfaces; however, vector features such as roads and boundaries, as well as labels, become rasterized when you create the cache, and sometimes the resampling causes these features to display at less-than-expected quality. To minimize the amount of resampling and therefore get the best display quality, you may want to limit your work in ArcMap to the scales at which the map was cached.
If you decide you want to work only at the cached scales, consider loading these scales into ArcMap's dropdown scale list. One of the options in the dropdown is "Customize this list". Here you can manually enter the scales from your cache.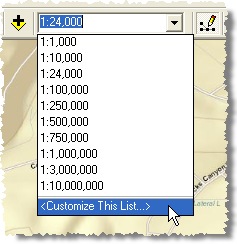 Alternatively, you can load in a text file containing a set of scales. This is useful if you have several ArcMap users in your organization that will be viewing the same caches; just distribute the text file and they can load it in instead of typing all of the scales.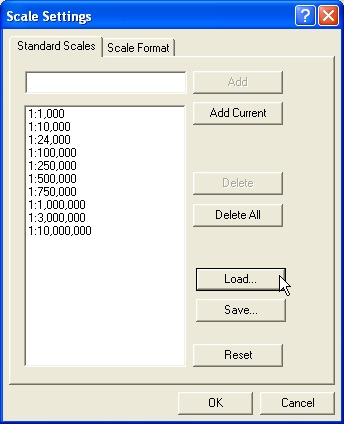 If you're viewing caches from ArcGIS Online, you can load in this text file of ArcGIS Online scales which contains all of the scales at which ArcGIS Online services have been cached. If you're wondering why the scales are not round numbers, you'll find an explanation in this previous post.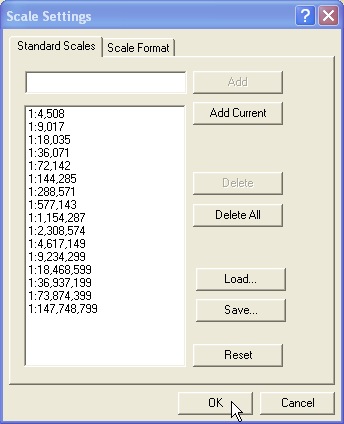 These scales are especially useful when viewing the World Street Map as well as any map containing boundary and transportation overlays.
Update: In ArcMap 9.3, a new feature was added that allows you to right-click a cached map service layer in the table of contents and click "Zoom to Nearest Cache Resolution". This can be an easy alternative to loading in a text file.
-Sterling Quinn