Tag:
ArcGIS Online
ArcGIS for AutoCAD Build 200 was released a few weeks ago. The free download introduces a new way for AutoCAD users to participate in ArcGIS workflows. In addition to accessing map services hosted on ArcGIS servers, AutoCAD users can now work with standard AutoCAD objects and attribute field values as feature classes. Here is a brief overview of what's new and what you can do with the product.
Map Services
Build 200 improves the performance of map services and extends support to include cached and password-protected maps. A new palette now functions as the main console for interacting with map services. The map service palette includes a toolbar for toggling between multiple maps in the same AutoCAD drawing.
The toolbar includes new interpretations of commands from Build 100 as well as a few new ones. It is now possible to disconnect a map service and convert it on-the-fly to a static raster image for working off-line or archiving purposes.

Also included is the ability to save and edit a list of favorite map services. The software ships with a preloaded list of ArcGIS Online maps available free to ArcGIS customers.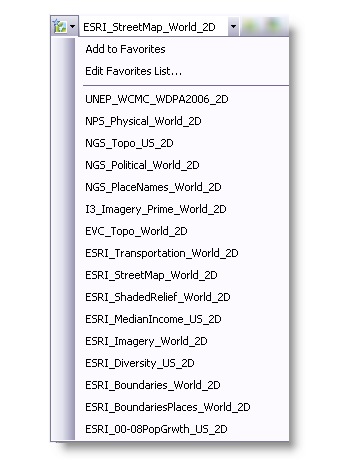 Projections and coordinate systems
The map service palette includes heads-up information about the coordinate systems you are working with. The coordinate system published with the map service and the coordinate system assigned to the AutoCAD drawing are displayed for easy reference.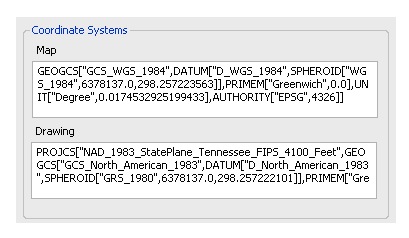 AutoCAD users can also import coordinate systems from the library of ESRI .prj files that ship with the software. ArcGIS for AutoCAD will project map services on-the-fly. The only caveat is the hosting server must have a geometry service running and be accessible. As a measure of redundancy ArcGIS for AutoCAD will also look on the user's local machine for an ArcGIS Server geometry service in the event one is not found on the host server.
Layer Controls
Layer controls have also been added for maps services published with this capability.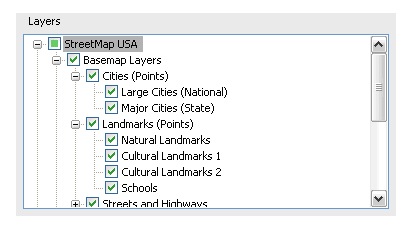 Feature classes
Build 200 introduces a new way for AutoCAD users to author and exchange feature class information with ArcGIS. A dedicated palette functions as the main console for managing feature class definitions. The palette uses a toolbar for working with feature classes individually.

Also included is the ability to import entire feature class schema from another AutoCAD drawing. This can be useful for distributing standard schema to other users tasked with enabling feature classes in existing drawings. Another possible workflow is to use the Export-to-CAD tool in ArcGIS 9.3 (or higher) to export feature classes from an existing geodatabase to an AutoCAD drawing in order to save time and ensure fieldnames and data types conform to your GIS standards.
ArcGIS for AutoCAD feature classes are essentially standard AutoCAD objects and attributes. The Feature class palette simply provides an interface to specify the object types and properties that qualify as members of a particular feature class. AutoCAD users may recognize them for what they are: AutoCAD selections sets. ArcMap users will recognize them as Definition Queries. Developers may be surprised to discover that no custom object data are used to accomplish this: it's really that simple.
The benefit to AutoCAD users is they can continue creating features as they always have using existing CAD standards. The objects will automatically participate in the feature layer as long as they reside on the layer, color or other combination of properties associated with the feature class. And this is completely configurable by the user.
The benefit to ArcGIS Desktop users is that ArcGIS 9.3 (or higher) reads them as named feature classes in the CAD dataset. Simply drag and drop them into a Geoprocessing tool such as Feature-Class-to-Feature Class and you have just seamlessly converted CAD data, including feature attributes, to a geodatabase without building a complex definition query.
Feature Attributes
ArcGIS for AutoCAD and the geoprocessing tool Export to CAD now attach feature attributes directly to the AutoCAD entity; more on this in another blog. This makes it possible for ArcGIS for AutoCAD to leverage the standard AutoCAD properties pane to view and edit these values. A GIS workflow that requires AutoCAD users to view and edit feature attributes is now identical to working with standard AutoCAD entities. Simply select the AutoCAD entity and edit the values. You can also populate multiple entities belonging to the same feature class with a common value by selecting more than one feature.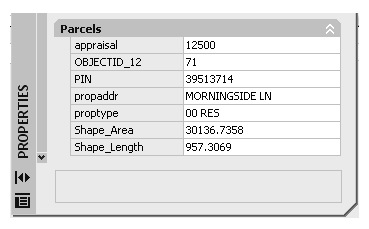 Summary
ArcGIS for AutoCAD is aimed at improving interoperability between ArcGIS and AutoCAD. Build 200 is an integrated toolset for referencing, authoring and exchanging GIS information between AutoCAD and ArcGIS. It is a better alternative to less-efficient methods of sharing data that use feature-based translation or conversion to a shape (SHP) file as an interim format.