Tag:
ArcGIS Online
This morning a 5.2 quake hit Illinois, shaking a large part of the Midwest, with many aftershocks following the main temblor. The quake was believed by USGS scientists to have involved the Wabash fault, an extension of the New Madrid fault. That fault generated the 1812 New Madrid quake, one of the largest ever recorded in the US.
So this morning we took at look at things using Explorer, first connecting to an ArcIMS service found on the Geography Network. We connected to the Geography Network at www.geographynetwork.com and added the ESRI_Quake_Rec service to Explorer. That service is updated every 15 minutes by ESRI and the USGS.
We also added the USGS topo service (physical features layer) from the Explorer Resource Center (Contents > Layers) and here's how things looked.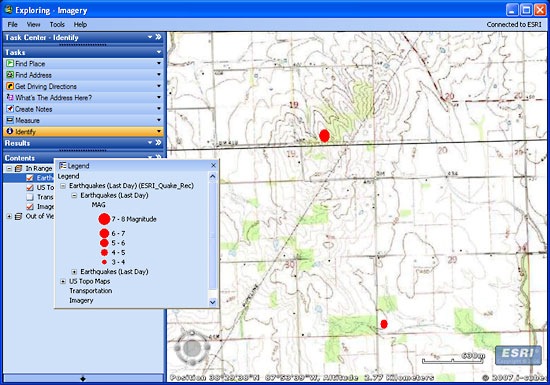 Next we visited the USGS Hazards Program site, and downloaded the CSV file for magnitude 1+ earthquakes over the last 7 days. We used Explorer's import capabilities to create results from the lat/long coordinates to add them to our map. We chose the magnitude as the title, and date and time as the description. And below we've used the swipe tool on the topo layer to reveal the imagery underneath.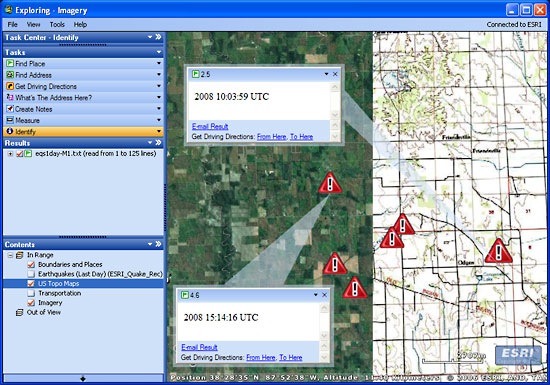 From the same site we also clicked to open the KML file.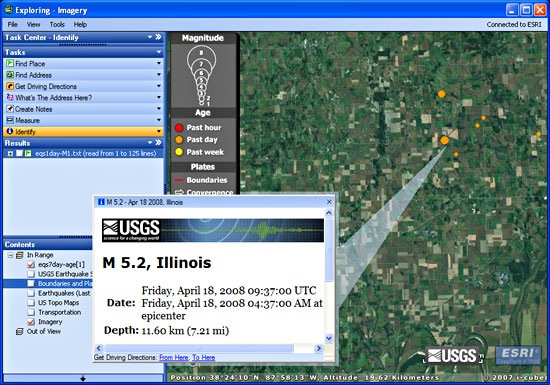 Next, we imported the CSV file and created a file geodatabase. Why did we do that? You'll find out in a couple of paragraphs, but here's the local file geodatabase in Explorer. When we click on the earthquake location point, the attribute information for the quake is displayed.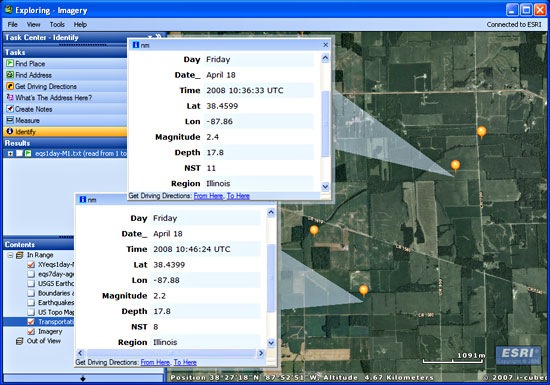 Using the file geodatabase from above, we decided to be a little more creative. We buffered each point (to create polygons at each quake location for better visualization) then symbolized and extruded each of those polygons based on the earthquake magnitude using ArcGlobe. To make things more visually dramatic, we added a multiplier to the magnitude just to extrude the features further. We saved the ArcGlobe .3DD file, and published it via one of our ArcGIS Servers.
Here's the area around southern California, and you can clearly see that during the past week this region has been seismically active too.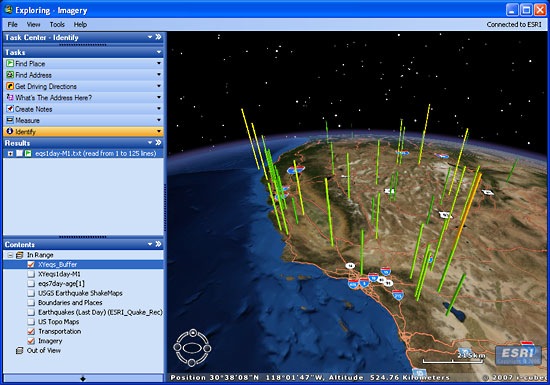 Finally, we tapped into the USGS "Shakemap" GeoRSS feed for a real time feed of live earthquake information.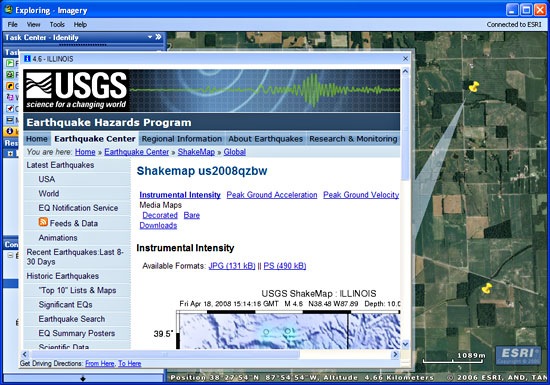 Now we'll have to be honest and let you know we're cheating a bit with this one, but only just a little bit. The above screenshot showing a GeoRSS connection was created using today's daily build of Explorer hot off the development machines.
For everyone else, you won't be able to connect to a GeoRSS feed using the currently released Explorer 450, but you'll be able to do everything else we've shown here. GeoRSS support is just one of the many new features we'll be releasing with Explorer 480.