Tag:
ArcGIS Desktop 10
This week, we released version 1.0 of the Address Data Management Template. This template is an ArcMap editing map, editor extension, and set of editing workflows for managing road centerlines with address ranges, facilities, site addresses, and related mailing address data. It is an editor that can be used by mapping technicians in planning, public safety or land records organizations to streamline the collection, maintenance and use of authoritative address information.
When you download the template, you'll find it includes:
A multi-scale ArcMap document designed for editing
Two Add-ins and set of constructions tools that are added to your ArcInfo or ArcEditor installation
The Local Government geodatabase with sample data from the City of Naperville, Illinois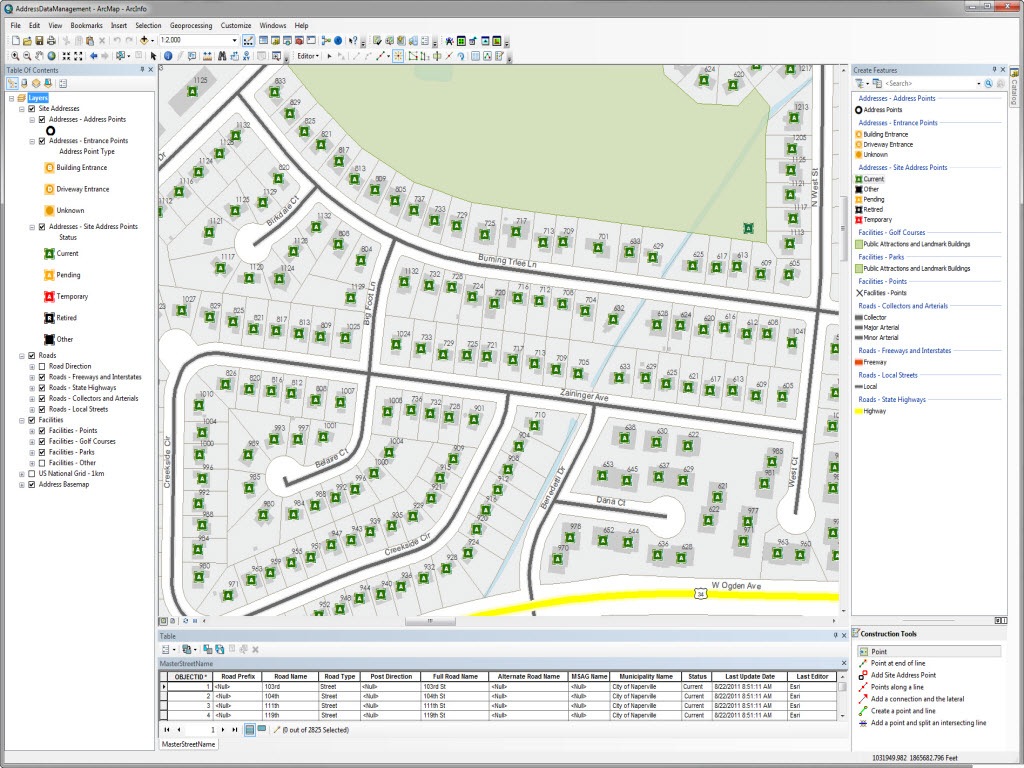 The Address Data Management Template at ArcGIS 10
The Address Management Add-in and address construction tools contain a series of custom editing tools that improve the editing experience for ArcGIS users working with roads and address information.  For example, there are tools that:
Add new road segments and allocate existing address ranges to the new segments
Flip road segments to the direction of the line and address ranges are in sync
Add new site address points and compute the proposed address from the location along the road centerline
In addition to the tools, the Address Data Management template also includes an editor extension called the Attribute Assistant.  This extension uses a series of pre-defined methods to automatically populate attributes for you when updating and/or adding new features to the geodatabase. For example, one method will populate the full road name on each road centerline and site address feature from a valid list of road names contained in a master street name table. Other methods will help you maintain the integrity of your address data by populating a unique identifier, last editor and last update date on each feature.
The template is a great place to start if you're looking to modernize your address data management workflows and improve the quality of address information in your organization.  It provides a configuration of ArcGIS 10 that will:
Allow you to manage road centerlines with address ranges, and site address points for public safety, utility, permitting and other service delivery needs
Associate one or more related postal addresses to a given site address
Implement a master street name inventory that increases the quality of your address information
Deploy efficient data management workflows
Help you implement several national address standards (NENA, USPS, etc.) that promote system integration and data sharing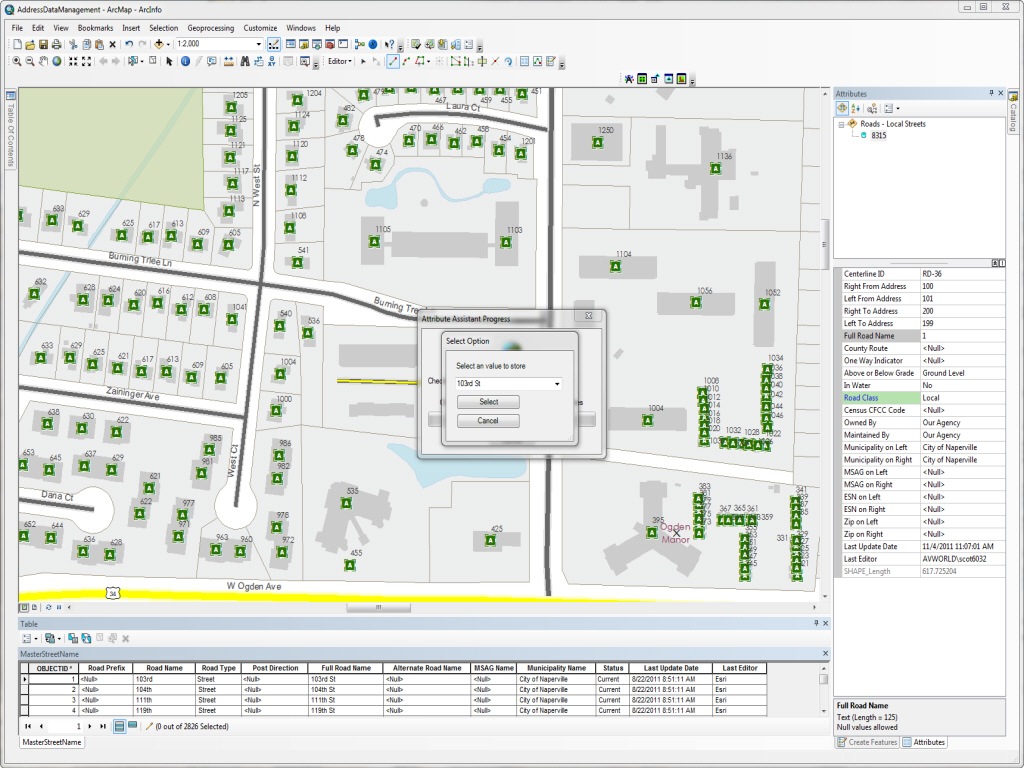 The editing workflows help you improve the quality of your address information
To support the Address Data Management Template, we've also released an update to the ArcGIS for Local Government Information Model.  This simple, harmonized local government information model supports the maps and apps shared on the ArcGIS for Local Government Resource Center. It reflects specific application requirements and the cartographic requirements necessary to produce rich, multi-scale base maps and operational layers.   You can download the Local Government Information Model from ArcGIS.com and migrate your content into this geodatabase design.  When you do, you can quickly take advantage of the maps and apps published on the ArcGIS for Local Government Resource Center.
The latest release of the information model adds support for the address workflows contained in Address Data Management Template.  In addition, it incorporates address standards from NENA (National Emergency Number Association) and the USPS (United States Postal Service). We've taken these standards and implemented them where appropriate in the Local Government Information model and provided local government users with a set of streamlined workflows to maintain authoritative address information for their community.  The physical implementation of these standards supports a wide variety of system integration opportunities and is a foundation for state and national data sharing initiatives.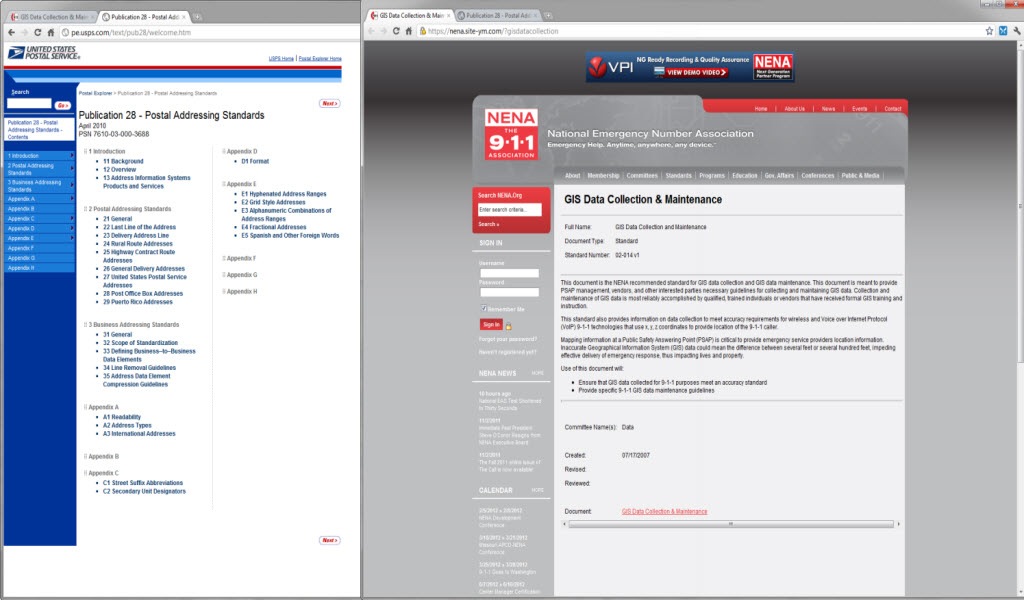 USPS and NENA Address Standards have been incorporated in the Information Model
Our goal is to provide local governments with a set of ArcGIS tools and workflows that simplify address management and improve the overall quality of their authoritative data.  Later this winter we'll add a complimentary web application that can be used to enlist feedback from your citizens on the quality of your address data.  This simple web application will allow citizens to add missing site address information.  Once added, the local government can then review the new address locations and decide whether they would like to incorporate them in to their master address inventory.  In addition, this application could be used to enhance the data sources used by a Reverse 911 or other citizen engagement application in your community.
So that is a quick overview of Esri's Address Data Management Template at ArcGIS 10.  If you'd like to see the address workflows in action, you can watch a short video we've posted on the Resource Center.  In the future, we'll share blog posts on other Address Maps and Apps you can find on the ArcGIS for Local Government Resource Center.   As always, feel free to contact us if you have any questions when you begin to leverage the new address data management workflows in ArcGIS 10.
Posted in
Local Government
Tagged

ArcGIS Desktop 10, ArcGIS for Local Government, City, County, Emergency Management, infrastructure, Land Records, local government, Municipal, planning, Police, Public Infrastructure, Public safety, Public Works, roads, streets, Township, Utilities, Village, water utilities
3 Comments