Tag:
ArcGIS Content
9/29/09–In Choosing Basemaps – Part 1, we took a look at some of the basemap services that ArcGIS Online offers and described how these basemaps may be used. Now, it is time to check out a few more. We will also explore some specialty services and layer packages that have the makings for a good basemap.
This basemap employs a hypsometric tint in combination with a hillshade. This natural looking map is ideal as a small scale basemap or as a general small scale inset map. The hypsometric coloring makes this basemap particularly useful for data that is physical in nature. For example, this basemap would work well with physiographic data, especially if there is a general relationship between the data and elevation.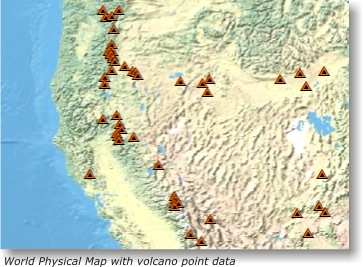 Often, there is a need to refer to one or more traditional topographic map sheets for a specific project. USA Topographic Maps is a great basemap since it provides a complete mosaic of scanned topographic maps of the United States at varying scales. This basemap can be used for general reconnaissance, outdoor activity planning, resource management, surveying, and more. USA Topographic Maps includes a hillshade in conjunction with the traditional labeled elevation contours. This added feature makes the basemap very useful for tasks which require specific knowledge of the local relief of an area.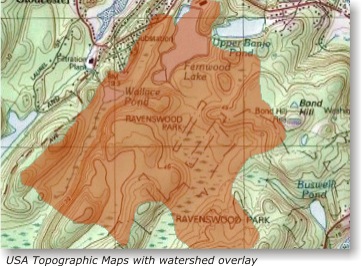 This specialty basemap is a cross between a street map and a topographic map. The cartography is clean and straightforward. Therefore, this map is useful as a general location map. Additionally, due to its clean design, this map is great when including large amounts of supplementary GIS data.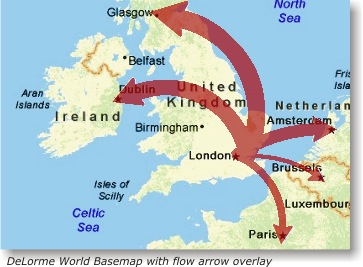 In addition to the general online basemap services, the ESRI Maps and Data group provides pre-symbolized, packaged data layers that can be downloaded and used for the creation of a basemap. When the objective of the map is clear, all you need to do is search for keywords to find data that will suit the map's purpose.
Let's say that you only have a simple polygon feature class layer of crime statistics for a state's municipalities. Your goal is to cross-reference this data with census information to create a correlation between rates of crime and numerous census attributes for a particular county. In order to provide context and visual appeal to your finished map, you would like to add a few more base layers, as well as an inset map for reference. Here are some of the layers that you could download from ArcGIS Online in order to generate your basemap.
USA Census Tract Boundaries: This layer package provides the attribute data for comparison as well as the boundaries for symbolization.
USA Counties: This layer package helps to contain and emphasize the area of interest. It also brings context to the map.
USA Major Cities: By adding this layer package, the map user becomes acquainted with the area and is able to determine the affected communities.
USA Freeway System: This layer package provides even more context. It helps orient the map user within the area of interest.
USA States: Along with the county layer, this layer package provides the basis for the inset map. By incorporating the states layer, the user will get an overall impression for the location and relationship of the county of interest and the other counties within the state.
Layer packages come pre-symbolized and pre-labeled. However, to suit the purpose of your map, a few adjustments can always be made. The example below is an illustration of a hypothetical crime map with the addition of the layer packages mentioned above. Very little manipulation of the symbology was necessary in producing the finished map.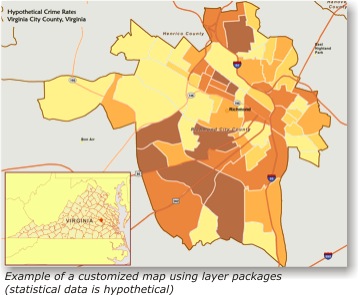 These are just some of the basemap services and layer packages that the ESRI Maps and Data group provide. There is an extensive amount of useful data in many different formats. By accessing this online service, your ability to create both practical and comprehensible maps becomes even easier. Data is always being added and is ready to be downloaded and used in whichever creative, exciting, and constructive manner you may imagine.
Contributed by Cindy Prostak of the ArcGIS Content team