Tag:
Android
Your iPhone, Windows Phone, iPad or iPod Touch can become a powerful tool for field data collection. Using the ArcGIS application that is available from Apples' App Store and the Windows Phone Marketplace, you can collect GIS features using the GPS receiver in your device or by sketching on the map, fill out intelligent attribute forms  and attach photos/videos to them. All edits are instantly synchronized with your enterprise geodatabase.
Getting started is as simple as using your smartphone. The Mobile team has hosted a number of data collection maps in a group called "Collection Samples" that is accessible directly on your phone and can be found inside of the Gallery. Here is how you can access the collection maps using your iPhone…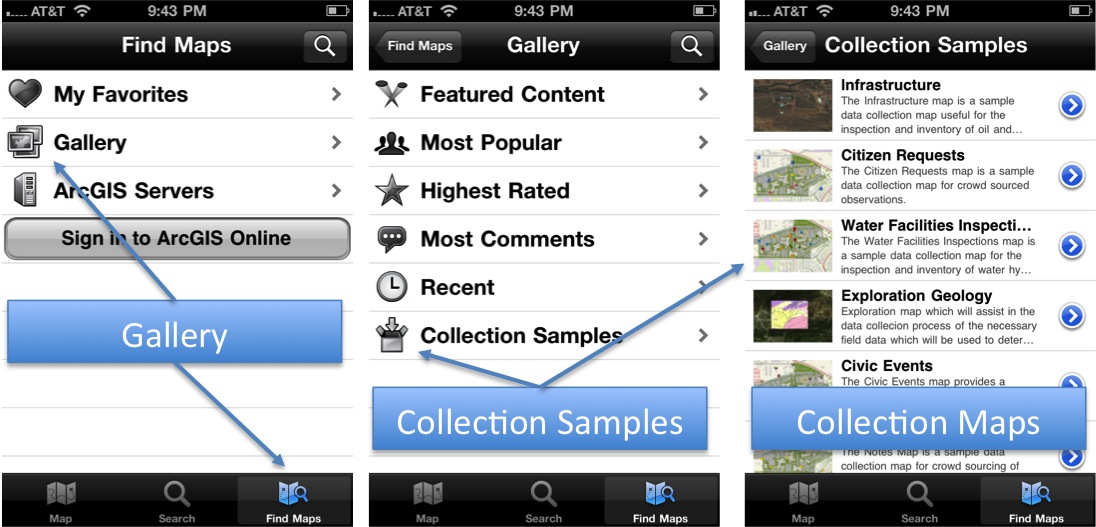 After tapping on one of the maps in the Collection Samples group (Infrastructure for example), you will find that the map itself contains additional functionality within the Map Tools called Collect. Tap on Collect to choose a Feature Type or Template from the editable map layers and then follow the additional steps to collect a new GIS feature.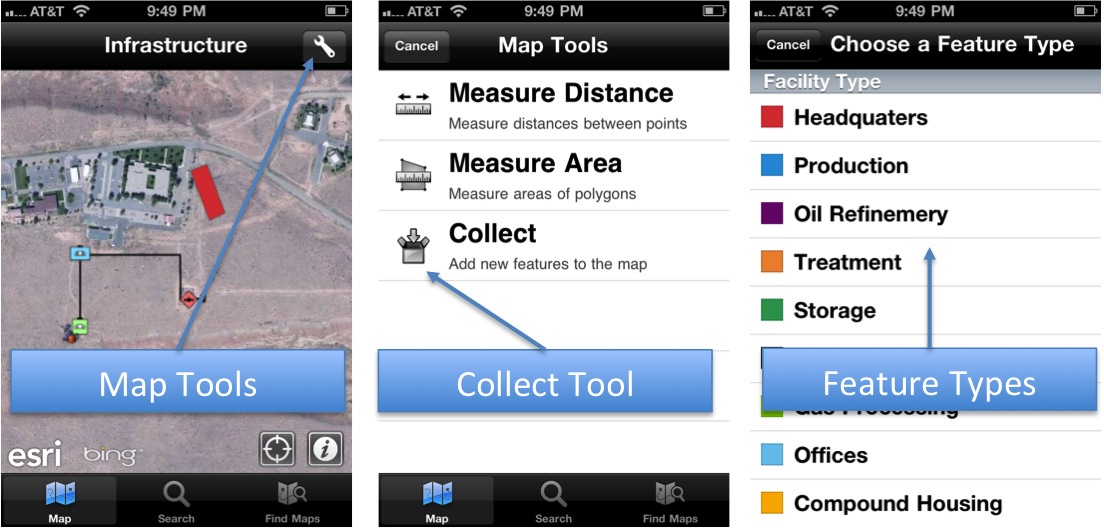 These maps are available using ArcGIS Online and are publicly shared in a group called Esri Data Collection Playground for you to get started with. Feature layers provide templates for data collection inside of the ArcGIS application. Each of the collection sample maps available within the smartphone app have an associated Map Package that you can download to your server as well. To find the map package, look at the details of the map inside of ArcGIS Online. Looking at the details of the Infrastructure Map you will find a link to the Infrastructure Map Package. Opening the map package you can then host your own Feature Service and then either use ArcGIS Online or your own on-premise server to host maps for use on your smartphone device.
We would like to see you start leveraging smartphones for data collection today. Please try the Collection Sample maps and let us know what you think. Send your feedback to arcgis4iphone@esri.com.
NOTE: The features you add to the maps hosted inside of the Esri Data Collection Playground are archived and then scrubbed nightly. Please do not expect features to be maintained. This is a playground and we are here to pick up after your edits…
Also, ArcGIS will be coming to Android devices very soon and the capabilities listed above will be available to your favorite Droids in the near future…
Thank you!
Mobile Team