One of the nice things about Explorer is that you can easily customize it to suit the way you work, or perhaps more accurately – the way you want to work. By choosing Tools, then Options, you'll find a number of settings that will allow you to customize the way Explorer works for you. Here's some of our favorites.
Which map do you want to open? By default, Explorer opens your most recently saved map. This is great if your workflow involves using the last map you saved, but it won't be ideal if you do a lot of authoring and want to start with the default map. In that case, you'll likely want to start with the Server default map, and if your Home Server is ESRI, then that will be the one you'll want to start with.
To open the default map instead of your last saved map, just go to Tools, then Options, and choose Startup to toggle Open ESRI's default map. If you are working from your own home server, then your home server's name will replace "ESRI."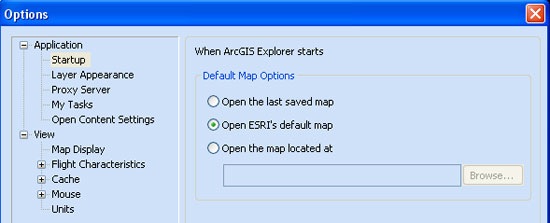 Another option to consider is how you travel from one place to another, for example when you click on a result. The default action is to Fly To the next location, but you may prefer Move To. Move To is the instantaneous way to travel. Rather than liftoff and navigate, you'll immediately be at your next location. Especially if you want to navigate to the same set of places over and over, Move To is instantaneous.
Go to Tools > Options > Flight Characteristics to toggle this setting.

Tired of answering all those wizard questions when you open local data sources? Using Tools > Options > Open Content Settings you can tell Explorer to use your last preferences, bypassing all those questions.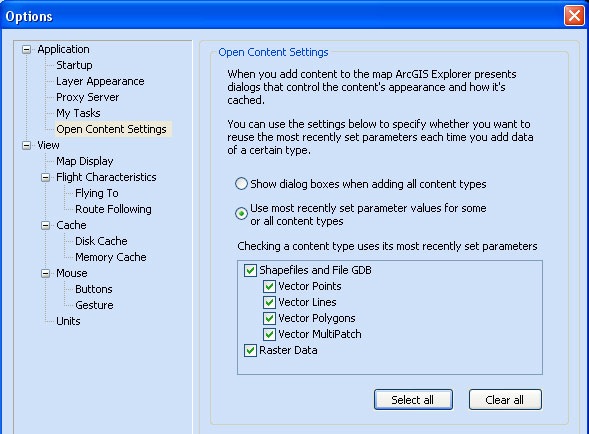 These are just a few of the ways to change the way Explorer works for you. For more information, visit the Setting application options Help topic.