Cyclones in Myanmar. Fires in Florida. Earthquakes in China. Timely information is critical for learning about events as they happen, and subsequently how to respond and what to do in their aftermath. One of the ways that timely geographic information is published is via GeoRSS feeds.
In the upcoming Explorer 480 release GeoRSS feeds are one of the supported connections, joining ArcGIS Server, ArcIMS, and WMS.

Here we've connected to the USGS Shake Map feed, and we're showing the popup content for the 7.9 quake that hit China on Monday, May 12.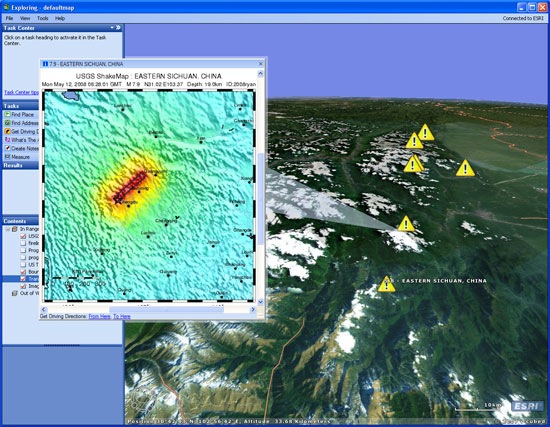 Below we've connected to another USGS GeoRSS feed publishing all the magnitude 5+ quakes worldwide. Again we're in China, in the vicinity of the disastrous 7.9 quake. You can see the strong aftershocks that followed the original temblor.