Category:
Web
We are very excited to announce the initial release of the ArcGIS Viewer for Microsoft Silverlight. To get the bits, just go to our new Beta Community Web site, sign up, and download the setup. The newest member of the ArcGIS family allows you to quickly create rich web mapping applications using a fully interactive configuration experience. With the product, you can set up and modify an application's basemap, operational layers, tools, colors, title, logo, layout, links, and more without writing any code or editing any configuration files. Moreover, the Viewer is fully extensible, so designers and developers can implement new tools and create new layouts and easily integrate them into the Viewer. The Viewer includes the following:
Configurable Viewer – This is a ready-to-deploy configurable rich internet application (RIA) built on the ArcGIS API for Microsoft Silverlight 2.2 Beta. As a Web client, it works with your own ArcGIS Server services and data content from ArcGIS Online. The Viewer's configuration is stored in configuration files and provides extensibility endpoints to plug in tools, behaviors, and layouts.
Application Builder – The Application Builder allows the quick and easy creation of Viewers through an interactive, WYSIWYG user interface. You can configure map content, tools (including GP services), and the overall look and feel of the viewer. As you configure your Viewer, the interactive Viewer preview will update in real-time, eliminating any guessing as to what your changes might look like. Once you are satisfied with your Viewer, click deploy or save to push it to a new website or update an existing one.

Visual Studio Template (for developers) – Along with the Viewer, we have made a Visual Studio template available for download from the Beta Community site, allowing developers to easily create new add-ins for the Viewer. An "add-in" is a modular chunk of code that can be shared and include tools, behaviors, and layouts. Within an add-in, you may leverage any Silverlight library, including the ArcGIS API for Microsoft Silverlight and the libraries offered by the Silverlight Platform. The template includes a fully functional, debuggable Viewer, a project to implement tools and behaviors, and another project to design layouts.
Once registered for the beta program, view the product overview video and download the software via the Software Download link under the Project Resources section in the sidebar. Use the Online Help link under the Other Product Resources section to peruse the help. Be sure to review the My To-Do list to complete surveys and provide feedback on problems you encounter or recommendations you want to provide. Use the forums to ask questions and work with the beta community to resolve issues. The screenshot below highlights a couple of these key areas of interest on the beta program home page: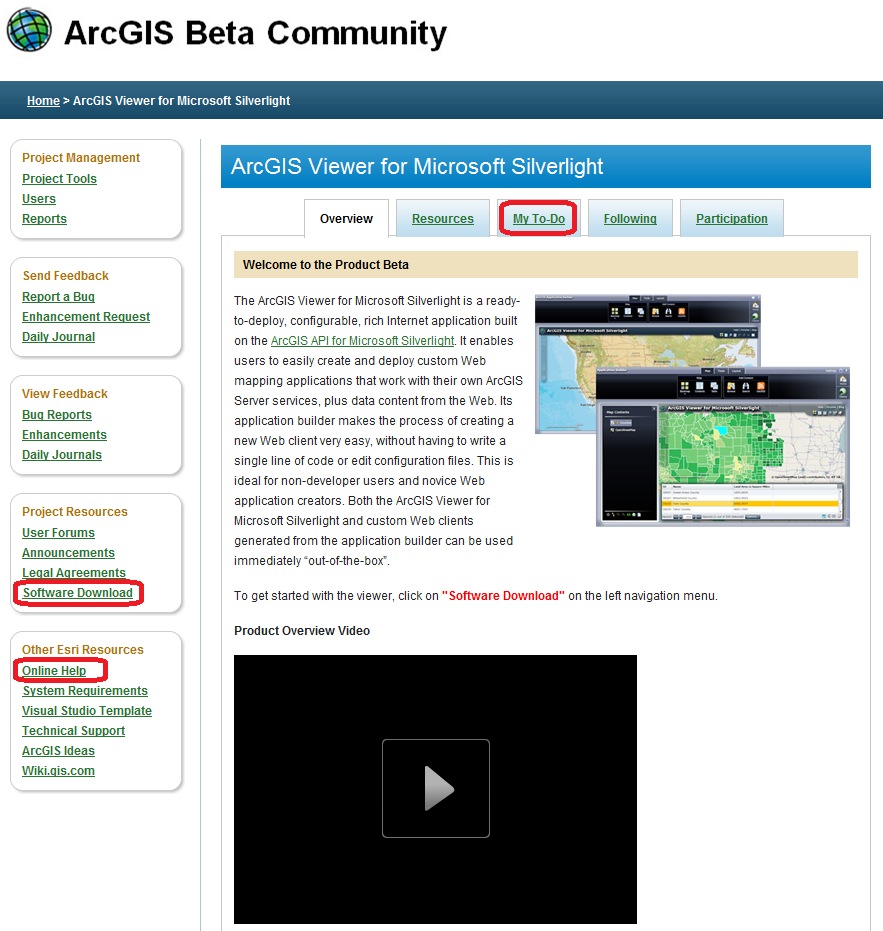 We look forward to hearing your feedback on the new Beta Community site.
Enjoy!
The ArcGIS Silverlight Development Team