Category:
Mobile
Part of our software design and development process on the mobile team involves actually getting outside and using devices outdoors! For example, we are in development of a new Windows touch version of the ArcGIS Mobile application that we released for Windows Mobile at 9.3. We need to evaluate the styling of that application in different natural light conditions.
Well today we decided to have a little fun and shoot some pictures outside. It was a gloomy day in Redlands and we wanted to make the best of it.
Click on the pictures to see them in detail. They are high-res photos so click a couple of times to enjoy the detail…
1) With the Windows Mobile application at 9.4, we enhanced the Search Task. You can now save your search criteria as a pre-defined query. Using a pre-defined query, you can quickly locate inspections, incidents, people around you…
2) The ArcGIS Mobile application running on a Trimble Geo device connected to a GeoBeacon via Bluetooth can provide sub-meter GPS accuracy! Also, the framework of the application is extensible for developers! We built an extension that plugs into the collect task that allows you to construct the shape of a feature using a laser range finder!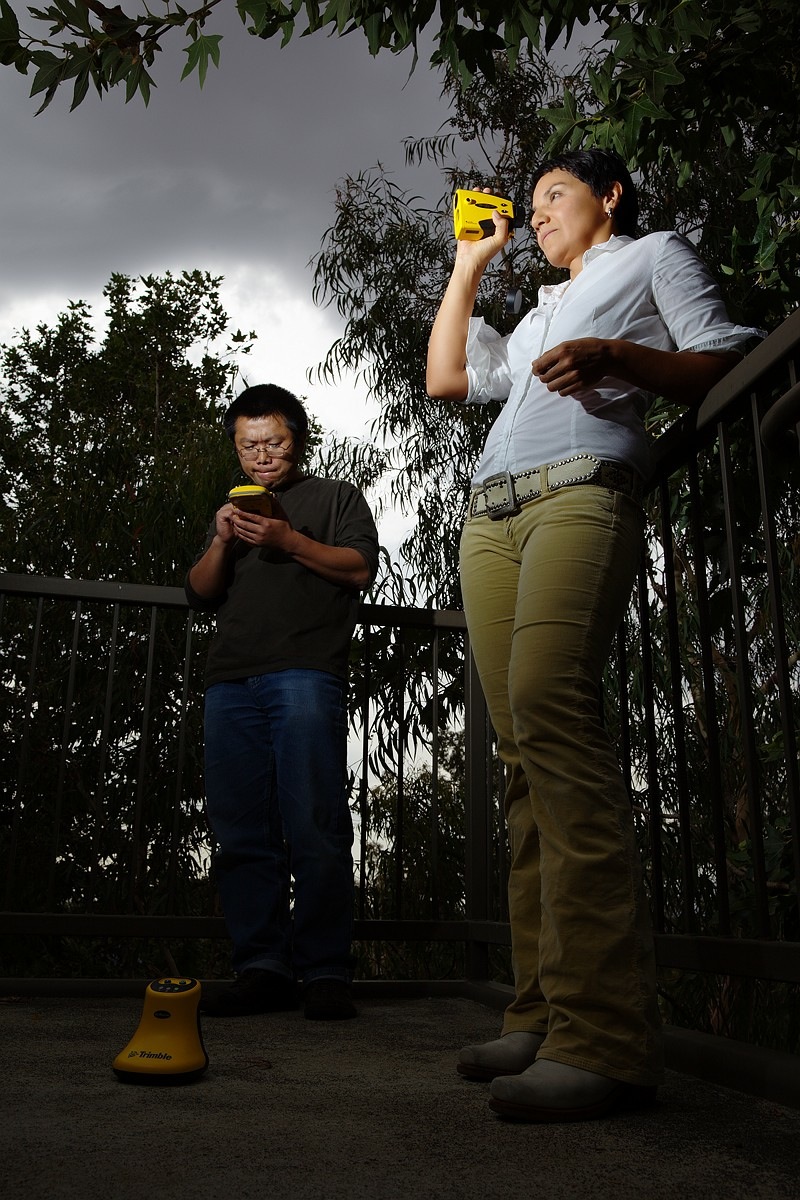 Sabine and Jianwei are "The Collectors"
3) For 9.4 we are planning to release a Windows Touch version of the ArcGIS Mobile application. It targets in-vehicle mounted systems and has a day/night-time mode that adjusts to varying light conditions. Need to test it out in a vehicle right?
4) In the field you want to avoid any form of text entry if you can help it. However sometimes you just need to take notes. Notes can be stored in a text field for a feature. The new Windows Touch application we are building will have an integrated keyboard so that you can actually type on the device itself..
Hope you enjoyed our pics. We had fun taking them and expect another post with more pics coming soon!!
Mobile Team