Category:
Mapping
By Charlie Frye, Esri Chief Cartographer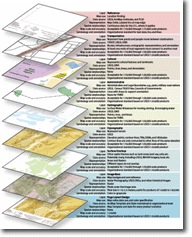 One of the things we end up explaining on a fairly frequent basis is why we've been spending time working on data modeling, the basemap data model, cartographic data modeling, or adding cartography to the ArcGIS data models. This is as good a time and place as any to put forth what we think a cartographic data model is and share some of our reasons for working in this area.
A cartographic data model is the codification of the geographic features, attributes and processes that produce a desired map or products through specified software. This includes specification of all geographic features and labels that will appear on the maps, and their symbology. It includes allowances for the software to handle or process the data appropriately and efficiently in order to make the maps.