ArcGIS Online includes a living atlas of the world with beautiful and authoritative maps on many topics, including a rich and growing collection of historical maps from several leading publishers.  With the latest addition to this collection, National Geographic has recently published to ArcGIS Online an initial set of historical and reference maps from its extensive map archive.
The initial set of maps includes a mix of global and regional maps spanning over a century. The maps are high-resolution georeferenced image tiles of maps that were originally published by National Geographic in its magazine or its collection of retail wallmaps.
Click an image to view a web map.
Estimates of the Value of Existing Mother Maps – 1892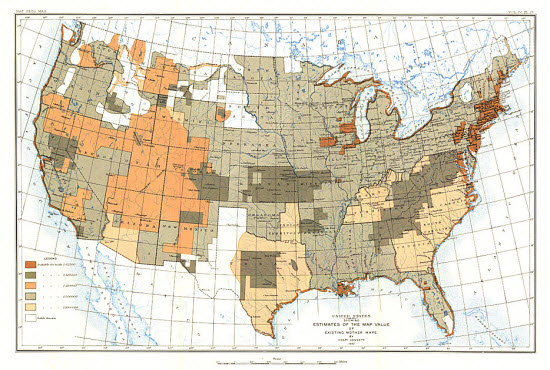 National Geographic has published over 50 maps in this initial release. Over the next several weeks, National Geographic intends to publish a few hundred additional maps through ArcGIS Online. You will be able to discover and access these maps, along with other historical maps, through the ArcGIS Online Historical Maps collection as well as through the National Geographic Print Map Collection group. The maps are also searchable and viewable through the National Geographic Print Map Collection gallery app.
The maps have been published as hosted tile services using the ArcGIS platform. The maps have been published in their native coordinate systems as originally authored and, in many cases, in a standard Web Mercator tiling scheme for combining with other map layers. The maps published by National Geographic are intended for your personal and educational use. If you would like to use the maps for commercial or institutional purposes, please contact National Geographic as described in the item details.