Last week we updated our World Imagery map with more than 30 terabytes of high-resolution imagery from DigitalGlobe. This is our fifth release of significant global coverage this year, following updates in March, May, and two in June (global and Europe, Korea, and Japan). This most recent release includes nearly 45 million square miles (~115 million square kilometers) of new and updated high-resolution imagery down to ~1:4k. Much of this release fills in areas between major metropolitan centers with new content in addition to updating previously released imagery with a more recent view. Some imagery was collected as recently as April 2013.
The following screenshots highlight areas of new high-resolution imagery including the major cities of Osaka, Japan; La Paz, Bolivia; and Bamako, Mali.
This image of Osaka, Japan, is centered on Nakanoshima in the Kyū-Yodo River where many government buildings and museums are located.  Click image for a web map of Osaka, Japan.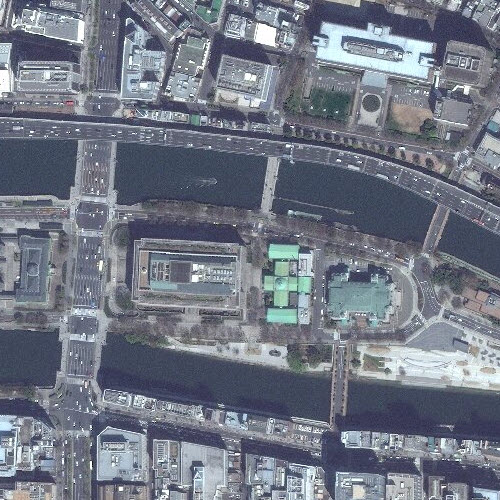 The 38,000-seat, open-air stadium in the imagery of La Paz, Bolivia, is named for the country's 31st President. It sits at an altitude of 11,932 feet (3,637 meters) which has caused controversy over FIFA World Cup qualifying matches played here.  Click image for a web map of La Paz, Bolivia.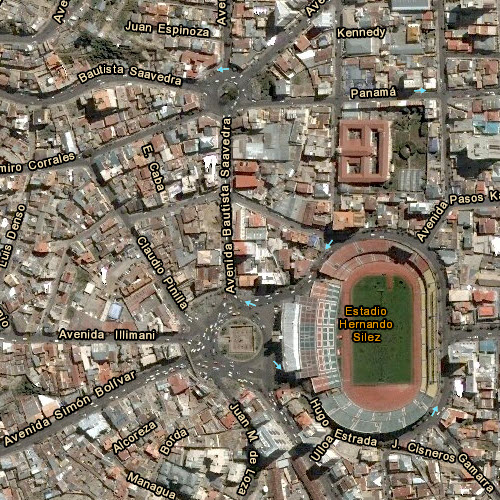 The third example of new DigitalGlobe imagery is a snapshot of the imagery over Bamako, Mali. This western Africa capital city is among the fastest growing cities in the world.  Click image for a web map of Bamako, Mali.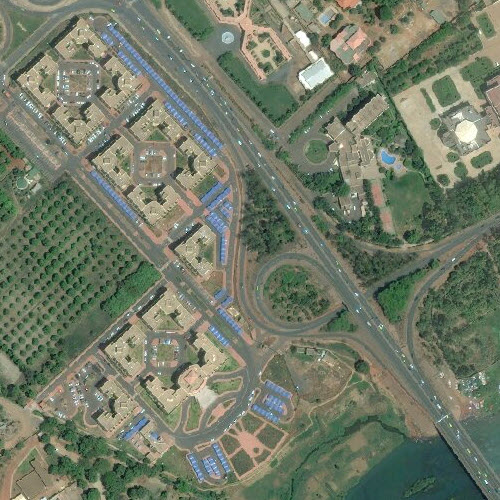 Areas where we updated imagery include Christchurch, New Zealand; Montevideo, Uruguay; Phnom Penh, Cambodia; and Izmir, Turkey.
This imagery was collected in January 2013 and shows the devastation and ongoing cleanup from the magnitude 6.3 earthquake that struck Christchurch, New Zealand, two years ago. Click image for a web map of Christchurch, New Zealand.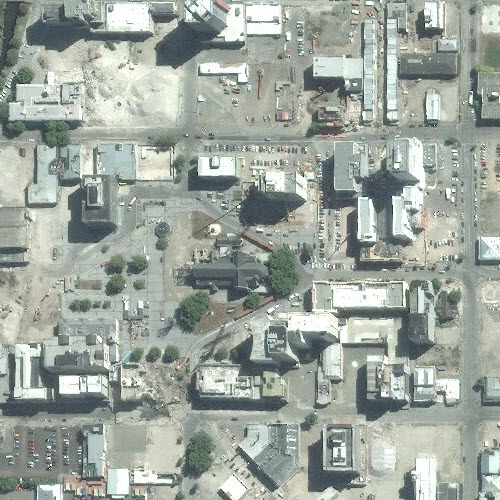 This imagery shows the new terminal of the Carrasco International Airport near Montevideo, Uruguay. With its recently expanded runway, the airport is now servicing non-stop flights to both the United States and Europe. Click image for a web map of Carrasco International Airport.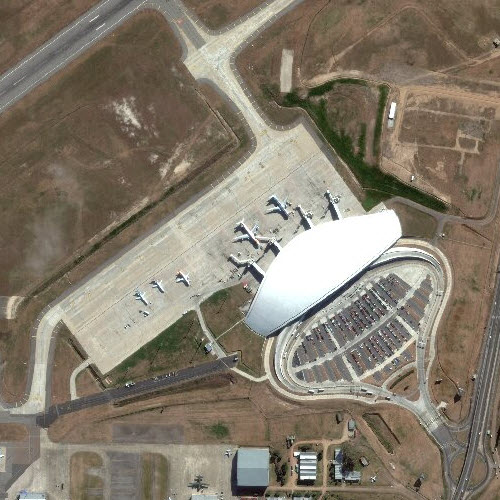 The centerpiece of the image below is the grounds of the Royal Palace, occupied by the Kings of Cambodia since the 1860′s. The capital city of Phnom Penh, Cambodia, located on the banks of the Mekong River, is now covered by imagery. Click image for a web map of Phnom Penh, Cambodia.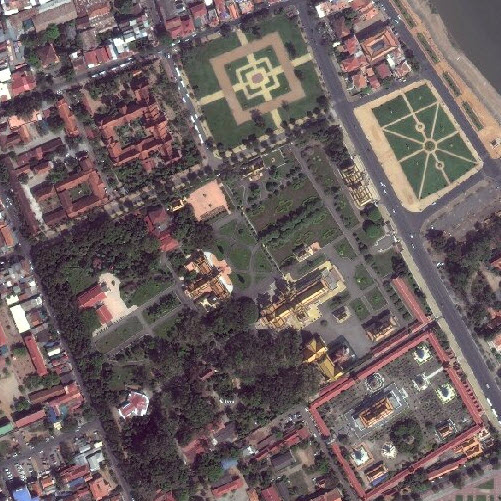 Izmir, Turkey, was one of the foremost trade centers of the 17th-century Ottoman Empire. Today, the metropolitan area is home to more than 4 million residents and is Turkey's third largest exporter of goods. The imagery in the sample below shows the grounds of the Izmir International Fair. Click image for a web map of Izmir, Turkey.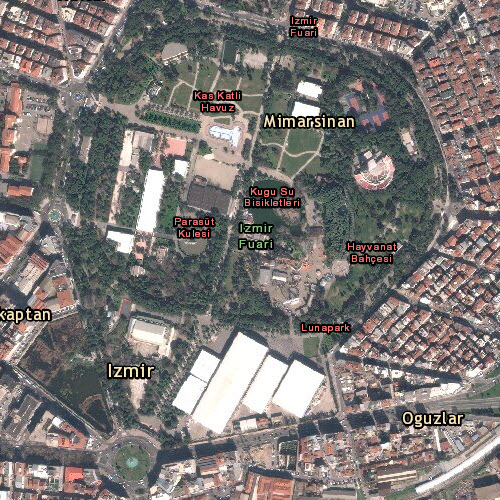 Click for larger coverage map showing areas with new high-resolution DigitalGlobe imagery in this release.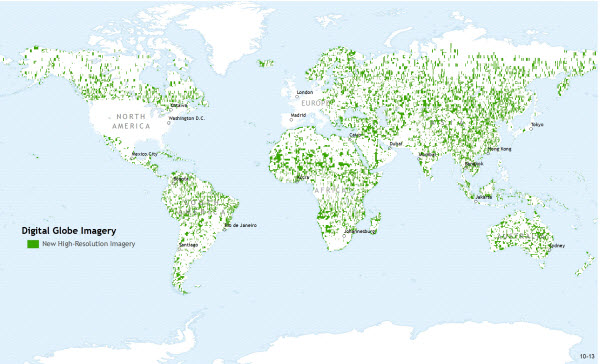 Click for larger coverage map showing all areas of high-resolution imagery currently available on ArcGIS.com.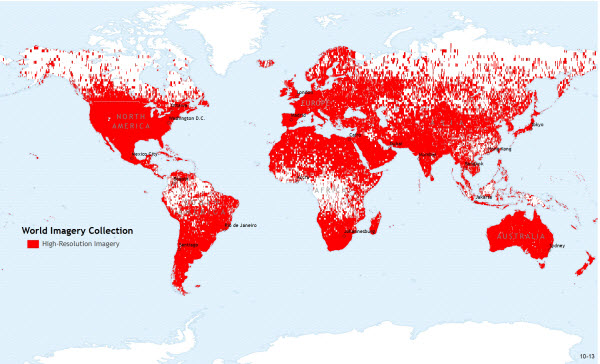 Over the coming months we'll be adding more new and updated DigitalGlobe imagery.
For information on community contributors to the World Imagery map for this release, see Community contributions continue to enhance World Imagery map.
Metadata: This service is metadata-enabled. With the Identify tool in ArcMap or the ArcGIS Online Content Viewer, you can see the resolution, collection date, and source of the imagery at the location you click. The metadata applies only to the best available imagery at that location. You may need to zoom in to view the best available imagery.
The service was updated on the following servers: services.arcgisonline.com and server.arcgisonline.com. If you have previously used the World Imagery map, you may need to clear your cache in order to see the updates.
If you have feedback on content, try our Imagery Map Feedback web map.  If you have other feedback or comments, please post them to the ArcGIS Online forum.
(By Andrew Green, Basemap Project Manager)