Landscape Layers are a recent addition to the wealth of information about our natural and manmade environments now available online. These layers are part of the ever expanding and ready to use Living Atlas that is part of ArcGIS.com. These layers are being acquired, evaluated, processed, managed and maintained by Esri freeing up your time that might otherwise be directed to such data processing activities. Currently, over 60 layers are available at your fingertips as input to geoprocessing models and for the creation of beautiful and informative interactive web maps. Many more layers are about to be provided later in September, as well as at regular intervals in the future. To begin discovering and accessing the data, all you need is an organizational subscription to ArcGIS Online.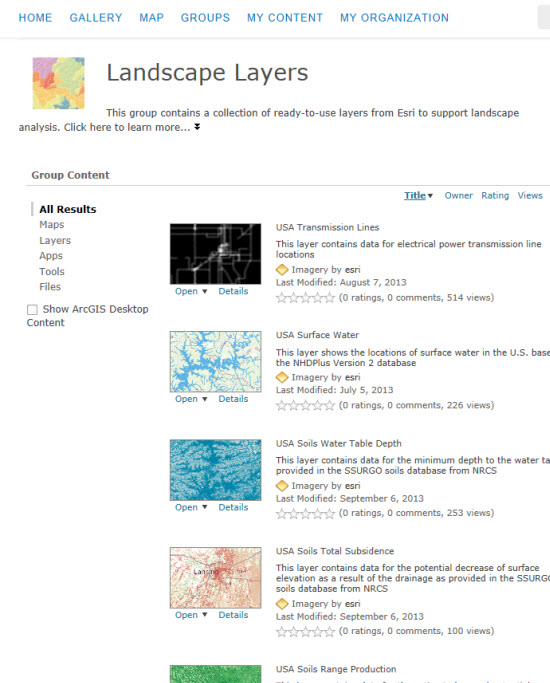 The Esri Landscape Layers are a collection of data, currently available for the United States, that are applicable to a wide range of uses such as biogeographic analysis, natural resource management, and land use and conservation planning.  There are map layers that describe the physical structure of the land, such as hydrography, soil characteristics, geologic units, and land surface forms.  Plus, there are a variety of map layers in the biological and climatological domains, such as ecological systems, evapotranspiration, and critical habitat and other protected areas.  The term "landscape" also refers to the recoverable resources and manmade features that influence how we use the land and water.  Coal bed methane basins, oil shale basins, agricultural potential, and infrastructure, such as pipelines and transmission lines are examples of these types of landscape layers.  We encourage you to explore these data and begin using them in your maps and apps. A simple set of instructions for accessing the Landscape Layers group is contained in this recent blog post.
---
When embarking on this effort, we specifically chose the term "landscape" to describe this rich data resource. Landscape certainly refers to environmental themes that depict the physical, biological, cultural and aesthetic components of an area. But we also felt it was important to go beyond the notion what are the "landscape characteristics" of an area to include data that express human values and perceptions of the world around us. Whether viewed individually in map services or combined in multi-faceted geoprocessing analyses, these data are intended to help you depict the landscape you want to understand and analyze. We can't know all the uses of these data, but we can help you do your job by providing a single source for the ready to use, consistently formatted, authoritative data you need.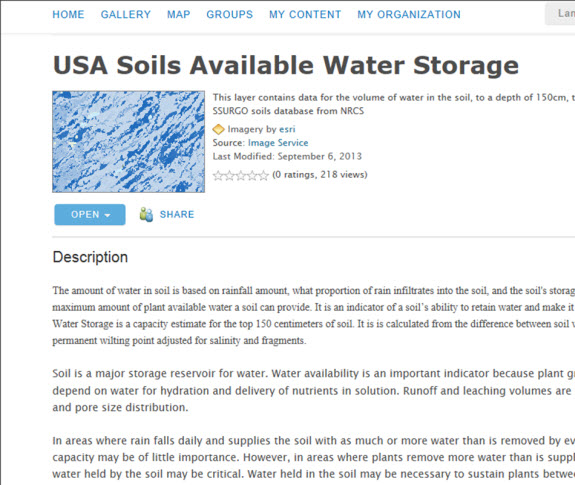 In coming posts, we'll be delving further into the Esri Landscape Layers, how they are prepared, example use cases, and a variety of other topics. We look forward to hearing from you via the landscape forum about the information we are presenting as well as  your suggestions for future posts.