The image services for landscape layers being published by Esri to ArcGIS Online are a valuable new source of application ready data content.  More than 60 of these services are accessible right now through an ArcGIS Online organization account. The layers can be used in the ArcGIS.com map viewer or ArcGIS for Desktop – just like other content you access on ArcGIS Online. Right now, these layers are in beta development, so you won't be charged credits for using them. Take a look, I think you'll find the layers open many opportunities for visualization and analysis.
Here are 5 easy steps for accessing the landscape layers group:
First, you need to be logged into ArcGIS.com using your organizational account.
Second, in the search box on the top right, enter landscape layers AND in the dropdown menu select Search for Groups. Then click Enter.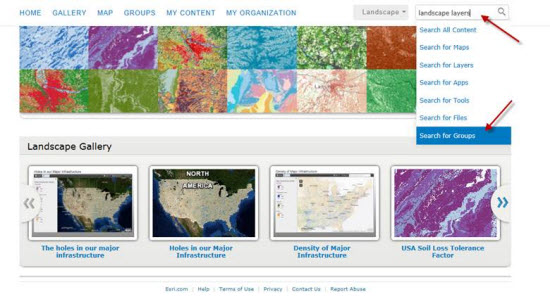 Third, when the search results come back empty (0 results), don't despair. You need to uncheck the Only search in <your organization's name> box.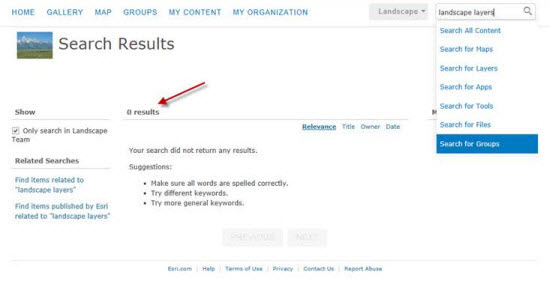 Fourth, the top result should be the Landscape Layers group. Click that group and voilà, you have entered the world of Landscape Layers.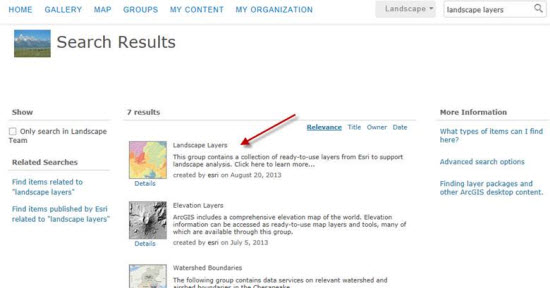 Fifth, you can start exploring and using the many landscape layer services by using the standard techniques available through arcgis.com. For example, click the thumbnail to open the map in arcgis.com, or click Open for more options for accessing the service, or click Details to learn more about the service.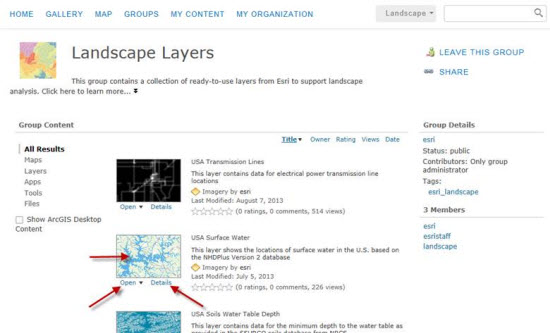 We are looking forward to hearing about how you are using the Landscape Layers as well as any suggestions for improving them. We will be adding new layers at regular intervals so be sure to look for updates in this blog or at the Landscape Forum.