We've all been there – some real-world phenomenon has been observed and crunched into data, and now that data is ready to share on a map…this is the part where the map data has to be transformed into information. Maps can be good for that.
However, maps excel when the message intended is the message received. To make it easier for you to ensure your maps show the intended information, it helps, quite a lot, to reduce the volume of unintended information presented. That is why the ArcGIS Online system provides a variety of basemaps to help you show your information in the best context.
For a map's subject matter, most people tend to use color to create distinct categories of information. In the example below, two shades of red, three shades of green and a yellow are used. Looks good so far, but notice there is nothing behind the data. It has no context. This could be in Antarctica by the look of it, but it is actually in India, and it is portraying elephant-human conflicts.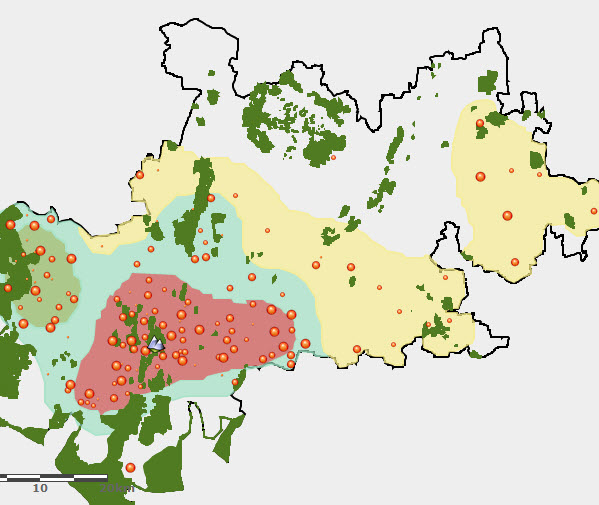 A great place to start is to add the Light Gray Canvas basemap (see example below). This basemap is designed to maximize attention on your thematic content by providing a neutral background with minimal colors, labels, and features. The less color in the basemap, the more room there is, color-wise, for the subject matter to use.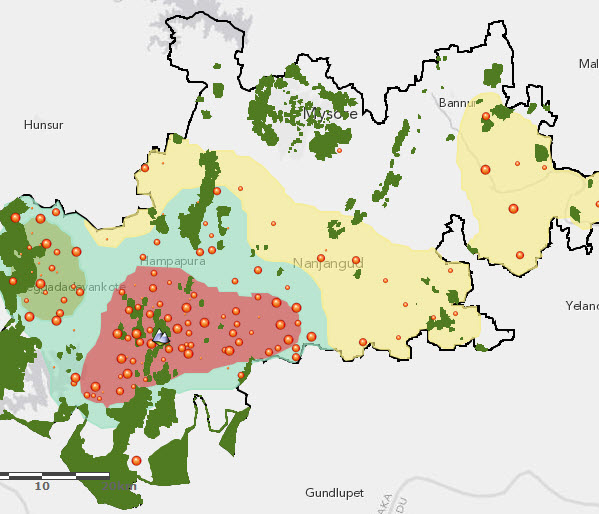 We just released an update to this basemap for North America and India, adding significant detail throughout India.  This enables clean, simple thematic maps at detailed scales in India, such as maps of interesting locations, demographics, story maps, and so on.
This exciting new content joins the recent update to the Middle East for the Canvas basemap, released earlier in May. That release included new detail for Bahrain, Egypt, Israel, Kuwait, Lebanon, Oman, Qatar, Saudi Arabia, and United Arab Emirates.
This release is part of Esri's ongoing map updates in ArcGIS Online.  Esri is committed to providing consistent worldwide coverage at large scales.  Each release provides either new coverage or a refresh of existing coverage.
The Topographic basemap adds some muted colors at most scales and can serve well with some thematic content, albeit with a slightly reduced color space at most scales (note the blue lakes, green forest areas, tan urban areas).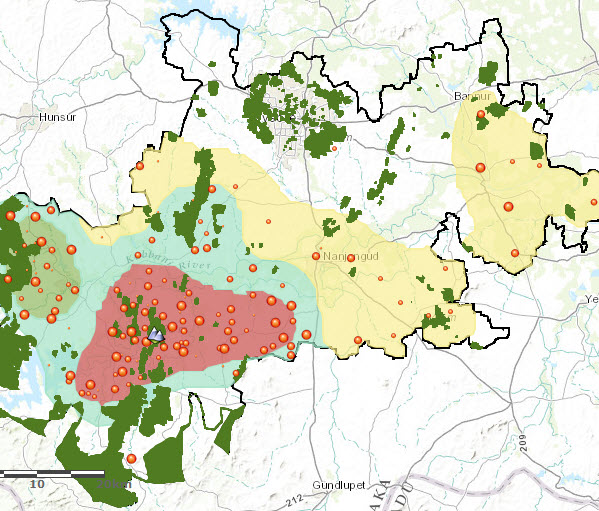 Can the basemap obscure your subject? Sometimes, if the colors chosen for the thematic content are too close to those used on the basemap itself (see below). The basemap's green park areas are very close in color to one of the green shades in the thematic content.  It's not intentional, but the reader has to process it.  The combination of colors forces the person looking at the subject to work a bit harder to see what's there – the "signal to noise" ratio has gone down.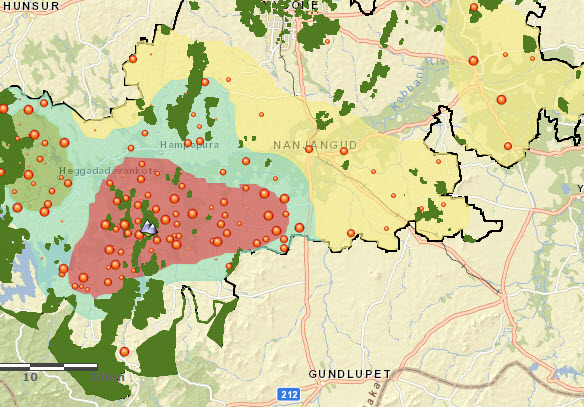 Some examples that show the Canvas basemap updates in North America and India are found in ArcGIS Online. If you want to map a theme or subject for India, you can now use the Canvas basemap for:
street level maps of things like parade routes, locations of ATMs
city level map of a subject like new development projects
regional map of a subject like this Dutch map about power failures in India
Here are a couple of examples:
This sample web map contains several examples of thematic content in the light gray canvas basemap with this reference overlay.
If you are already using the Canvas basemap for your web maps, the updated content appears on your maps of North America and India (at scales from 1:9k up to 1:288k).
If you have not used the Canvas basemap for maps of cities in India previously, go to ArcGIS Online map viewer, turn on the Canvas basemap, and search for "Delhi" or "Mumbai" or any other Indian city. All of India can be mapped down to street level scale.
In Esri software (ArcMap, ArcGIS Online map viewer, ArcExplorer, ArcExplorer Online, and so on) choose to add a basemap, and select the Light Gray Canvas basemap (see example below).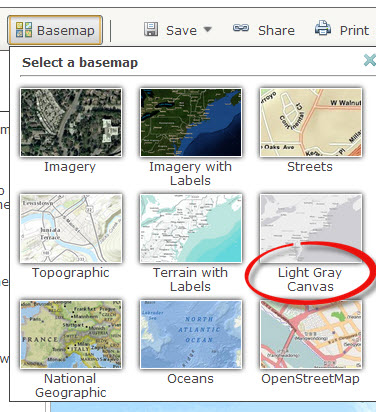 The Canvas basemap has a base layer and associated reference layer which web mappers can use in their projects.  Developers, you can even build your own basemap selector to control what basemaps appear in your applications.  A template for this basemap is available in the Resource Center.
See map below for current coverage of the Canvas basemap. We are so happy to add India to the coverage area!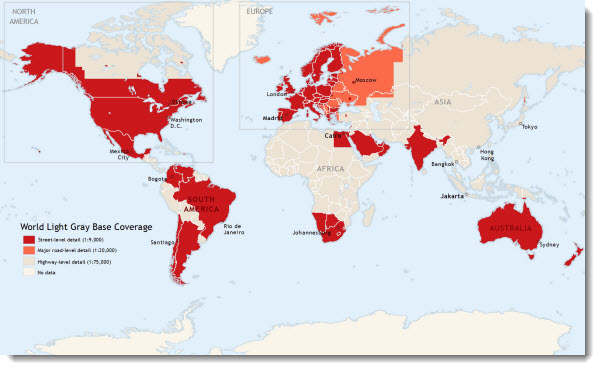 Look for additional updates to the Canvas basemap later this year, including updates and expanded coverage in Europe, Latin America, Africa and Australia/New Zealand (see below).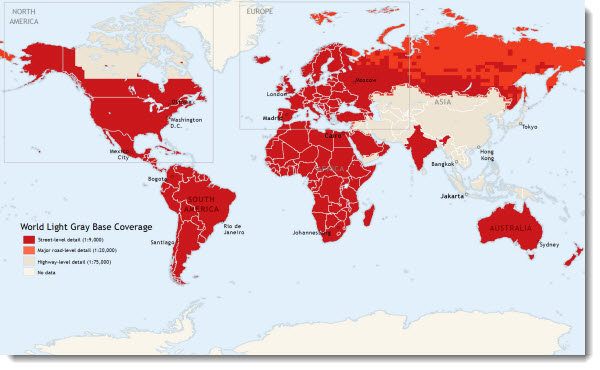 If you have questions, please post them in the ArcGIS Online forums.