2013′s first update to the Ocean Basemap (Ocean_Basemap) map service includes a few new areas of higher resolution bathymetric data!
Khaled bin Sultan Living Oceans Foundation is a non-profit committed to the conservation and restoration of our oceans. Their Global Reef Expedition is a 6 year project to map and survey coral reefs around the world that started in 2011. As part of the Foundation's results, they have derived bathymetric grids from imagery. The first area they have provided to the Ocean Basemap covers the Red Sea. New medium scale areas (1:288k – 1:72k) are designated in green and large scale areas (1:36k – 1:9k) in red below.
Areas of coverage for new, medium resolution and high resolution bathymetric data from Living Oceans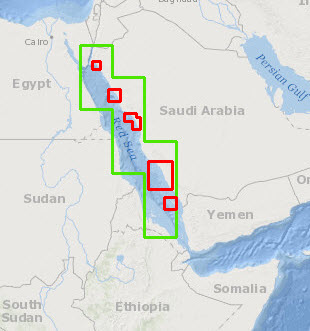 The National Institute of Water and Atmospheric Research (NIWA) in New Zealand provided a 20 meter bathymetric grid over the Hauraki Gulf, which can be seen from 1:4.5M to 1:72k, in the designated AOI in green below. NIWA is a Crown Research Institute established in 1992 to conduct leading environmental science to enable the sustainable management of natural resources for New Zealand and the planet. Last fall, a 250 meter regional grid from NIWA was added to the Ocean Basemap.
Areas of coverage for new, high-resolution bathymetric data from NIWA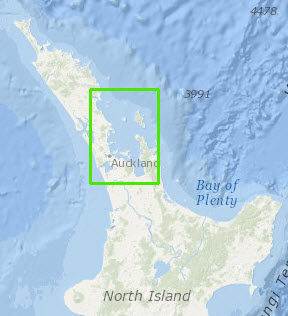 This update also includes additional coverage from NOAA NGDC. NGDC is the U.S. national archive for multibeam bathymetric data. Bathymetry surrounding Puerto Rico was added from 1:288k to 1:72k and high resolution Bathymetric Attributed Grids (BAGs) data was added off the coast of Delaware, United States, from 1:288k down to 1:9k.
New coverage around Puerto Rico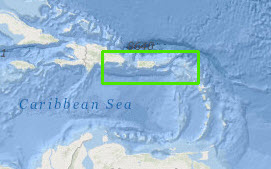 Areas of coverage for new, high-resolution bathymetric data from NOAA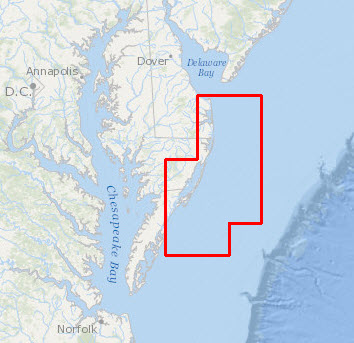 If you have previously used the Ocean Basemap, you may need to clear your cache in order to see the updates.
If you have questions or feedback, please post them in the ArcGIS Online forums.