By Aileen Buckley, Esri Research Cartographer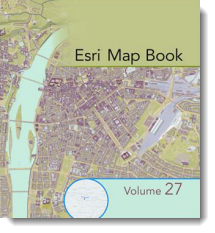 The Esri Map Book, Volume 27, shows how GIS enables change and provides innovative, spatially based solutions to wide-ranging issues, including those affecting business, the environment, utilities, transportation, and government.
More details are available on The Esri Press website. If you are not already on the list to receive this book and you would like a copy, please contact esripress@esri.com.
The Esri Map Book, Volume 27, PN: 126715, ISBN: 9781589483149, Price: $24.95 ($28.95 in Canada)