Monthly Archives:
May 2012
by Laurie Williams, Senior Planner/Watershed GIS, County of Marin, CA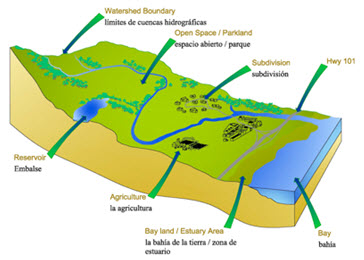 The Department of Public Works of Marin County, CA (just north of San Francisco, CA) launched a watershed program to integrate flood protection, stream and wetland habitat restoration activities, fish passage, and water quality improvements. Instead of looking at flooding issues on a site by site basis, we solve flooding problems at a watershed scale, and employ solutions such as habitat restoration to reduce flood risks.
From the outset, we decided to base our stakeholder outreach, collection of scientific studies and technical reports, and dissemination of information from the Marin County Watershed Program website (http://www.marinwatersheds.org) in order to save paper resources, be more user-friendly, support community outreach and more efficiently advertise our updates than is possible with more traditional printed reports and documents.
Our website is the major repository of meeting notices, posted reports, and maps. Our website designer, Athena Design, chose a color palette to enhance and reflect the colors of nature: the blues of water, the greens of plants, and browns for earth tones; orange splashes complement the dominant blue. We use the palette extensively in producing the watershed maps, as well as for printed materials and PowerPoint presentations for a unified design.