Monthly Archives:
January 2012
Have a question?  Want to talk GIS? Looking for some good ideas?  Jump into the conversation!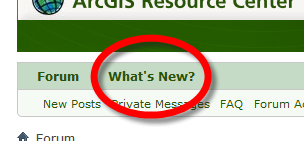 A few weeks back we rolled out some features that we hope will improve the forums' usefulness.  To be candid, we're sure many would say that some of these features should have been there since day one, or at least long overdue, but we listened to what you wanted and found a way to get them in there for you to use.
Let's start with the big one…
Community Voting
If you read something and you like it, give it a thumbs up!
Now any forum user can let the community know where the good information is. How you do it is simple. If you read a post or a reply and you think it contains some really good information, click the "up" arrow on the right. This is similar to the "Like" button in Facebook.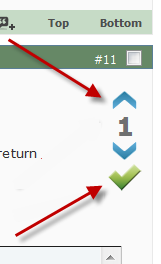 If we all do this, then the best posts will bubble to the top. If you want to read the entire thread you can, but if you need to most quickly find the good stuff, look at the posts that have a high score.
There is also a "down" arrow, but you can only use that to "Unlike" something you previously Liked.
If you find "The Answer", give it a check!
If you started a thread with a question, then whichever reply you think is the best, give it a check. That will mark your thread as "answered" for all to see, and it will give some MVP points to the person who wrote it.
Two birds with one stone
Clicking the checks and arrows has two benefits:
1.    You are helping everyone find the best information.
2.    You are helping everyone recognize the best contributors.
One of the great things about any community is the trust earned by those folks who share their experience and help others. Some pros out there are always going to stick out, but these new voting tools are going to help find others who are just as helpful and useful who you might not yet know.
Discussions versus Q&A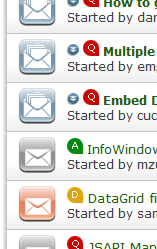 When you start a new thread, you can let everyone know if you're starting a discussion or if you're asking a specific question. Discussions show up in the thread list with a yellow "D" icon and questions with a red "Q".
When the original poster or a moderator identifies one of the replies as the best answer, the "Q" icon turns into a green "A".
This helps you find answers more quickly, and if you want to jump in and let everyone know what you think, this helps you more quickly find questions that haven't been answered yet.
Private Messages
Most of the time an open public discussion is a great way to get the best information, but sometimes you may want to take it off-line.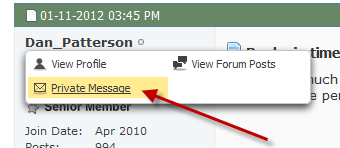 Up on the menu is a "Private Messages" link. Click that to see your Inbox or to send direct messages to other users. Also, clicking their name anywhere in the forums provides a pop-up you can use to send a message to them if they've activated it.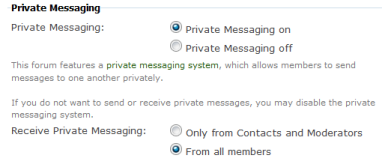 You can use the "Forum Actions > User Control Panel" menu to control who can send you messages.  You can turn it completely on, completely off, or limited to just those users in your Contacts list.
New Badges
Badges are a great way to find those folks who have been around the block a time or two. Anyone with more than 200 posts in the forums becomes a "Senior Member", and of course anyone on the forums who works for Esri is badged as "esri" with a globe logo.
And when you see
someone with a "Forums MVP" badge, you know you're talking with someone the community has said has the best information and is most dedicated to your success. These are folks who have been voted by the community to be in the Top 10 of all contributors during any previous six-month MVP rating period. And once you're an MVP, you're always an MVP.
And more importantly, now that the new community voting tools have been included, it's time to roll out the new MVP program. Watch this blog post next week for a description of the new rules, new standards, and a list of awards you can earn through all of your good effort. So jump in and help us figure out who the players are; maybe it's you!
What's Next?
The Advanced Search page gives you a lot of flexibility to build a complex search.  What we're working on next is giving you the ability to save that search definition. This will be good for bookmarking and sharing. We've also heard that most users participate in some forums a lot, some forums a little and others not at all. We are going to improve your "What's New" page so that it only includes those forums you want to browse. If there are any other improvements you'd like to see, reply here, or jump into the conversation on the Resource Center Site Feedback forum.
Content for this post provided by Jim Barry